US, South Korea will stage 'combined flying training event' to replace Vigilant Ace
by
Kim Gamel
November 6, 2019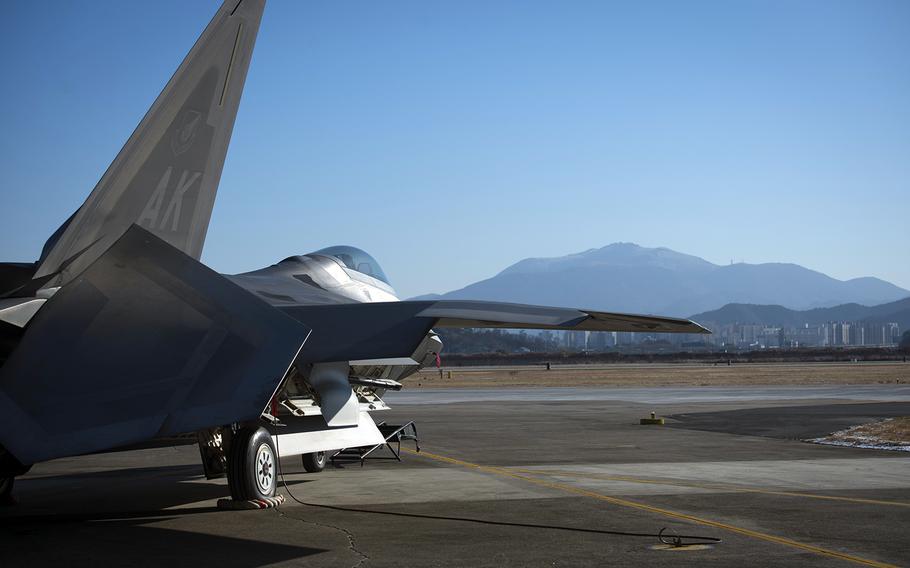 SEOUL, South Korea — The United States and South Korea will hold a combined air exercise next month to replace the former annual drills known as Vigilant Ace, officials said.
The allies canceled Vigilant Ace and several other joint drills last year to facilitate nuclear talks with North Korea, which considers them a rehearsal for an invasion.
"There are no plans to skip upcoming combined exercises," Army Lt. Col. Dave Eastburn, a Pentagon spokesman, said Tuesday in Washington, giving it a generic name. "We are proceeding with the Combined Flying Training Event as planned."
He didn't give more details. South Korean officials told the Yonhap News Agency the drills will be conducted at a smaller scale compared with previous years.
The 7th Air Force also declined to provide more information, saying it doesn't comment on planned or executed training as a matter of policy.
"We view all training as routine and continuously executed by professional militaries as a way to maintain trust, proficiency and readiness," 7th Air Force spokesman Lt. Col. Omar Villarreal said Tuesday in an email.
In 2017, as tensions with North Korea were high, the allies mobilized about 230 aircraft, including F-22 Raptors, F-35 Lightning IIs, F-16 Fighting Falcons, F-15 Eagles and F/A-18 Hornet fighter jets for the Americans and F-15K Slam Eagles and F-4 Phantom IIs for the South Koreans.
Seoul and Washington insist the exercises are aimed at ensuring they can operate together in joint missions, but they always infuriate the North, which frequently responded with missile tests or fiery propaganda.
Vigilant Ace was the fourth major exercise canceled last year after President Donald Trump announced he would be "stopping the war games," calling them "very expensive" and "provocative," after his first summit with North Korean leader Kim Jong Un in Singapore.
Diplomatic efforts to persuade the North to give up its nuclear weapons have stalled as subsequent summits and working-level talks have failed to bridge the gap between Pyongyang's demands for sanctions relief and other rewards for steps already taken and Washington's insistence on more extensive dismantlement measures.
North Korea has given the Trump administration an end-of-year deadline to come up with a more flexible approach, warning it may resume long-range missile and nuclear tests if the stalemate continues.
The North already has conducted several short-range weapons tests this year, but Trump has largely dismissed those as insignificant despite experts warning they demonstrate advances in capabilities.
U.S. military officials, meanwhile, have stressed that joint training continues so that it can maintain the highest levels of readiness and security, but most of them are not named.
Stars and Stripes reporter Corey Dickstein contributed to this report from the Pentagon.
gamel.kim@stripes.com Twitter: @kimgamel