US, South Korea resume defense cost-sharing talks after end-of-year deadline expired
by
Kim Gamel
January 15, 2020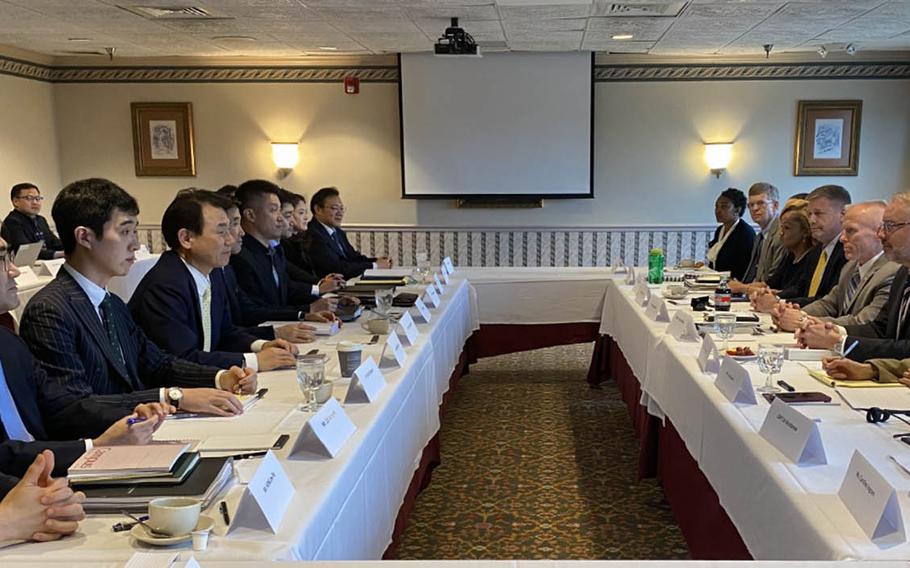 U.S. and South Korea resumed defense cost-sharing talks this week after the State Department signaled it was lowering its demand in a bid to reach a retroactive agreement after the current contract expired at the end of the year.
The disagreement is a major irritant in relations between the longtime allies as they face a growing threat from North Korea amid stalled nuclear talks between Pyongyang and Washington.
The United States has demanded that South Korea significantly increase its contribution for stationing some 28,500 American troops on the divided peninsula. But lead State Department negotiator James DeHart said last month that Washington was not focused on its initial $5 billion demand.
That sum, which would be a nearly five-fold increase from the previous year, and the reported wish of President Donald Trump's administration to expand the scope of the Special Measures Agreement beyond troop funding, have been key sticking in five previous rounds of failed talks.
South Korea's chief negotiator said the two sides were closer but still had work to do as he arrived in Washington, D.C,. for the two-day talks, which began Tuesday.
"We're in the process of narrowing our differences on various issues, but it's also true that we continue to be apart on how to reach a comprehensive deal," Jeong Eun Bo said.
"Both sides are trying very hard to come up with a creative solution," he was quoted as saying by the Yonhap News Agency. "Our negotiations don't deal with just one issue, so we are working to find a compromise."
Here's a look at what's at stake:
What is the Special Measures Agreement? South Korea has helped pay for non-personnel costs for U.S. troops under the agreement since 1991, with most of the funds used for nearly 9,000 South Korean employees who provide food, administrative and logistical support, as well as construction costs. Previous contracts have lasted for five years, but the two sides agreed to a retroactive, one-year stopgap measure increasing South Korea's contribution by 8.2% to about $870 million for 2019 after failing to meet the end-of-year deadline.
What's the problem? The U.S. has demanded that South Korea pay nearly $5 billion per year and wants to add new categories to the agreement, such as the cost of rotational troop deployments. This is in line with Trump's "America First" policies toward alliances. Seoul has indicated it's willing to pay more but insists the two sides should negotiate within the parameters of the current agreement.
South Korea has balked at a fivefold increase, and Jeong said last month that Seoul won't pay for maintaining American troops stationed outside the country. South Korea also says its indirect support for the alliance should be considered, including the fact that the American bases are rent-free. South Korea also sent troops to fight in Iraq after the 2003 invasion. And Washington is pressing Seoul to deploy troops to the Strait of Hormuz amid tensions with Iran. The final agreement must be ratified by the South Korean National Assembly, raising political pressure on President Moon Jae-in's government to reach a better deal.
Will U.S. troops have to leave? Both sides have said that the possibility of withdrawing American troops is not part of the equation, although Trump has said in the past that he would like to bring them home. The South Korean funds are used for non-personnel costs, so the lack of a contract doesn't affect troop salaries. South Korean employees, however, have been warned that furloughs may be necessary if an agreement isn't reached by April. The dispute also has triggered small anti-American protests, although polls show that public support for the alliance remains strong.
Stars and Stripes reporter Yoo Kyong Chang contributed to this report.
gamel.kim@stripes.com Twitter: @kimgamel