US soldier and civilian offer courtroom apologies for May knifepoint robbery on Okinawa
by
Aya Ichihashi Matthew M. Burke
July 20, 2020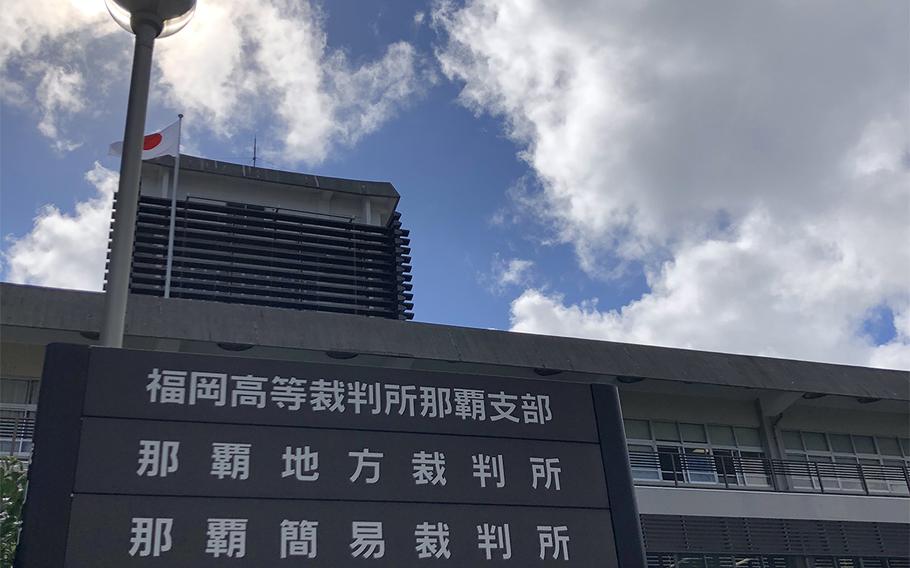 NAHA, Okinawa — Japanese prosecutors on Monday asked for six-year sentences for two men from Kadena Air Base who pleaded guilty to robbing a currency exchange of nearly $65,000 in May.
Army Pvt. Demetrius Moton Jr., 21, and Hassan Smith, 34, a cook for Kadena's Child Development Center, appeared a second time this month in Naha District Court, this time for victim impact statements, recommendations from both the prosecution and defense as well as apologies from the two men.
They pleaded guilty July 13 in connection with the robbery at knifepoint of the exchange near the Camp Foster gate. Both men appealed Monday for leniency from the three-member court.
"I am a failure to my country and a failure to my family," Moton said in court. "I beg you with all my remorse for your forgiveness. I had lost everything and all I have now is my wife and my kids."
Moton and Smith are scheduled for sentencing 3 p.m. Aug. 25 for robbery and invasion of a building, according to the court.
At their first appearance, Moton admitted planning the May 12 robbery. The pair entered the exchange wearing masks; Moton went inside the counter area, brandished a knife and threatened an employee. He and Smith made off with $64,700 in Japanese and U.S. currency.
"Moton is the main person who planned the whole thing," the prosecutor told the court. "However, Smith was there with Moton to check the site and checked again on the day of the crime to make sure no one was there before entering the shop. Also, Smith got half of the money. Because of that, both defendants should be considered for the same amount of time."
Moton's lawyer asked for probation and that Moton be returned to his family in the U.S.
Smith blamed Moton for the crime and asked that he be allowed to return to his wife and children.
A conviction of robbery with threat or assault carries between five to 20 years imprisonment under Japanese criminal law, according to the Ministry of Internal Affairs and Communications.
All but approximately $5,200 of Moton's split has been accounted for, along with $875 of Smith's, according to defense lawyers, who displayed a flow chart showing where the stolen money went.
Moton sent some to his family in the U.S. and gave some to a local girlfriend; Smith sent his share to a friend in Germany, according to earlier testimony.
Smith's wife, Air Force Staff Sgt. Danielle Smith, testified that she first learned of the robbery when police arrived at their door days after the crime. She said she intends to stay with Smith regardless of the trial's outcome. They have five children youger than 8.
"Hassan is very remorseful and made a bad judgement," she told the court.
The exchange shop manager, whose name was not disclosed in court, described the stress of the robbery, the loss in revenue after the shop was closed following the crime and daily media harassment.
"Both suspects caused a tremendous amount of stress and pain to myself and another employee who was at shop that day," the manager said in court. "I could have been seriously injured."
He said the other employee is scared now when customers come in that look similar to the suspects.
"I have this anger and humiliation in me that Moton pointed a knife at me and stole the money right in front of me," the manager said.
He demanded an apology from both men or, failing that, the maximum sentence from the court.
Both men offered apologies.
"I want to say gomennasai (I'm sorry) for our wrongdoing," Moton said. "I'd never take the money for my pleasure; it was for my family in the states."
Moton cited the coronavirus pandemic, its associated economic devastation and what he called a "racial war" going on in the U.S. as reasons for stealing the money to ensure his family's survival.
"For the judges, please give me a mercy," he said in court. "I am not trying to escape from the crime. America is like a prison. The military will make me miserable for rest of my life for failing the country. I just want to be with my family."
Smith said the day of the robbery was the worst day of his life.
"I want to give my deepest sincere apology for those victims," he told the court. "I just want you to know it was never my intention to hurt you. I apologize for mentally hurting you two. I have been remorseful ever since that day and I hope one day you can forgive me."
He begged the court to not make his family suffer for his crimes.
"My daughters need me," he said. "My family is my everything. Sorry from my heart. It wasn't me … something must have gotten into me. Please, please, give me a second chance. I'm not a bad man."
burke.matt@stripes.com Twitter: @MatthewMBurke1 ichihashi.aya@stripes.com Twitter: @AyaIchihashi