video
US sends B-52 bombers over South China Sea for second time in a week
---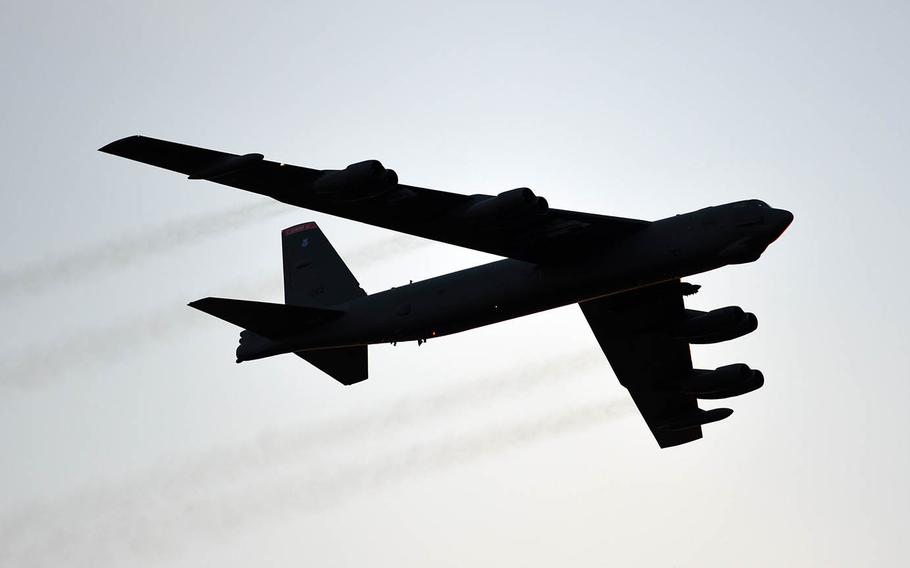 The Air Force flew a pair of strategic bombers over the South China Sea on Wednesday, marking the second time it has sent the nuclear-capable aircraft to the region in just over a week.
"Two B-52H Stratofortress bombers took off from Andersen Air Force Base, Guam, and conducted routine training in the vicinity of the South China Sea on March 13, 2019 [Hawaii Standard Time], before returning to base," Pacific Air Forces said in a statement Friday.
On March 4, one B-52 flew over the South China Sea while another circumnavigated Japan in a joint military exercise with the Japan Air Self-Defense Force, PACAF said at the time.
That mission was the first reported B-52 flight over the South China Sea since November; however, not all are made public. In the past, Beijing has deemed such flights "provocative," blaming the U.S. for the tensions between the two countries.
The Air Force said the bomber flights March 4 and Wednesday were part of "routine training" in the South China Sea.
"U.S. aircraft regularly operate in the South China Sea in support of allies, partners, and a free and open Indo-Pacific," the PACAF statement said. "U.S. Pacific Air Forces bombers have flown from Guam for more than a decade as part of U.S. Indo-Pacific Command's continuous bomber presence operations."
The region is vital to the international economy, with about 80 percent of all trade by volume and 70 percent by value being shipped through the South China Sea, according to the United Nations Conference on Trade and Development.
About 14 percent of U.S. trade transited the area in 2016, according to the Center for Strategic and International Studies' China Power project. China sent about 64 percent of its trade and Japan sent nearly 42 percent through the South China Sea the same year.
The missions follow the trend of freedom-of-navigation operations the Navy conducts in the region to challenge what the service calls China's "excessive maritime claims."
The U.S. disputes China's claim of authority over several islands and reefs in the oil-rich South and East China seas, including in the Spratly, Parcel and Senkaku islands, according to the CIA World Factbook.
China asserts authority over the 12 nautical miles around their claimed islands and reefs, as well as over the airspace above them.
---
---
---
---