US sends B-1B bombers in show of force after North Korean ICBM test
---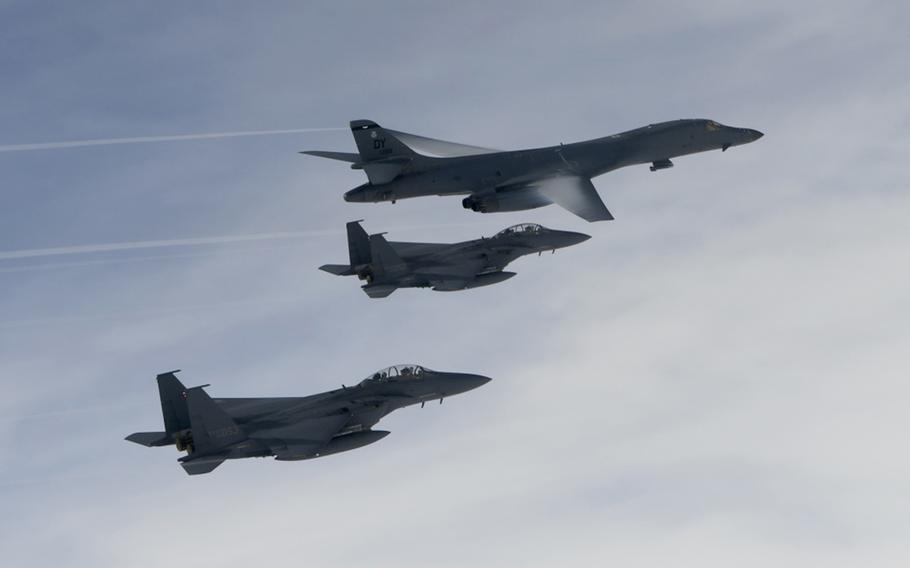 SEOUL, South Korea – A pair of supersonic bombers fired inert weapons at a range in South Korea, the Air Force said Saturday, in a show of force days after North Korea tested its first intercontinental ballistic missile.
The drill happened Friday as part of a 10-hour joint mission with South Korean and Japanese fighter jets, a Pacific Air Forces statement said.
The Guam-based B-1B bombers flew to the divided peninsula where they were joined by South Korean and U.S. fighter jets.
"The B-1Bs practiced attack capabilities by releasing inert weapons at the Pilsung Range," the statement said.
On their way back to Guam, the bombers flew with Japanese fighter jets over the East China Sea, it added.
The exercise came as tensions spiked after North Korea launched an ICBM on Tuesday, raising the stakes in the international standoff over its nuclear weapons program.
President Donald Trump vowed on Thursday to confront North Korea "very strongly" following the missile test, and the United States is pressing for stronger sanctions and diplomatic pressure against the communist state.
The Air Force said the missions showed solidarity with its allies South Korea and Japan, where the U.S. has a combined force of about 80,000 servicemembers.
"North Korea's actions are a threat to our allies, partners and homeland," said Gen. Terrence O' Shaughnessy, Pacific Air Forces commander. "Let me be clear, if called upon we are trained, equipped and ready to unleash the full lethal capability of our allied air forces."
gamel.kim@stripes.com Twitter: @kimgamel
---
---
---
---