US, S. Korea begin installing THAAD missile defense system
by
Yoo Kyong Chang Kim Gamel
April 26, 2017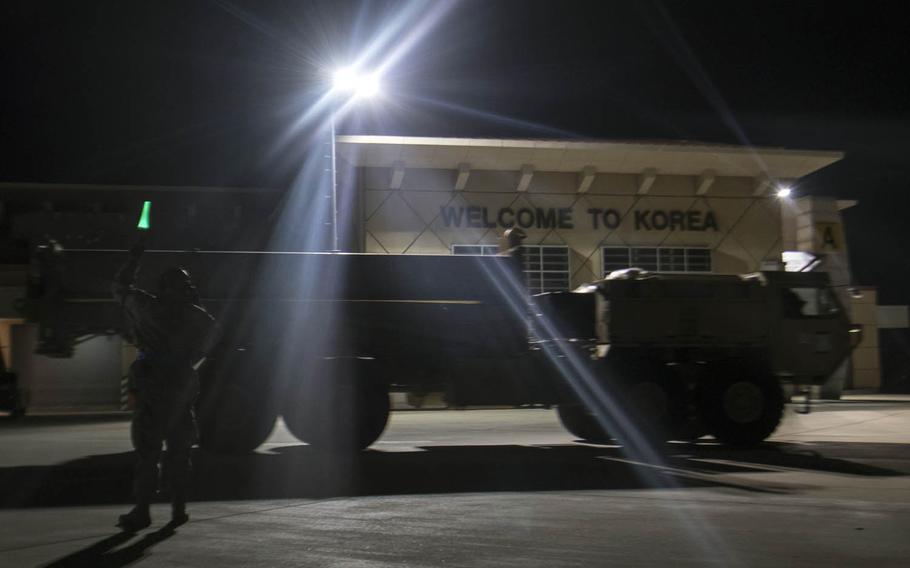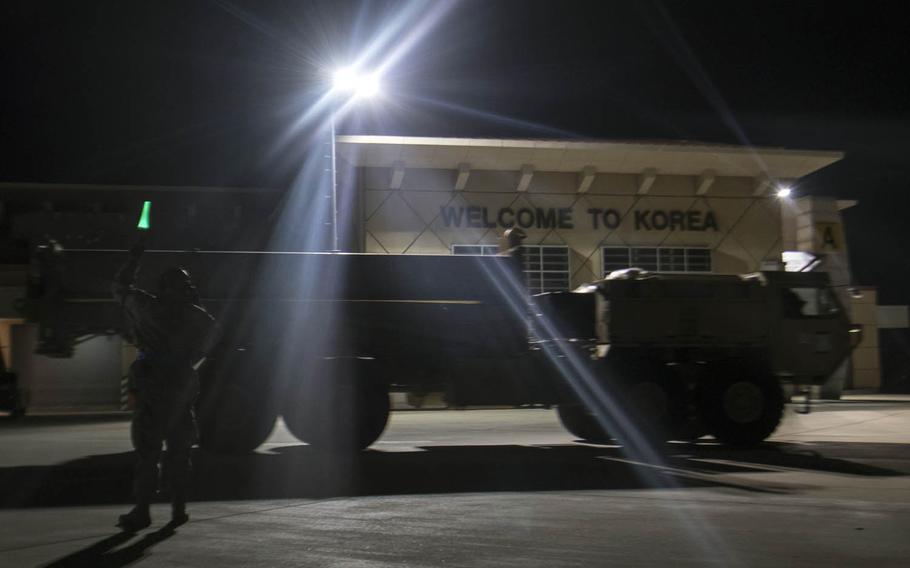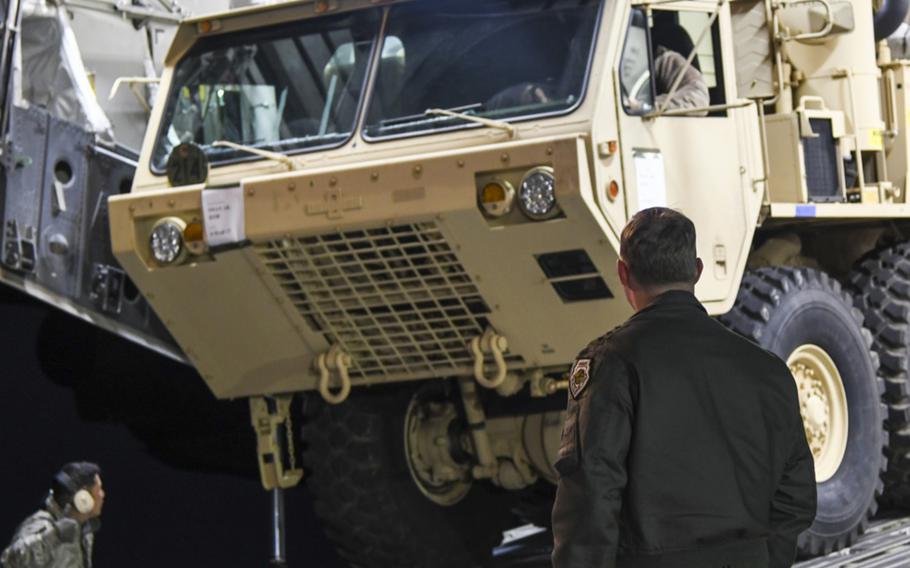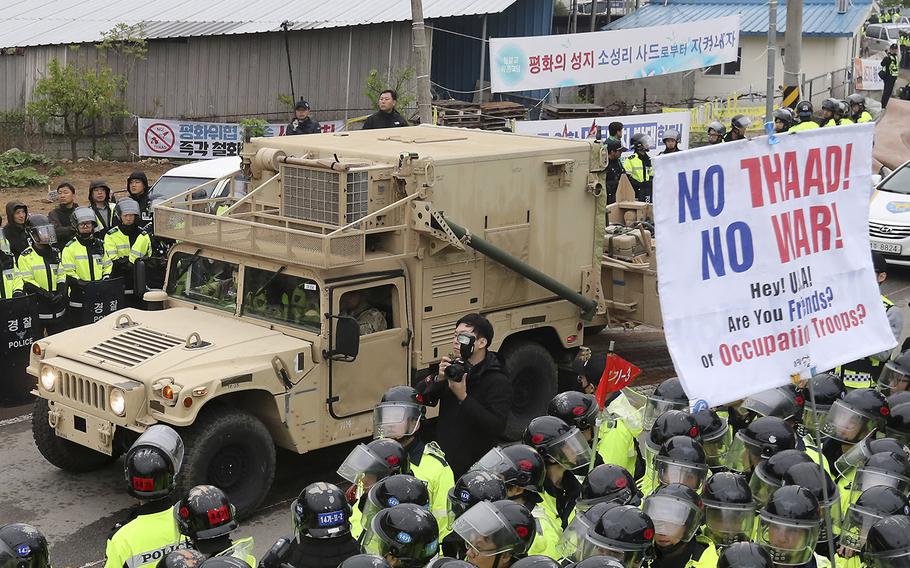 SEOUL, South Korea – U.S. forces began installing an advanced missile defense system Wednesday, and South Korea said it will be operational by the end of the year as the allies step up pressure on the North over its nuclear weapons program.
It was the latest move as both sides try to project force amid fears that rising tensions on the divided peninsula could erupt into a full-fledged conflict.
The United States and South Korea agreed last year to deploy the Terminal High Altitude Area Defense system, or THAAD, to counter the growing threat from the North. But the decision met fierce opposition from China, which fears the system could be used against its military.
Beijing said it expressed "serious concern" to Seoul and Washington and warned it will "firmly take necessary measures to safeguard its own interests."
"China strongly urges the US and South Korea to stop actions that would raise regional tensions as well as harm China's strategic and security interests by canceling the THAAD deployment and withdrawing relevant equipment," Chinese Foreign Ministry spokesman Geng Shuang told reporters on Wednesday, according to the BBC.
Many South Koreans also strongly object to the anti-missile battery, and police in riot gear had to hold back local protesters as trucks carrying the equipment passed by on a road leading to the former golf course that will be its new home in the rural southeastern area of Seongju.
Presidential hopefuls and other critics also accused the military of trying to rush THAAD into place ahead of snap elections to be held in less than two weeks.
The Ministry of National Defense confirmed that some parts of THAAD had been positioned to "secure early operational capability" but said no new facilities had been built.
The two countries will conduct the requisite environmental assessment and facility construction as scheduled and plan to have the THAAD unit fully operational by the end of the year, it added.
The ministry didn't specify which parts were installed. South Korea's Yonhap news agency reported that they were believed to include the system's powerful radar and mobile launchers.
The Pentagon said it has been working with South Korea to complete THAAD's deployment "as soon as feasible" and reiterated the system is solely aimed at defending South Korean and alliance forces from North Korean missile threats.
It also noted that North Korea has threatened to strike cities in the U.S., South Korea and Japan, saying "North Korea's unlawful weapons programs represent a clear, grave threat to U.S. national security."
Surviving April
The U.S. military has deployed a steady stream of strategic assets in recent weeks in what was widely seen as a warning to North Korea, after satellite imagery showed heightened activity at the communist state's main nuclear-testing site.
North Korea watchers said that could mean preparations for a sixth nuclear test in connection with key April holidays.
But other than a failed missile test on April 16, the North stuck to putting on shows of military might – parading what appeared to be intercontinental ballistic missiles through Pyongyang on the April 15 birthday of late founder Kim Il Sung and conducting what it said was its largest live-fire artillery drill on its army foundation day on Tuesday.
Leader Kim Jong Un supervised the combined fire exercise, which included simulated submarine torpedo attacks and an aerial assault, according to the state-run Korean Central News Agency.
North Korea has shown relative restraint but maintains the ability to conduct a nuclear or missile test, said John Delury, a professor of international relations at Yonsei University in Seoul.
"We survived two key dates that are on the North Korean calendar, but there's been no breakthrough," he said. "There's been no progress or resolutions."
'A very dangerous bluff'
President Donald Trump has warned that all options, including military strikes, are on the table as he's determined to stop Pyongyang from achieving its stated goal of developing a nuclear-tipped missile that could reach the U.S. mainland.
Underscoring U.S. military capabilities, the guided-missile submarine USS Michigan made a port call in South Korea on Tuesday, while U.S. warships conducted joint exercises with South Korea and Japan in the waters to the east and west of the peninsula.
The USS Carl Vinson strike group, which includes an aircraft carrier and three warships, also is making its way to the region. Aircraft from Carrier Air Wing Two, which is assigned to the strike group, conducted combined aviation exercises with Japanese forces Wednesday in the Philippine Sea, south of Japan, the 7th Fleet said.
"There's an element of gunboat diplomacy here … to throw a lot of exercises and weaponry at the problem," Delury said, adding that it could be "a very dangerous bluff."
"North Korea is watching every move, and they could make a miscalculation," he added.
Unwelcome mat
Thousands of police officers fanned out while about 200 residents and supporters protested in front of a local community center as the THAAD equipment was trucked to the hilltop golf course in the mountainous melon-farming area of Seongju.
Some protesters could be seen in television footage hurling water bottles at trailers carrying the equipment.
Kim Chunghwan, head of a local protest committee, said several people were injured in scuffles with police.
Many South Koreans object to THAAD for reasons ranging from fears of negative health and economic effects to concern it could make the region a potential North Korean artillery target.
Critics also argue the North Koreans will be able to overwhelm the system with their large stock of conventional weapons.
The anti-missile battery has six truck-mounted launchers that can fire up to 48 interceptor missiles designed to knock out incoming targets at high altitudes. In South Korea, military officials say it will be part of a layered defense system that includes Patriot missiles.
The issue also spilled into the presidential election campaign as polls show a left-leaning candidate is likely to win. The May 9 vote was scheduled after ex-President Park Geun-hye, who was a firm supporter of THAAD, was ousted over a corruption and influence-peddling scandal.
Front-runner Moon Jae-in's camp said the overnight move "ignored the will of the people and procedures" and reiterated its stance that the next government should be allowed to make a final decision on the deployment.
Another liberal candidate, Ahn Cheol-soo, who recently changed his stance to support the system, denounced the sudden placement.
"As the deployment of THAAD is for the safekeeping of Korea and its people, its placement must take place according to due process and after careful discussions with residents of the area," his spokesman, Kumju Son, said.
gamel.kim@stripes.comchang.kyong@stripes.com