US relief for Typhoon Haiyan in Philippines stepped up
by
J. Taylor Rushing Seth Robson rushing.jt@stripes.com robson.seth@stripes.com
November 13, 2013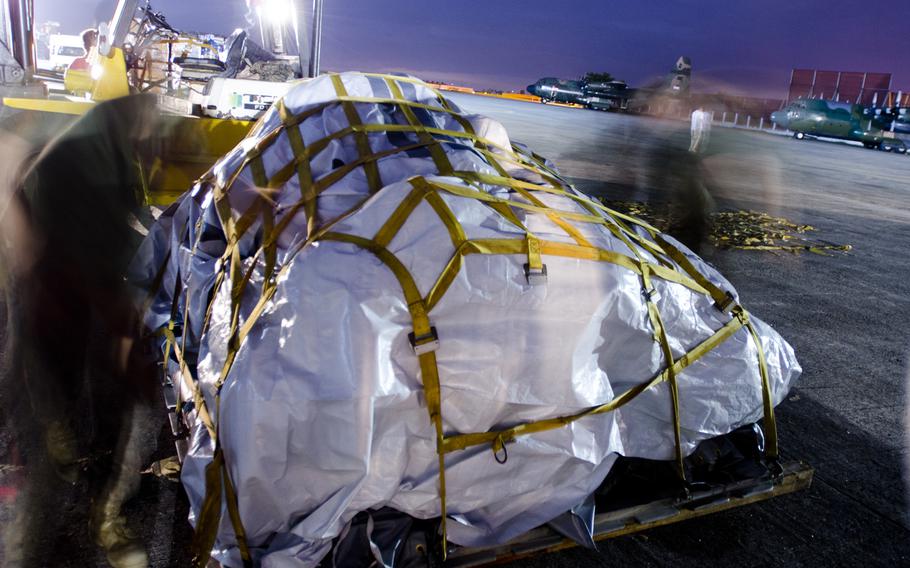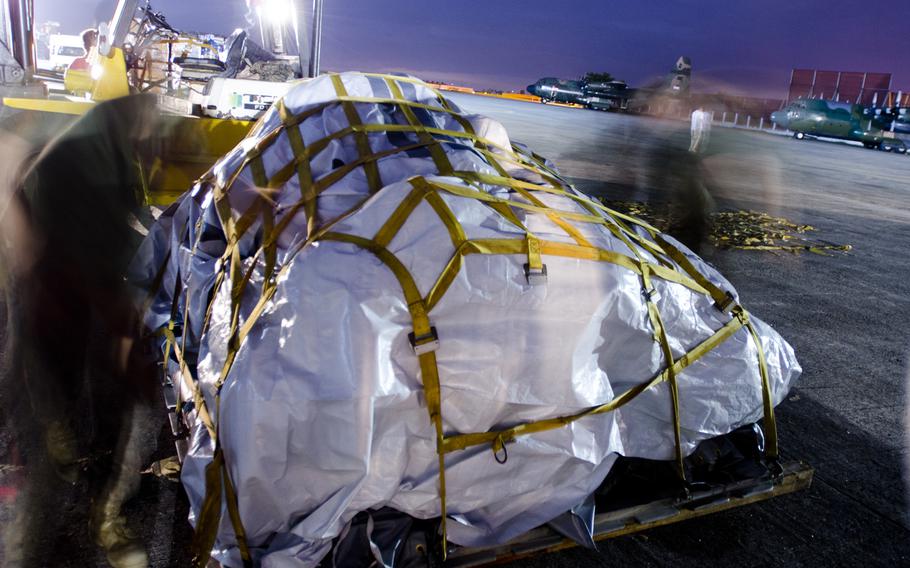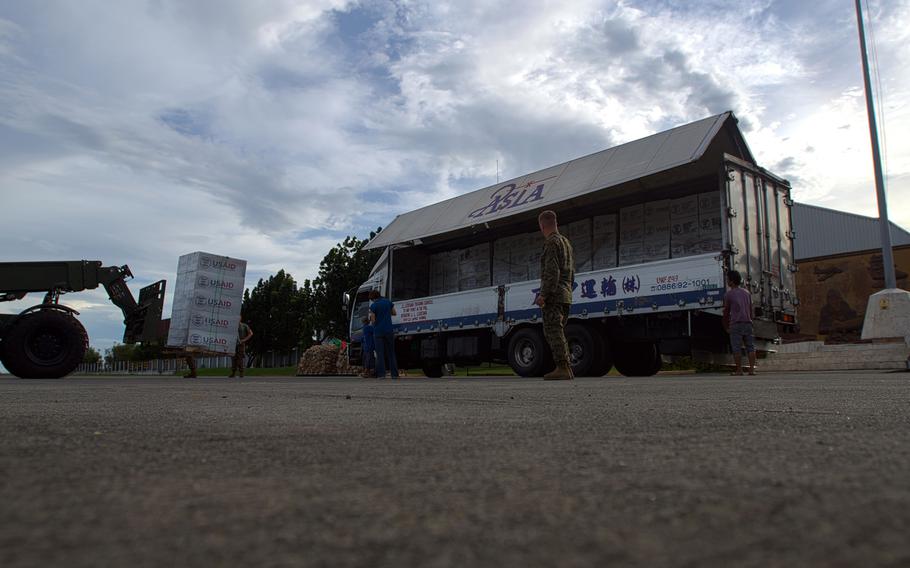 VILLAMOR AIR BASE, Philippines — U.S. relief efforts in the Philippines are accelerating, with 24-hour air operations and the imminent arrival of the USS George Washington aircraft carrier.
Marines were packing boxes of Meals, Ready to Eat, generators and bottled water on pallets and loading them onto transport planes at Villamor Air Base in Manila on Wednesday. Nearby workers in hard hats from international search-and-rescue teams and medical teams waited for flights to the disaster zone.
Lt. Col. Rod Legowski, 51, of Toledo, Ohio, operations officer for the 3rd Marine Expeditionary Brigade out of Camp Courtney, Okinawa, is part of a large group of U.S. personnel working in Manila to coordinate the relief effort. By Wednesday night, there were 300 U.S. servicemembers working in the Philippines, including 260 Marines, Army Special Operations troops who were deployed to Mindanao when the storm hit Friday, and an Air Force Contingency Response Group from Guam, Legowski said.
On Wednesday, the Obama administration said the total number of U.S. troops could hit 1,000 as soon as by the end of the week, with the arrival of more ships to aid relief, according to The Associated Press. A variety of logistical and physical roadblocks to the damaged city of Tacloban have been smoothed over, officials said, meaning the additional troops would have an easier time delivering supplies.
Numerous U.S. aircraft including Marine Corps Ospreys and Hercules and Navy Orions and UC-28s had flown more than 40 sorties to Samar, Leyte, and Cebu provinces out of Clark Air Base and Villamor since Sunday to bring supplies and personnel into the disaster zone and evacuate personnel, he said.
U.S. aircraft have taken almost 400 Philippines military personnel into the disaster zone and evacuated 800 people including 44 U.S. civilians and 21 third-country nationals, he said.
By Wednesday, the U.S. flights had transported 107,000 pounds of relief supplies.
More help is also on the way. On Thursday, two more C-130s will arrive, along with the George Washington aircraft carrier strike group, which carries 21 helicopters, Legowski said.
The Philippine government has determined that the U.S. relief efforts will focus on Tacloban and Samar, with other international forces taking care of the areas to the west, he said.
The U.S. has not been asked to provide medical support, but U.S. personnel assessed the only operational hospital in Tacloban on Tuesday and determined that most people seeking assistance there only needed routine treatment, Legowski said.
The arrival of the 31st Marine Expeditionary Unit from Okinawa will arrive in five to seven days with two amphibious ships — the USS Ashland and USS Germantown from Sasebo Naval Base, in Japan, will also help aid reach more remote areas, he said.
"They will have small boats, landing craft and helicopters," Legowski said. "There is going to be a need to use those assets to get supplies to the remote areas that nobody else can get to.
"A lot of the roads are blocked so they only way you can assess a lot of these villages are by air, sea or in amtracks (amphibious vehicles)," Legowski said. "They (amtracks) are the perfect vehicle for accessing areas where the roads are blocked."
Daniel Dieckhaus, USAID civil military coordinator in Manila, said the U.S. had brought 180,000 pounds of relief supplies into the Philippines by Wednesday night, with more supplies due in the next day or two. The supplies include plastic sheeting for shelter and hygiene kits that each provide 30 days of supplies for a family of five – things like toothpaste, soap and feminine products, he said.
"It is basically to help people maintain basic hygiene," Dieckhaus said. "That's important, especially when you are living outdoors."
The U.S. is also funding nongovernmental organizations who are sending teams to work in the disaster zone, he said.
In Washington, Pentagon Press Secretary George Little said Tuesday that despite the U.S. presence in the Philippines, he did not see a need for a rotational presence as part of U.S. troop aid there.
Asked whether the deployments could lead to long-term, rotational duties by U.S. servicemembers, Little said no, noting that the U.S. has a strong presence in the Asia-Pacific region.
"I'm not sure I'd draw a direct linkage between our rotational presence in the region and our ability to respond to these kinds of crises," he said. "... We have thousands of forward-deployed servicemembers in the region who can respond."
Little cast the humanitarian aid to the Philippines in national security terms.
"One of the key pillars of our Strategic Defense Guidance is — not just in the Asia-Pacific region but elsewhere — to build partner capacity," he said. "One of the linchpins of that is to continue to invest in our allies and our partnerships, particularly in the Asia-Pacific region where we have had bases open and close over the years.
"The goal is not to have new, permanent bases for the U.S. military, but to have occasional rotational presences so we can work together with allies and partners in the region to address problems like humanitarian assistance and disaster relief. That's in our interest, and it's in our [partner] countries' interests as well. We can do a lot, but we can only do so much as a military."
Sailing with the Washington are the cruisers USS Antietam and USS Cowpens, and the destroyer USS Mustin. The USNS Charles Drew dry cargo ship and the USS Lassen, a destroyer based in San Diego, are en route separately. Aboard the Washington is Carrier Wing 5, designed for disaster relief operations.
Little said other countries were participating with the U.S. Navy in the relief efforts, but did not have specifics on which countries or the scope of their assistance.
robson.seth@stripes.com Twitter: @SethRobson1
rushing.jt@stripes.com Twitter: @jtr1