US, Philippines still expected to hold spring Balikatan drills despite security pact rift
by
Matthew M. Burke
February 13, 2020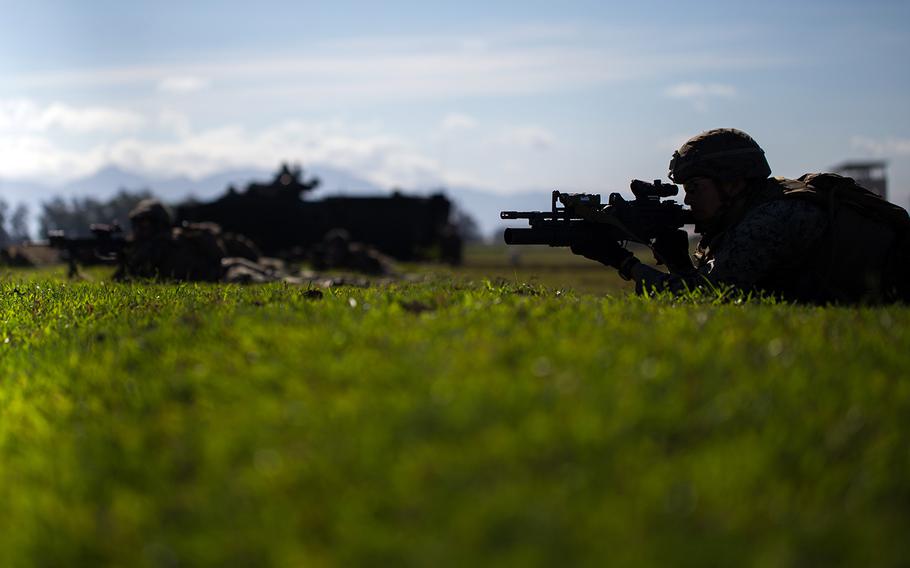 Joint military exercises with the United States will go on as planned ahead of the termination of a longstanding security pact between the two allied nations in six months' time, Philippines National Defense Sec. Delfin Lorenzana said Thursday.
The multinational Balikatan exercise has taken place in the Philippines every spring for 35 years. However, Philippines officials announced Tuesday they had notified the U.S. Embassy in Manila of their intention to terminate the Visiting Forces Agreement, which permits U.S. troops to deploy in the country.
Philippines President Rodrigo Duterte ordered the termination after Washington reportedly canceled the U.S. visa of Sen. Ronald Dela Rosa, a stalwart ally and former Philippines National Police chief. Dela Rosa has been cited for human rights violations related to Duterte's bloody drug war that began when he was elected president in 2016.
The agreement, in place since 1999, is slated to end 180 days after notification.
"With the formal serving of the notice of termination of the Visiting Forces Agreement, this year's planned military exercises with the Americans shall proceed as scheduled within the 180 days that the VFA remains in force," Lorenzana said Thursday in a statement released by his office. "However, our American counterparts may opt to discontinue the scheduled exercises before the 180 days are up."
Once the termination is final, the Philippines would "cease to have exercises" with the U.S., Lorenzana said.
The U.S. Embassy in Manila could not be reached for comment Thursday afternoon. U.S. Indo-Pacific Command did not immediately respond to requests seeking comment, and a spokesman for the III Marine Expeditionary Force in Okinawa, Japan, referred all questions to the embassy.
Gen. Felimon Santos Jr., chief of staff of the Philippines armed forces, said the Philippines would look to "increase" training and exercises with other allied nations like Japan and Australia to make up for the absence of U.S. troops, the ABS-CBN television network reported Thursday.
Politicians in the country questioned the constitutionality of the termination and expressed concerns that other agreements between the two countries may now be in peril, namely the 1951 Mutual Defense Treaty. That treaty requires both countries to defend one another should they be attacked by a third party.
Security experts have said that ending the Visiting Forces Agreement could do real damage to the longtime Pacific allies' defense relationship as well as harm U.S. efforts to deter China in the South China Sea.
The Philippines is locked in a series of maritime territorial disputes with China and military cooperation between the Philippines and the U.S. is seen as key to containing China and pushing back against its territorial claims.
"Washington will [be] less likely to continue to commit to Philippine defense in the South China Sea, given that there was no way for its troops to be in Filipino territory," Jeffrey Ordaniel, assistant professor of international security studies at Tokyo International University, told Stars and Stripes in January.
"One of the very few options available for the U.S. to influence China's behavior in the South China Sea, long term, is to work with its alliance with the Philippines," he added. "It's difficult to deter China in maritime Southeast Asia from Guam, Okinawa or Darwin. They're simply too far away … Beijing will certainly be happy with this."
President Donald Trump said he was "fine" with the Philippines' decision when queried by a reporter Wednesday in the Oval Office.
"That's fine — we'll save a lot of money," Trump said. "I have a very good relationship there, but I really don't mind if they would like to do that."
A Duterte spokesman said Wednesday that the agreement should have been terminated "a long time ago," because it was only advantageous to the United States.
Balikatan, which translates to "shoulder to shoulder" from Tagalog, took place April 1-12 in locations around the Philippines last year. It featured 4,000 Filipino, 3,500 American and 50 Australian troops taking part in amphibious operations, live-fire training, urban operations, aviation operations and counterterrorism response on the islands of Luzon and Palawan.
burke.matt@stripes.com Twitter: @MatthewMBurke1