GALLERY
US Ospreys, other aircraft and troops arrive in Nepal to aid relief effort
---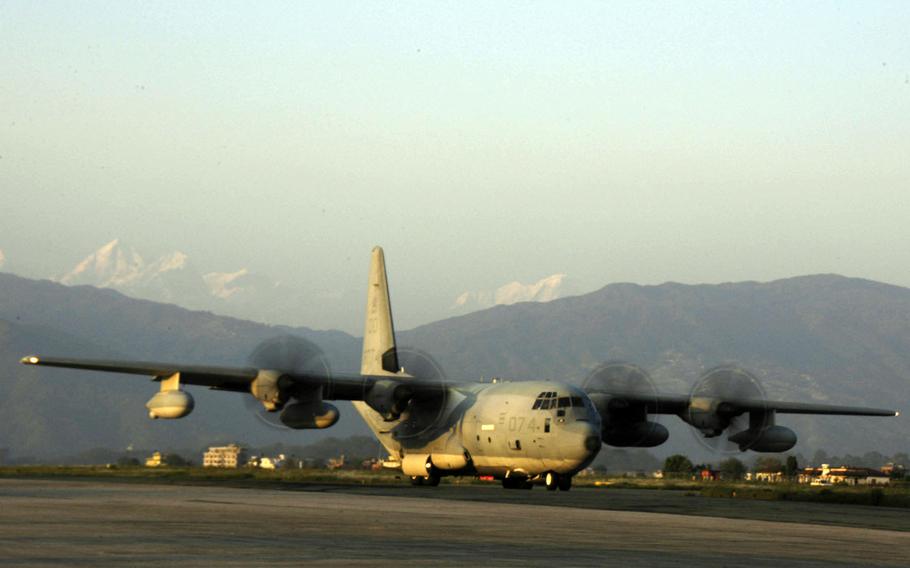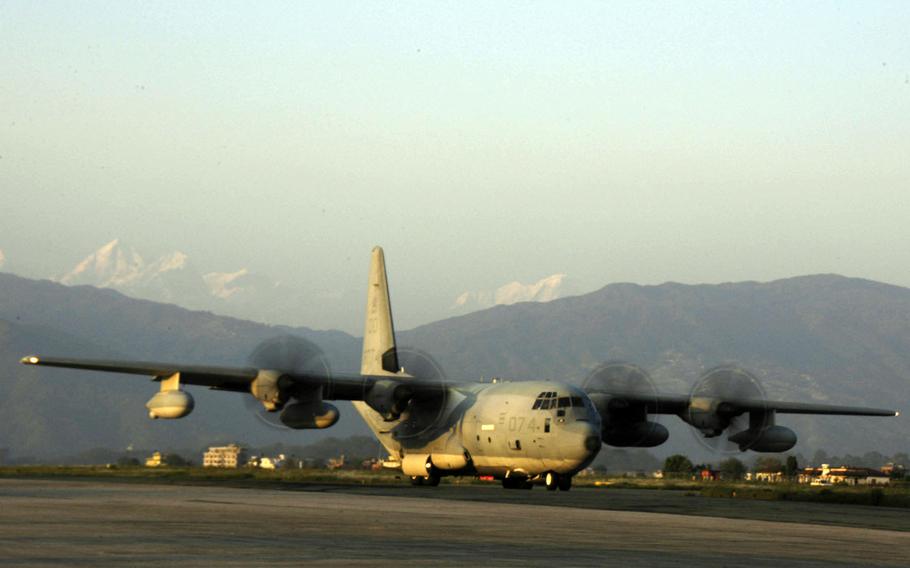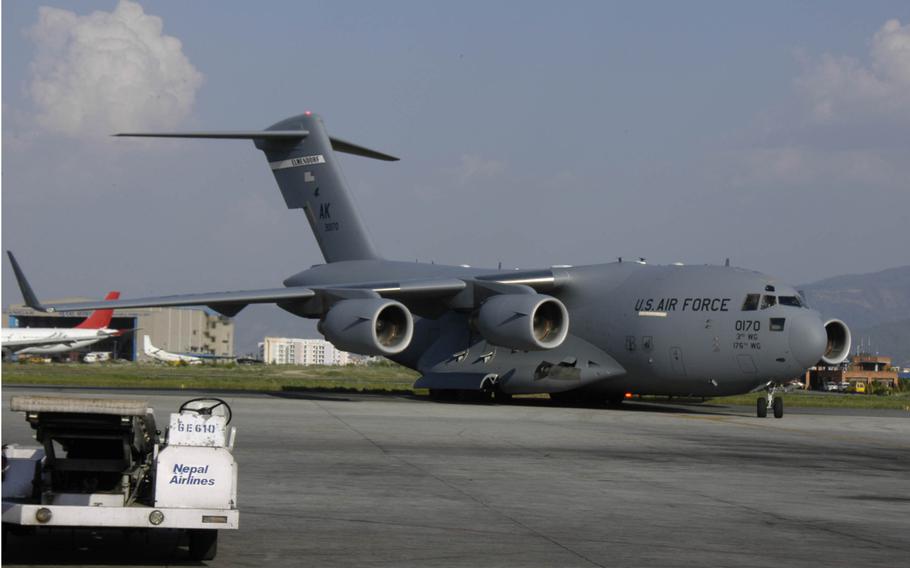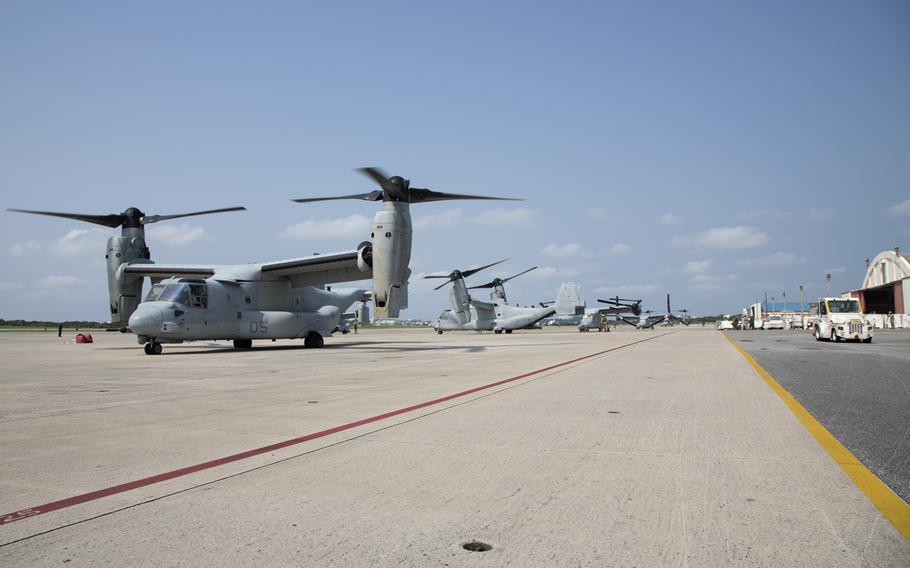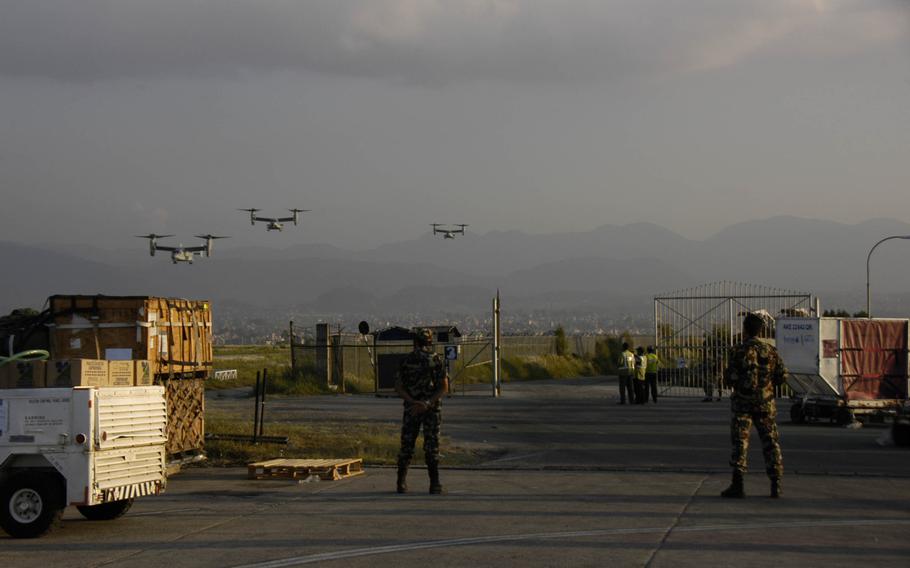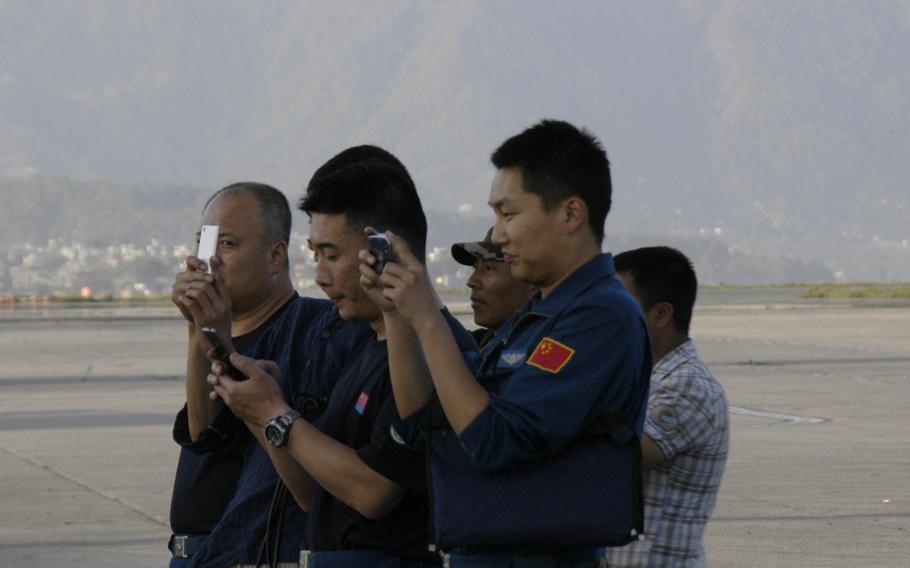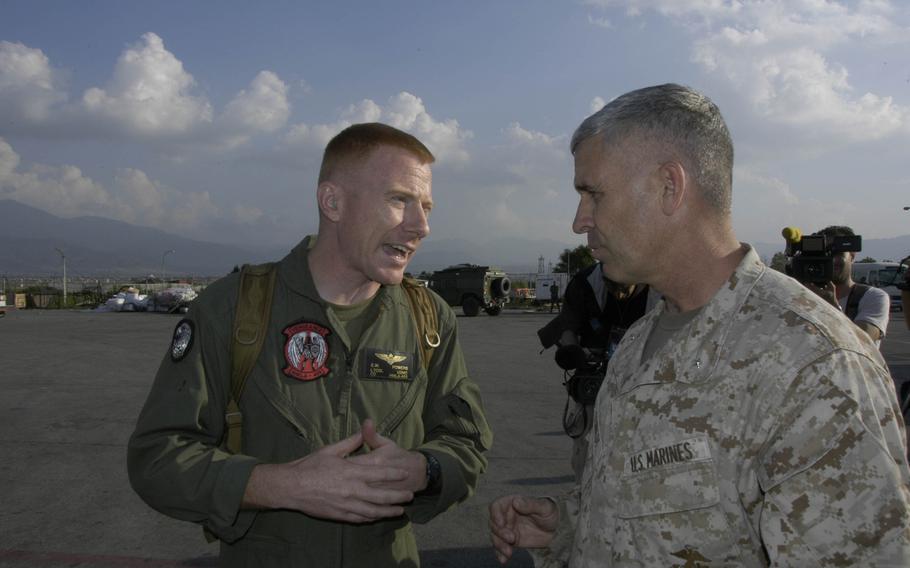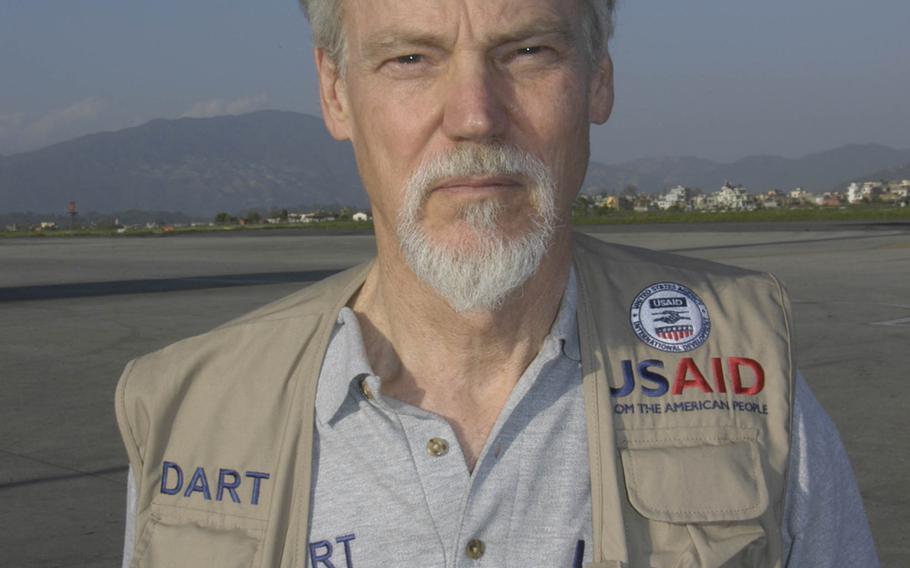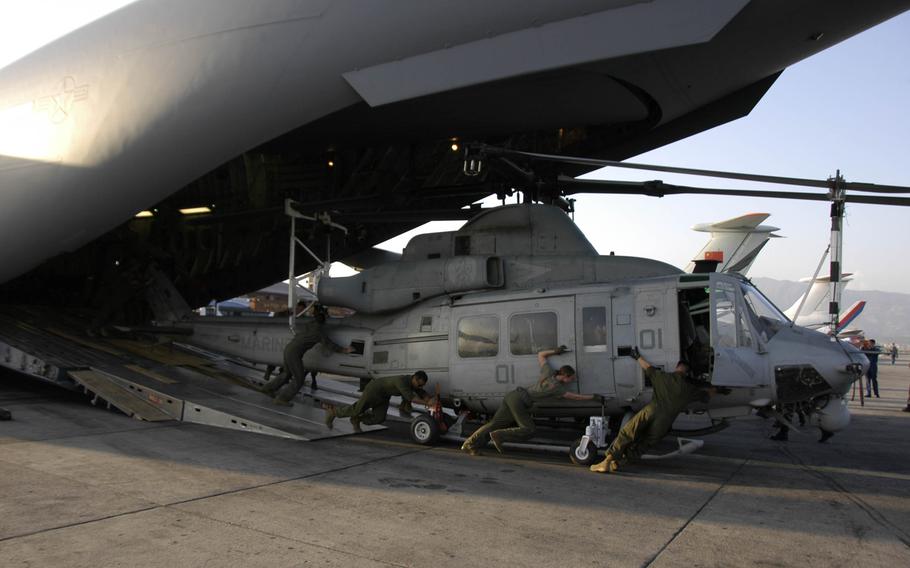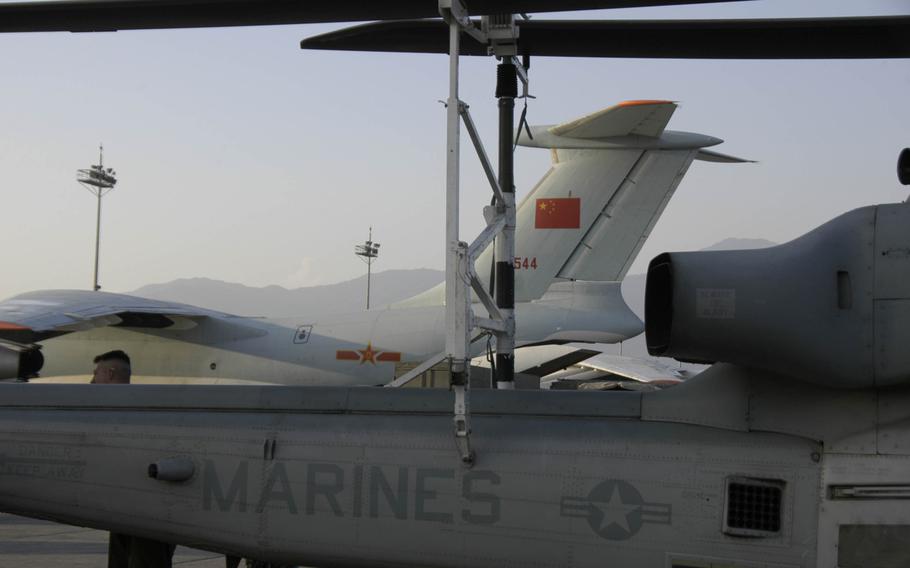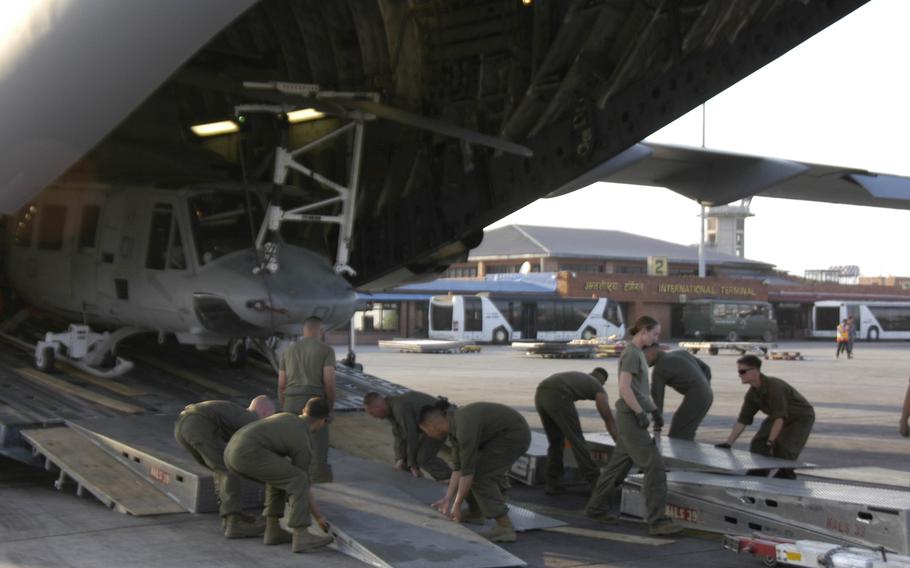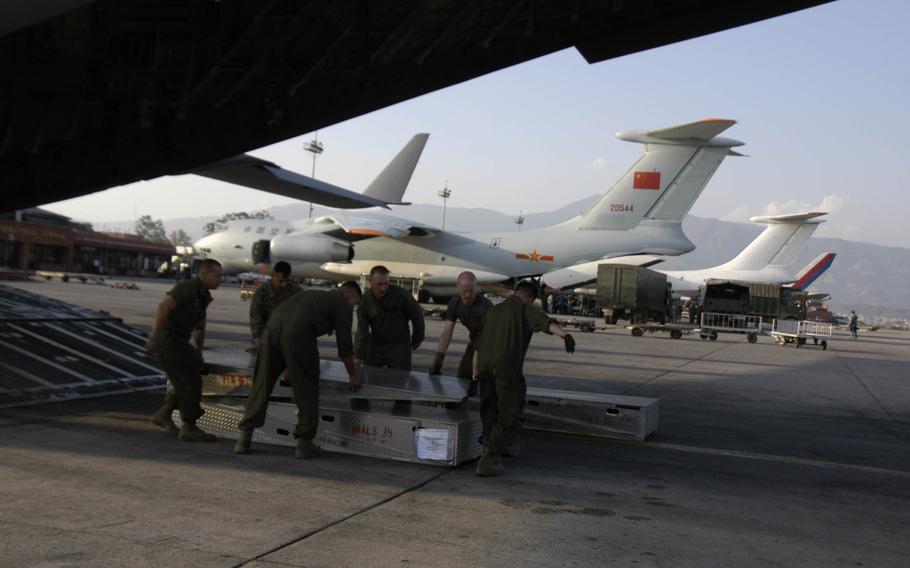 KATHMANDU, Nepal — Several large transport aircraft and four tilt-rotor MV-22 Ospreys landed at Kathmandu's international airport Sunday as U.S. forces arrived to assist in the Nepal earthquake relief effort.
People's Liberation Army soldiers, whose own massive transport jet was parked next to the first American C-17 to land on the tarmac, were clearly impressed when a group of Marines unloaded a UH-1 Huey helicopter.
They were gathering around taking photographs when the four Ospreys appeared, flying in formation past the spectacular mountains that surround the Nepalese capital.
Soon after the Ospreys touched down, a U.S. Marine Corps KC-130 landed and another zoomed overhead as the sun set behind the Himalayas.
The U.S. aircraft and personnel were originally scheduled to arrive Saturday, but were delayed a day due to logistics.
Earlier, the airport had been closed to large aircraft due to runway damage. The U.S. contingent was to include Air Force personnel out of Guam who can control air traffic, repair airfields and offload supplies with heavy equipment.
One of the first to step off the C-17 was Marine Corps Huey pilot Capt. Duncan James, 32, of Brady, Texas.
James has flown at 5000 feet above mountains near his home station – Camp Pendleton, Calif. – but he could be required to soar to 10,000 feet in his unpressurised helicopter during the earthquake relief mission.
"It is a little more challenging flying at that altitude, but we have trained to do it," he said.
The Hueys will survey areas to see where aid is needed. They could also transport personnel and as much as 18,500 pounds of relief supplies per load to remote areas, James said.
"As a small aircraft, the Huey can get into places that other helicopters can't," he said.
Navy flight surgeon Lt. Brendan McCluney, 34, of Los Angles, said he's trained to medevac wounded troops but that he will do whatever is needed during the earthquake relief effort.
"I'm here to look out for the pilots and air crew," he said.
The Marines will be under stress working at high altitude, McCluney said.
"The higher you go, the thinner the air," he said. "Your oxygen saturation will go down, so you will need to be vigilant about what you are doing."
Bill Berger of the U.S. Agency for International Development's Office of Foreign Disaster Assistance met the troops at the airport.
Berger, who has been helping the Nepalese prepare for an expected earthquake for 15 years, said the natural surroundings, which include the world's highest mountains, are the biggest challenge to the relief effort.
"Nepal is a mountainous country, but very sparsely populated," he said. "It is hard to get to all these tiny villages at high altitude."
The military aircraft will help deliver supplies to hubs in the field, he said. "People will come down from high altitude areas to pick them up."
The U.S. has committed $10 million to earthquake relief efforts in Nepal so far, and Berger expects more funds to be announced shortly. USAID has begun delivering 7,000 rolls of plastic sheeting to provide shelter for survivors, he said.
U.S. forces are boosting the capacity of the local military and non-governmental organizations, Berger said. "The Nepali army has been responding to this from day one. All the NGOs have been responding."
USAID has deployed search and rescue teams from Los Angles and Fairfax County, Va., said Berger, who hopes to survey the Rauowa district in one of the Marine Corps Hueys.
"We will look at what the damage is and see if there is somewhere we need to get a team out to," he said.
robson.seth@stripes.com Twitter: @SethRobson1
---
---
---
---