US Navy joins search for missing Japan F-35A pilot
by
Hana Kusumoto
April 10, 2019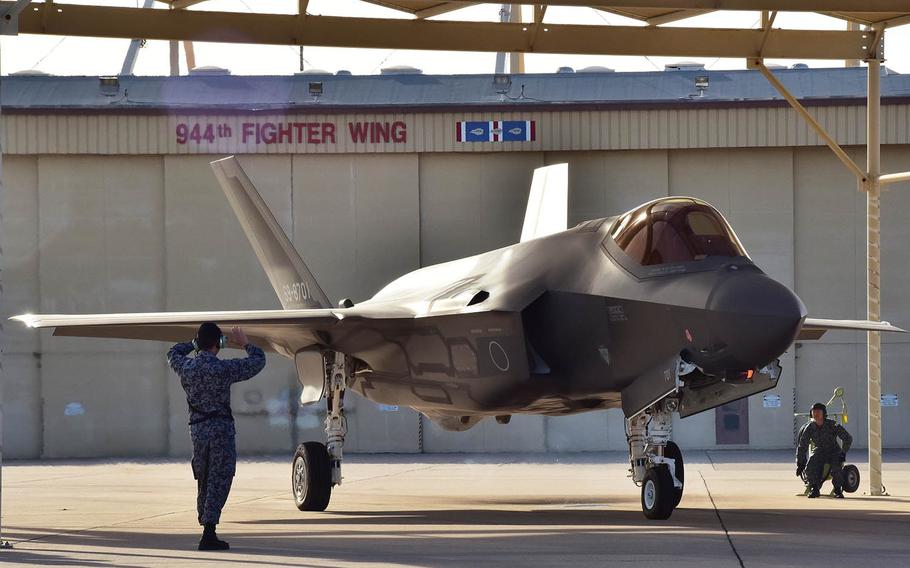 TOKYO — The U.S. Navy joined the search for a missing Japan Air Self-Defense Force pilot whose F-35A Lightning II stealth fighter went down Tuesday in the Pacific Ocean.
The JASDF said on Wednesday a search team found parts of the aircraft left and right rudders in the water around 9:45 p.m. Tuesday.
A Navy P-8A Poseidon maritime patrol aircraft and the USS Stethem, a guided-missile destroyer, joined the Japanese-led search for the pilot, according to a Navy news release Wednesday. A JASDF spokesman described the pilot as a major in his 40s.
This is the first accident involving an F-35A anywhere, Asahi Shimbun reported. A Marine Corps F-35B fighter jet crashed near the Marine Corps Air Station in Beaufort, S.C., in September.
The JASDF fighter disappeared from radar screens and communication with it was lost just before 7:30 p.m., Defense Minister Takeshi Iwaya told reporters Tuesday night. The jet was approximately 85 miles east of Misawa Air Base, its home field, in the Aomori prefecture in northeastern Japan.
The pilot was conducting a nighttime anti-fighter combat drill with three other F-35As, Iwaya said.
The spokesman, who spoke on a standard condition of anonymity, said communications with the pilot indicated nothing abnormal, although the pilot called off the training before the jet disappeared.
A JASDF search team of 11 aircraft, including UH-60Js and U-125s as well as Japan Maritime Self-Defense Force ships and aircraft, began searching the area where the fighter went missing shortly after the incident. The Japan Coast Guard also sent ships to the scene, the spokesman said.
The cause of the crash is under investigation by the aircraft accidents investigation commission, the spokesman said.
During a news conference Wednesday, Chief Cabinet Secretary Yoshihide Suga apologized for causing anxiety to the local residents and said the government will take preventative measures after identifying the cause of the accident, Jiji Press reported.
All of Japan's F-35As, which are assigned to Misawa Air Base, were grounded Tuesday.
Thirteen of the advanced fighters have deployed to Misawa since January 2018, according to the Asahi newspaper. A first squadron of the JASDF F-35As with 80 members was formed in March at Misawa, according to the defense ministry.
Japan started deploying the expensive U.S.-made F-35s since last year, part of its plan to bolster its defense spending and weapons capability in the coming years to counter potential threats from North Korea and China, according to the Associated Press.
Under guidelines approved in December, Prime Minister Shinzo Abe's government plans to buy 147 F-35s, including 105 F-35As, costing about 10 billion yen ($90 million) each, AP reported.
Kusumoto.Hana@stripes.com Twitter: @HanaKusumoto