US military uses South Korean labs for coronavirus tests on troops stationed elsewhere
by
Kim Gamel
April 6, 2020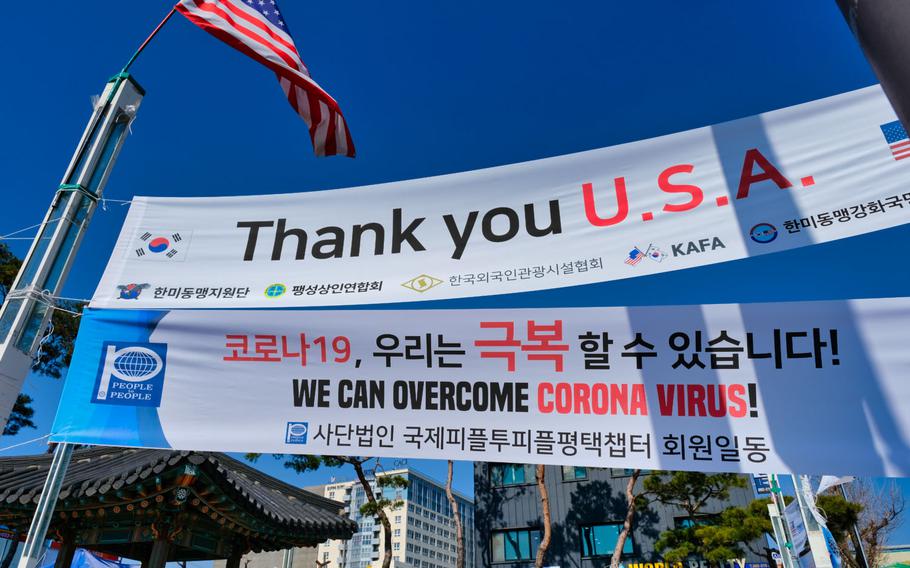 Stars and Stripes is making stories on the coronavirus pandemic available free of charge. See other free reports here. Sign up for our daily coronavirus newsletter here. Please support our journalism with a subscription.
SEOUL, South Korea — Struggling with its own cases, the U.S. military said Monday that it has used South Korean civilian laboratories to conduct coronavirus tests on samples from American troops stationed elsewhere.
South Korean media reported that 72 American service members have been confirmed to have been infected with the virus in tests conducted by a research institute in Seoul at the request of the military hospital on Camp Humphreys.
U.S. Forces Korea confirmed that samples of troops stationed off the peninsula have been tested by the Korea Centers for Disease Control and Prevention and other South Korean labs.
It didn't provide details but said any outside reports of positive cases didn't change its own total, which stands at 19, including two soldiers.
"KCDC and USFK have developed a good and reliable working relationship during the COVID-19 crisis," USFK said in an emailed statement. "Thanks to this relationship, KCDC and other South Korean labs have agreed to test other off-pen U.S. military swabs."
In the beginning stages of the pandemic, USFK relied on the South Koreans for testing its personnel, but it stood up its own testing lab on March 8.
Since then, the number of confirmed coronavirus cases affiliated with the military has doubled after several American contractors stationed on Camp Humphreys and Osan Air Base tested positive.
"USFK agreed to help other off-peninsula military services conduct test samples as we have the capability to test 80 to 100 daily, but are probably overwhelmed due to the recent run of contractor confirmed cases," USFK was quoted as saying earlier by the Yonhap News Agency. "So we've outsourced them to (South Korean) labs."
USFK spokesman Col. Lee Peters said that was not an official statement from the command.
He said USFK won't release aggregate numbers of people tested or quarantined due to recent Pentagon guidance.
However, the command stressed it remains "open and transparent with its internal communities and South Korea" in reporting confirmed cases and any other reports of other Americans testing positive did not "reflect or imply an increase" to its own tally.
South Korea, meanwhile, logged 47 cases on Sunday, its lowest number since an outbreak began in the southeastern city of Daegu in late February.
That raised its total to 10,284, with 186 deaths, the KCDC said on Monday. It said 6,598 coronavirus patients have fully recovered and been discharged, while more than 93% of 466,804 tests had negative results.
Stars and Stripes reporter Yoo Kyong Chang contributed to this report.
gamel.kim@stripes.com Twitter: @kimgamel