US military to cut 245 S. Korean jobs as forces move south
by
Yoo Kyong Chang Kim Gamel
April 10, 2018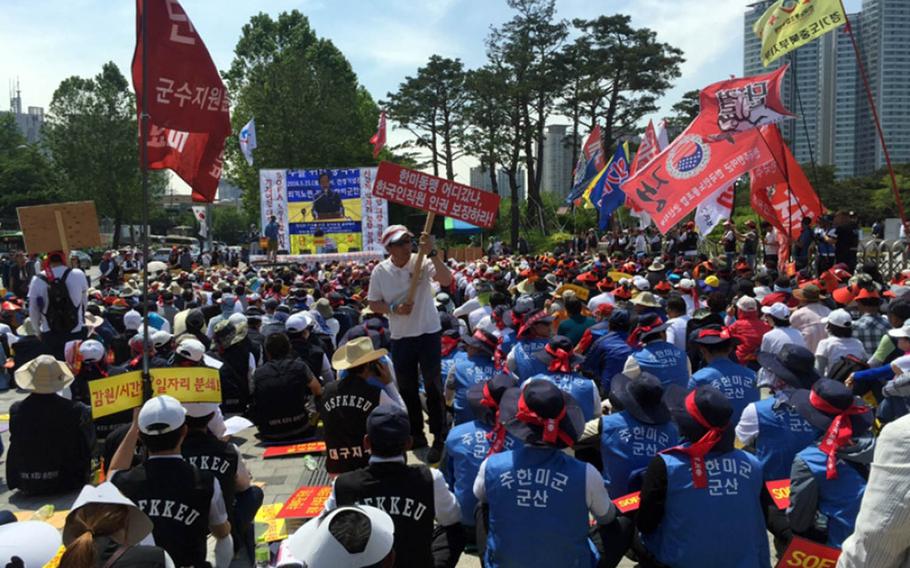 SEOUL, South Korea — The U.S. military will cut about 245 South Korean jobs by the end of September as garrisons shrink with the long-delayed relocation of most forces to new hubs south of Seoul, officials said.
The Army's installation management command announced the reduction in force for Yongsan, Red Cloud and Camp Casey — the main bases in the capital and near the border with North Korea — last week in a memorandum to the Korean Employees' Union for U.S. Forces Korea.
South Korean civilians fill most of the maintenance, service and other support jobs on U.S. military garrisons as required by the status of forces agreement between the two countries. The South Korean government shoulders most of the local labor costs, but the salaries are distributed by the Americans.
The March 29 memorandum, which was signed by deputy Yongsan garrison commander Steven Ryan, said the bases "are required to reduce Korean National (KN) positions as a result of consolidation to one command," effective Sept. 30. It said it was giving a six-month notice in accordance with the SOFA.
The memo didn't elaborate, but garrison spokesman Wes Hayes told Stars and Stripes that about 245 jobs would be affected. He declined to specify which of the 950 total Korean National positions may be eliminated, saying that was to be determined.
A separate memo sent to the union on March 30 and obtained by Stars and Stripes, however, ordered Family, Morale, Welfare and Recreation to "abolish approximately 20 positions" in the northern areas by Sept. 30. It noted the date was "subject to change based on operational requirements."
The cuts have long been expected but still were likely to be a major blow to many employees, some of whom have worked for the Americans for decades.
The Korean Employees Union said it planned to "strongly protest" the decision and ask for the cuts to be delayed because it had not been informed about which positions would be cut.
"The South Korean government should also try to achieve job security for Korean National employees who are a big part of our national security," a union official said, speaking only on condition of anonymity.
Hayes insisted officials have coordinated closely with the union and employees to ensure a smooth transition.
He stressed that local national employees were given priority and relocation benefits for new jobs at Camp Humphreys, which has been expanded and will eventually house the bulk of U.S. forces, dependents and civilian contractors on the divided peninsula.
"The lines of communication have been always open and it's been very transparent," he said, adding the civilian resource agency planned more meetings on the issue next month.
Hayes said 100 new local national positions at Humphreys and other southern bases, or about 72 percent, have been filled by employees relocating from the northern areas.
About 28,500 U.S. servicemembers and thousands more family members and civilian contractors are based in South Korea. At one point they were spread out over more than 100 bases but will be largely consolidated at Camp Humphreys, about 40 miles south of Seoul in the rural area of Pyeongtaek.
The relocation was originally to be finished in 2008, then 2012 and 2016 as it faced hurdles ranging from corruption, lengthy delays and shoddy work that forced some buildings to be torn down and rebuilt.
It's still not complete but has gained momentum in recent months with a slew of openings, including the largest overseas commissary and a massive new mini-mall.
Meanwhile, the population of the Yongsan garrison, which has housed the main U.S. headquarters since the 1950-53 Korean War, is expected to drop from 22,000 in May to as low as 8,000 by Aug. 18, officials have said.
Separately, a South Korean television network reported that the government is pressing for a measure to move the Dragon Hill Lodge off Yongsan Garrison, which would reverse the original plans to maintain it as part of a residual force. Chosun TV cited an unidentified person related to South Korea's defense ministry and gave no further details. Defense Ministry spokeswoman Choi Hyun-soo later told reporters that authorities were pushing ahead with plans to turn Yongsan into a park after the relocation, but she said no official discussions had been held on the fate of Dragon Hill Lodge. U.S. Forces Korea declined to comment on the lodge, which is one of four full-service resorts around the world that provide vacation getaways for U.S. servicemembers and their families as well as accommodation for people on official travel orders. "We are continuing to work with our partners (at the defense ministry and the government) to make final decisions regarding the disposition of facilities on Yongsan," the USFK public affairs office said. "As with everything we do, the decision will be jointly made and reflect our shared values."
gamel.kim@stripes.com Twitter: @kimgamel