US military tests travelers within hours of arrival in South Korea
by
Matthew Keeler
June 12, 2020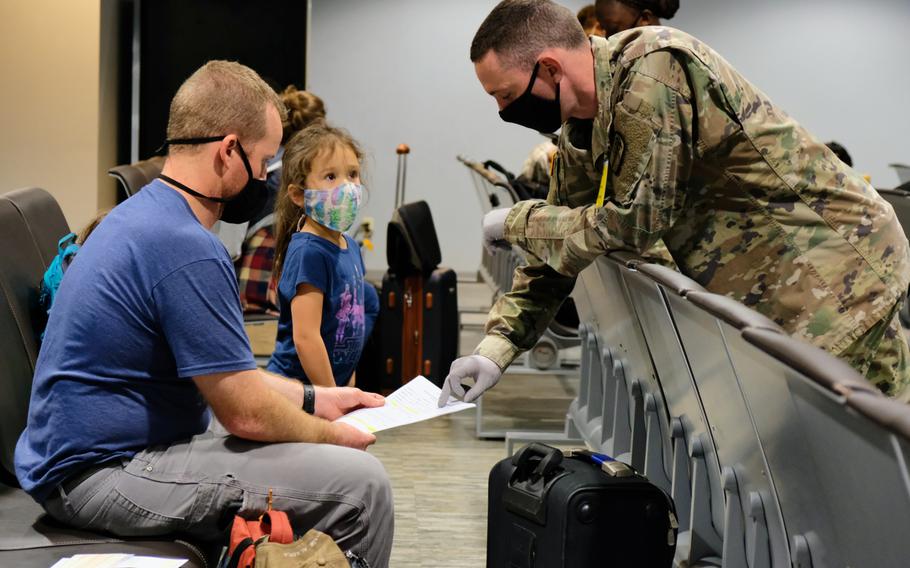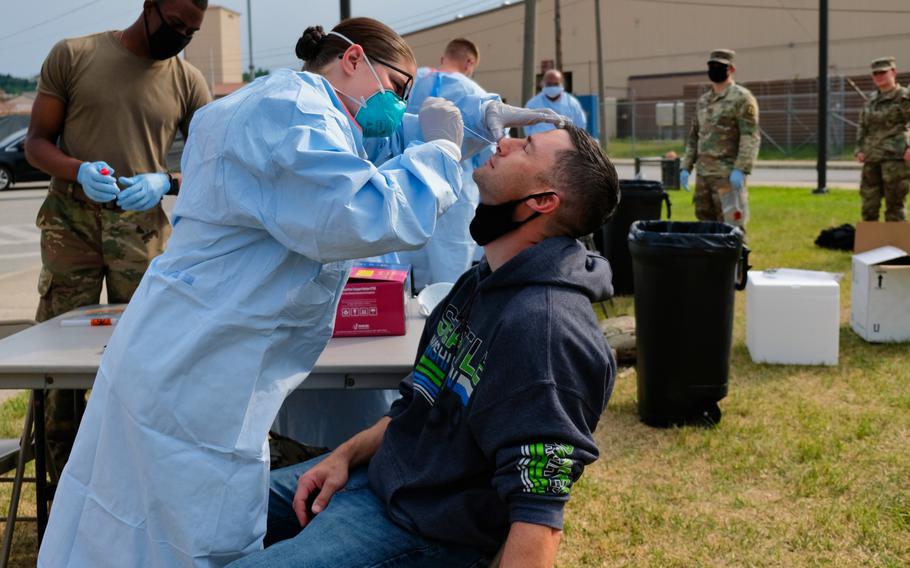 Stars and Stripes is making stories on the coronavirus pandemic available free of charge. See other free reports here. Sign up for our daily coronavirus newsletter here. Please support our journalism with a subscription.
OSAN AIR BASE, South Korea — Spc. Keith Peterson was fresh off the Patriot Express at Osan when he lined up for a coronavirus screening, including a swab pushed deep into his nasal cavity.
He didn't exactly enjoy the experience. "My eyes are still watering from it," the chemical specialist from New London, Conn., said immediately after the test Wednesday. "It wasn't great."
Nonetheless, Peterson was impressed by the proficiency displayed by the medical technicians administering the tests.
"COVID is a new thing and these guys are going through the motions like they have been doing it for years," Peterson said, referring to COVID-19, the respiratory disease caused by the coronavirus.
Medical professionals from the air base and the Army's Camp Humphreys are testing all inbound U.S. military personnel within two hours of their stepping off arriving flights, according to an agreement with the South Korean government.
So far, seven service members who've arrived on the Patriot Express have tested positive for the coronavirus since May 8.
Service members and their families approved for travel despite a Defense Department stop-movement order arrive regularly in South Korea at Osan or on commercial flights to Incheon International Airport.
"The South Korea government mandates any international arrivals have a 14-day quarantine, said Lt. Col. Christine Jones, the 7th Air Force medical planner. "Through the status of forces agreement, or SOFA, we have special agreements that allow them to come in and quarantine with us."
Most incoming personnel arrive on the Patriot Express, a government-chartered flight that lands at Osan. The few exceptions that arrive at Incheon are taken by the 51st Logistics Readiness Squadron to the Osan terminal, where they are screened.
All international arrivals are questioned about their recent contacts and symptoms, processed through customs and immigration and swabbed for coronavirus.
Airmen are quarantined at either Osan or Kunsan Air Base, while soldiers and sailors are relocated to Camp Humphreys to wait out the two-week period. Jones estimates roughly 400 service members and families are currently in quarantine.
After completing the mandatory quarantine, everyone is tested a second time before being released.
Recent flights have been relatively small at about 120 passengers, allowing the medical teams to tweak the program before the stop-movement order is lifted and peak military movement season approaches.
"We are expecting to process thousands in just the next two months," Air Force Capt. Gregory Smith, a medical screening officer, said Wednesday. "Between now and the end of August it's probably going to be well over 5,000 personnel."
The Brian D. Allgood Army Community Hospital on Camp Humphreys can process just over 200 tests a day, Jones said. Another 2,000 tests could be outsourced to the Seoul Reference Lab if needed.
Jones said the hospital expects to receive a new Panther Fusion System in July, which will expand testing capabilities to over 800 coronavirus tests daily. The system will deliver results faster and reduce the need to rely on outside testing.
The screening team will soon be trained on thermal imaging devices, another tool to screen arriving passengers quickly.
Even after DOD lifts or amends its travel policies, U.S. Forces Korea must abide by travel requirements put in place by South Korea.
"I don't see Korea giving up their bubble. I see them mandating the quarantine and testing for the very foreseeable future," Jones said. "Korea as a country has done phenomenal, in my opinion, probably the best in the entire world. They have created that bubble and don't want to lose that."
keeler.matthew@stripes.com Twitter: @MattKeeler1231