US military prepares to loosen restrictions on Guam as coronavirus infections drop
by
Matthew M. Burke
June 10, 2020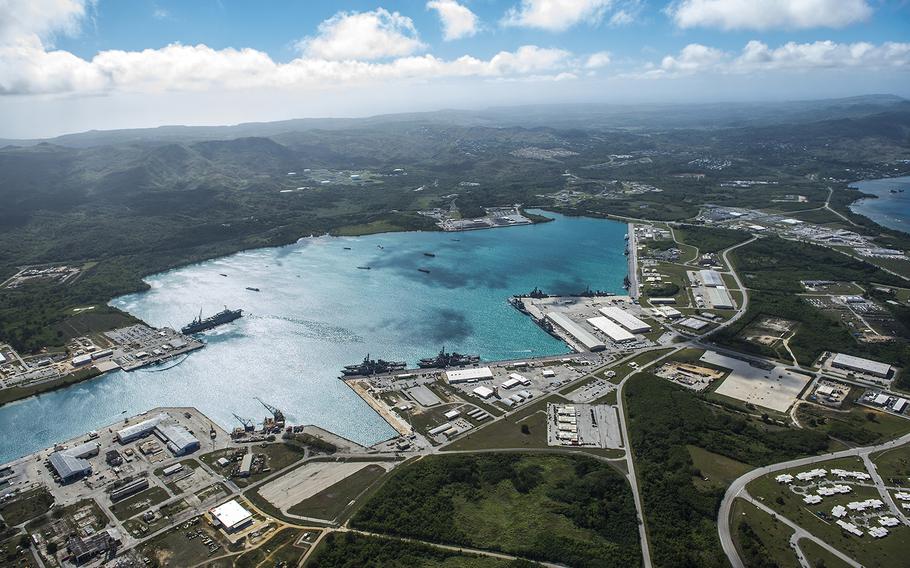 Stars and Stripes is making stories on the coronavirus pandemic available free of charge. See other free reports here. Sign up for our daily coronavirus newsletter here. Please support our journalism with a subscription.
The U.S. military on Guam plans to loosen certain base restrictions for service members, civilians and their families and resume limited services early next week due to the success of coronavirus mitigation measures.
Joint Region Marianas, which has installation management authority over Naval Base Guam and Andersen Air Force Base, made the announcement in a statement Wednesday afternoon.
It also plans to modify access to the bases, which imposed restrictions on things like shopping, restaurants, fitness and teen centers on March 17.
A spokesman for the command said details of the loosened restrictions are still being worked out.
"There's going to be a couple more meetings in the coming days," Navy Lt. Cmdr. Rick Moore said by phone Wednesday. "We're just giving everybody a heads up to make sure people are looking at the Andersen Air Force Base, Naval Base Guam and [Joint Region Marianas] social media sites because changes are expected early next week."
The military on Guam was tasked with caring for sailors off the USS Theodore Roosevelt, which arrived there on March 27 after an onboard outbreak. More than 1,150 Roosevelt sailors ultimately tested positive for the coronavirus. One crew member died.
The government of Guam, a U.S. territory, is also preparing to dial back pandemic restrictions from moderate to minimum, according to a report Wednesday in the Pacific Daily News.
The island's overall rate of positive tests for the coronavirus has dropped thanks in part to the government performing hundreds more tests daily with few or no new cases, the newspaper reported.
Guam was initially hit hard by the coronavirus, recording approximately 10 cases per day toward the end of March, according to a statement from the Guam Department of Public Health and Social Services.
Since then, infections have decreased dramatically on the island. As of Wednesday, Guam had recorded 180 positive cases, according to the health department statement.
burke.matt@stripes.com Twitter: @MatthewMBurke1