US military in Japan reports two new coronavirus cases; Tokyo numbers remain high
by
Aya Ichihashi Joseph Ditzler
September 11, 2020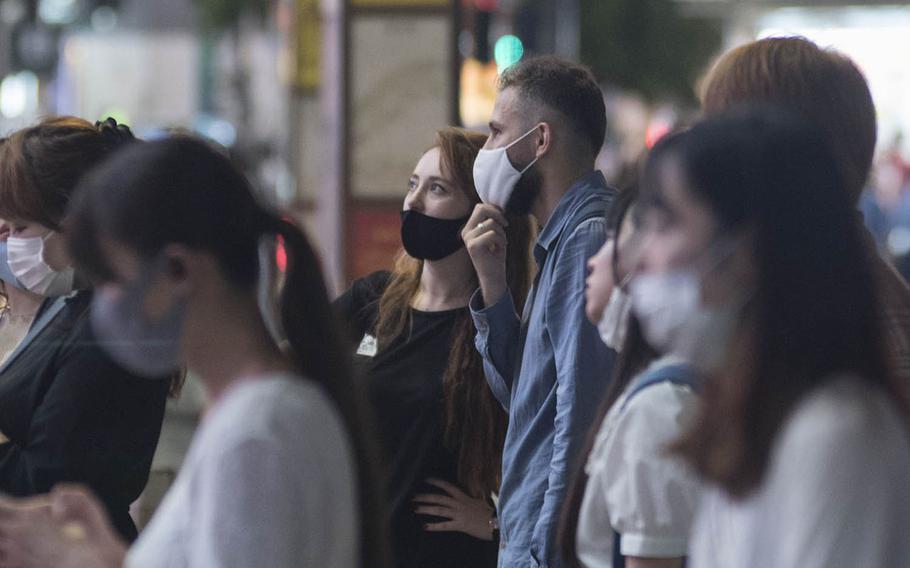 Stars and Stripes is making stories on the coronavirus pandemic available free of charge. See other free reports here. Sign up for our daily coronavirus newsletter here. Please support our journalism with a subscription.
TOKYO — The U.S. military in Japan announced two coronavirus cases as of 6 p.m. Friday as new infections in the capital city continued to bounce between 100 and 200 per day.
Naval Air Facility Atsugi reported one new infection, someone who had contact with a previously infected person. On Okinawa, the Marine Corps announced its first new infection since Aug. 31.
The Tokyo Metropolitan Government reported 187 new coronavirus cases for a pandemic total of 22,631, according to public broadcaster NHK. New cases have exceeded 100 per day for four days in a row, according to metro government data. Tokyo had 276 cases on Thursday.
As of Wednesday, Japan had reported 73,221 infections and 1,406 deaths from the pandemic, according to the World Health Organization. There were 495 new cases nationwide on Wednesday.
The U.S. military in Japan has reported six new patients since Sept. 6. Several commands, including three on Okinawa, lowered public-health risk levels and relaxed travel and activity restrictions as case numbers have fallen.
Friday, Yokosuka Naval Base, south of Tokyo, expanded its permitted off-duty travel area to include all of Kanagawa prefecture, except for the cities of Yokohama and Kawasaki, according to a post on the base Facebook page.
The naval base is still under a "substantial" risk of the virus spreading, or Health Protection Condition-Charlie. Nearly all other U.S. bases in Japan are under a lesser, moderate risk of infection.
Naval Air Facility Atsugi, 28 miles southeast of central Tokyo, provided no further information about the new case there, except to say the patient is in isolation and under medical care.
On Okinawa, the new case reported by the Marines has been in quarantine at least two weeks as a close contact of another infected person, according to Marine Corps Installations Pacific. The patient is assigned to Camp Schwab.
The Marines also reported that another six individuals in quarantine have tested free of the virus.
The Marine Corps accounts for more than 300 coronavirus infections, the bulk of U.S. military cases on the island. Most sprang from three viral clusters in July and August.
Okinawa prefecture reported 10 new coronavirus cases on Friday, a public health official told Stars and Stripes by phone. The number of new cases per day on Okinawa has declined steadily from 106 on Aug. 14.
ditzler.joseph@stripes.com Twitter: @JosephDitzler
ichihashi.aya@stripes.com Twitter: @AyaIchihashi