US military in Japan reports two new coronavirus cases as travel limits continue to ease
by
Joseph Ditzler
October 6, 2020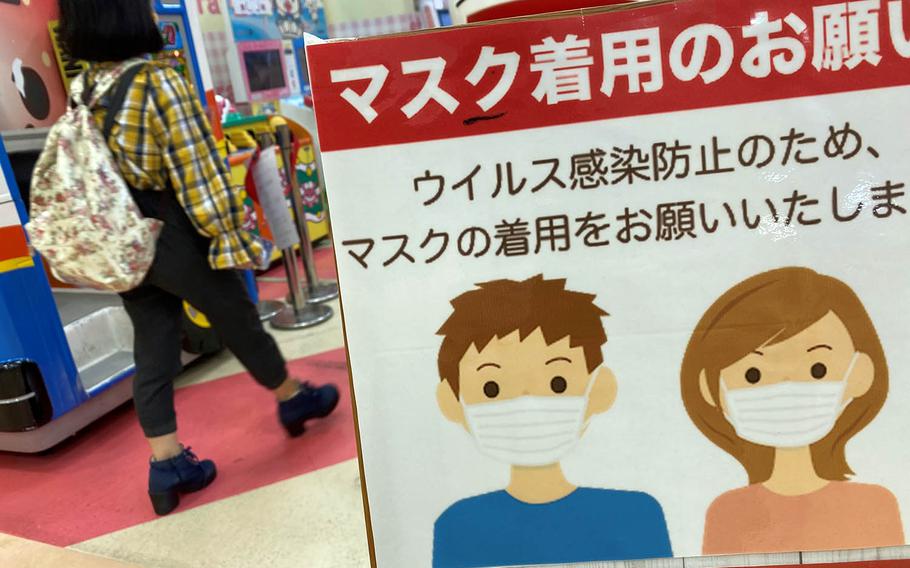 Stars and Stripes is making stories on the coronavirus pandemic available free of charge. See other free reports here. Sign up for our daily coronavirus newsletter here. Please support our journalism with a subscription.
TOKYO — The U.S. military in Japan announced two new coronavirus infections on Tuesday.
Kadena Air Base on Okinawa reported one new case, and Naval Air Facility Atsugi, outside Tokyo, reported the other.
Unlike most recent infections, the patient at Kadena was already a community member and not a new arrival or returning traveler, according to a Facebook post by the base.
"The member was tested as part of a pre-departure requirement for temporary duty travel," the post said. Close contacts were identified and placed in quarantine, according to Kadena, which provided no further information.
The patient at Atsugi was already in quarantine and tested positive before being released, according to a new release. U.S. Forces Japan requires all new arrivals and returning travelers to quarantine for 14 days and test free of the virus before leaving isolation.
The U.S. military in Japan typically does not identify new cases as service members, civilian employees or family members.
Kadena last reported a new coronavirus patient on Sept. 28, when a Japanese employee of the base golf course tested positive. Okinawa prefecture identified the patient as a man in his 60s from Okinawa city.
Okinawa reported 22 new coronavirus cases on Tuesday, a prefectural health official told Stars and Stripes by phone. The island prefecture's pandemic tally is now 2,630.
Elsewhere, the commander of Marine Corps Air Station Iwakuni eased travel limits by opening up most of Japan to off-duty Marines, civilian employees and family members, starting Friday.
Base commander Col. Lance Lewis in a Facebook post Tuesday said the "current COVID landscape" in the area and "the whole of Japan" permits him to expand the liberty boundaries in time for the upcoming three-day Columbus Day weekend. He also restated the rules: wear masks, maintain social distance and stay clear of off-limits establishments, such as bars, onsens and Pachinko parlors.
MCAS Iwakuni is about 540 miles west of Tokyo and about 32 miles southwest of Hiroshima.
"We have our rules in place to keep all of us safe and COVID-free, and also to keep our base operating," Lewis wrote, referring to COVID-19, the respiratory disease caused by the coronavirus. "Generating combat power is our mission here in Japan and looking for loopholes in the rules does not facilitate mission accomplishment."
MCAS Iwakuni joins Yokosuka Naval Base, Yokota Air Base, Sasebo Naval Base and Misawa Air Base in recently expanding the permitted travel areas, to varying degrees, within the four main islands of Japan.
Although most of Japan is now a travel "green zone" for MCAS Iwakuni, some areas are still not authorized, including Tokyo, which is off-limits to most U.S. personnel.
The Tokyo Metropolitan Government on Tuesday reported 177 new coronavirus patients, according to public broadcaster NHK. The capital city has bounced between 66 and 235 cases per day since Sept. 28, according to metro government data. The seven-day running average is 174 new cases on average per day.
Other off-limits areas, according to Lewis, are the cities and prefectures of Kobe, Osaka, Fukuoka, Kyoto, Aichi, Saitama, Kanagawa, Nagoya and Naha, on Okinawa. Unlike other base commanders, Lewis is permitting travel between Iwakuni, on the island of Honshu, and Okinawa.
Lewis authorized travel by Japan's bullet trains and domestic, commercial airplane travel within Japan.
"In addition to taxis, buses, ferries, and personal vehicles," he wrote, "you can travel by train and by plane (but not biplane). You can go by boat, you can ride with a goat (not recommended)."
ditzler.joseph@stripes.com Twitter: @JosephDitzler