US military in Japan counts 20 new coronavirus cases, most already in isolation
by
Joseph Ditzler
August 14, 2020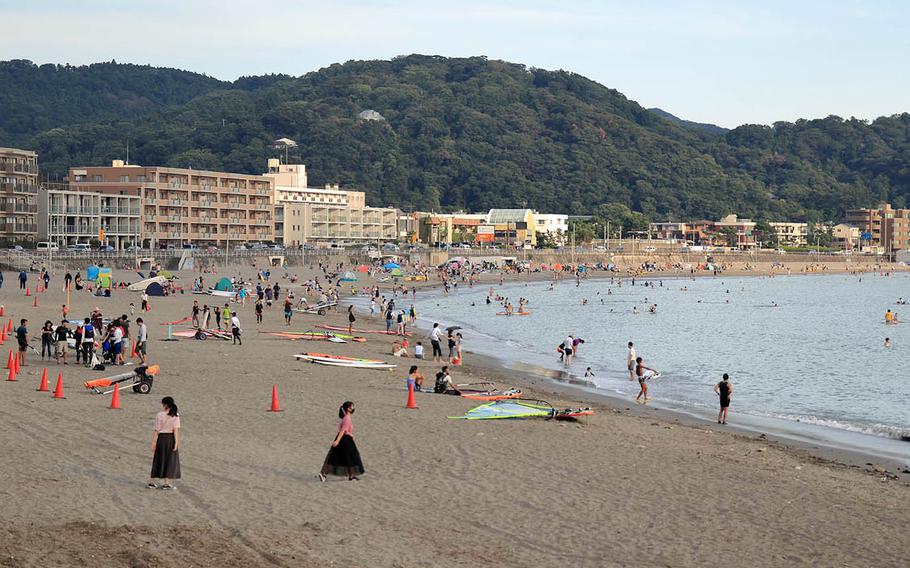 Stars and Stripes is making stories on the coronavirus pandemic available free of charge. See other free reports here. Sign up for our daily coronavirus newsletter here. Please support our journalism with a subscription.
TOKYO — Japan's capital city and its southernmost prefecture, both home to thousands of U.S. troops and their families, continued to report relatively high numbers of new coronavirus cases Friday.
Meanwhile, U.S. installations across the country announced 20 new infections that had surfaced since Wednesday.
Most came from Kadena Air Base, which reported seven cases late Friday. Yokosuka Naval Base, which tightened movement and activity restrictions Aug. 10 after a half-dozen infections appeared there, has had six new infections since Wednesday, and the Marines on Okinawa announced five cases at Camp Hansen.
Other reports were relatively light: Yokota Air Base and Marine Corps Air Station Iwakuni each reported a single new case.
Tokyo logged 389 cases Friday, the highest number recorded there since Aug. 9, according to the Tokyo Metropolitan Government.
The record for new infections reported by the city on one day is 472 on Aug. 1, and the seven-day average indicates the number of new cases overall is declining. However, the city "continues to be in a severe situation," Tokyo Gov. Yuriko Koike said during a news conference Friday. The city is issuing a special alert for the spread of infections, she said.
Koike also urged Tokyo residents to stay home during the remainder of Oban, which started Thursday. The Japanese observe the long holiday by traveling to their hometowns to be with family.
Yokota base commander Col. Andrew Campbell, during a Q&A session livestreamed Friday on Facebook, said Tokyo for many of its residents is equivalent to "temporary duty."
Not traveling home for Obon is a hardship, but they "do what's right for the community," he said.
Aside from the pandemic, a weeklong heat wave sent increasing numbers of people with suspected heat stroke to Tokyo's hospitals, already busy with coronavirus patients, Koike said. Japanese TV station TBS on Friday reported 26 heat-related deaths so far in August.
On Okinawa, the prefectural health authority reported 106 new cases Friday, according to a public health official. The one-day record is 159 on Aug. 9. Okinawa on Thursday reported 1,034 active cases, 14 of them critical, with a total of 298 patients hospitalized, according to the prefecture's website. Another 269 people with the virus were waiting on a hospital bed or designated hotel room in which to recover.
Of the seven new patients at Kadena, three received positive results after being isolated after a close contact became infected, a base statement said. The other four tested positive because of mandatory end-of-quarantine testing for new arrivals.
At Camp Hansen, the five new cases reported there were discovered by a test required of everyone prior to leaving quarantine, according to a statement from Marine Corps Installations Pacific. The new patients have had no close contacts since arriving on Okinawa, it said.
At Yokosuka, two of six patients identified since Wednesday were tested after showing symptoms of COVID-19, the respiratory disease caused by the coronavirus, according to a statement from the base. The four other cases arose in people already identified as close contacts of someone with the virus. All six are isolated, the statement said.
MCAS Iwakuni discovered one new case on Thursday, a new arrival who tested positive before leaving quarantine, according to the air station. The patient is showing no symptoms, presents "a low likelihood" of further spreading the virus and will remain quarantined another two weeks.
The air station is on a modified lockdown until noon Monday, ordered Aug. 7 by commander Col. Lance Lewis ahead of the Obon holiday.
Yokota, headquarters for U.S. Forces Japan, reported on Friday one new case discovered Wednesday, for a total of four active cases there. The base provided no further information.
The military typically identifies new cases as members of the base community or base family, without specifying whether they are service members, civilian employees or actual family members.
Campbell, the base commander, commiserated with livestream questioners who asked when restrictions on visiting central Tokyo and on public transportation will be lifted. He had no firm answer, except to say he, too, wants to ride the train to favorite spots in central Tokyo.
But, he added, the busy train stations and popular city districts are coronavirus hot spots to be avoided for the time being.
Stars and Stripes reporters Hana Kusumoto, Aya Ichihashi, Caitlin Doornbos and Matthew M. Burke contributed to this report.
ditzler.joseph@stripes.com Twitter: @JosephDitzler