US military community teams with Okinawans to feed local schoolchildren during coronavirus outbreak
---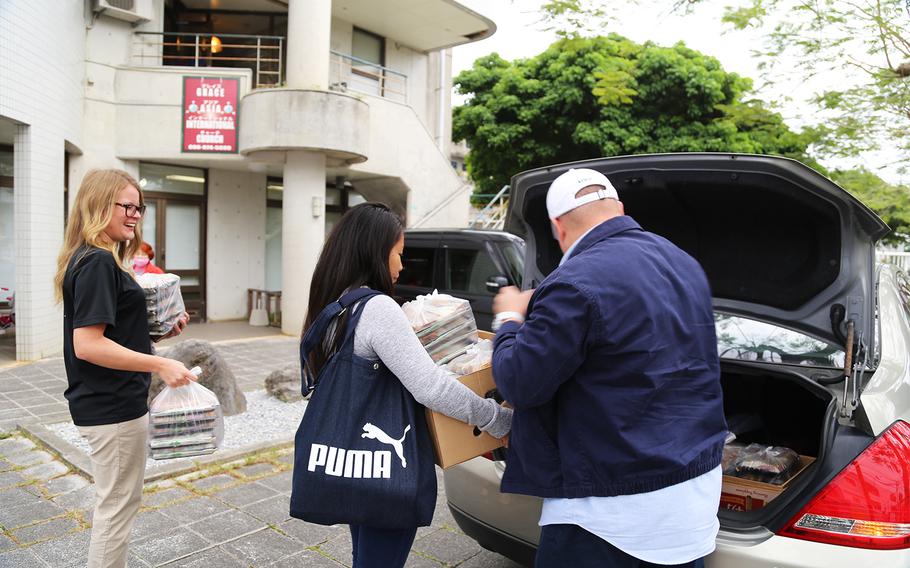 Read more coronavirus coverage from Stars and Stripes.
URUMA CITY, Okinawa — Donations of bento boxes for local schoolchildren missing their daily lunch brightened an otherwise gloomy Thursday in Uruma City.
Since Prime Minister Shinzo Abe asked that schools across the country close during March to stem the spread of coronavirus, some children on the island prefecture are going without their only healthy meal of the day.
American and local volunteers stepped up to ease that need by collecting 126 Japanese box lunches, called bento, along with 10 cases of fruit drinks and 30 pounds of rice and distributing it at Grace Asia International Church.
"When I heard of the school closure, my immediate concern was those less fortunate children who rely on the free school lunch," said Chris Nesbitt, director of Help Oki, on Thursday. "For those kids, school lunch may be their only nutritious meal of the day."
The delivery Thursday was just the latest. Last week, Help Oki made and delivered more than 190 bentos, 220 pounds of rice and 90 beverages to children and single parents in Uruma City, Nesbitt said.
Help Oki, a volunteer group of military personnel, their families and locals, has been helping the less fortunate on the island since 2014. Chris Nesbitt, a retired Marine sergeant and New Jersey native, and his wife, Yuko Nesbitt, are the founders.
When schools closed in early March, Help Oki contacted the local food bank, government welfare offices and other nonprofit organizations, Chris Nesbitt said.
"It's my passion to help others, and I don't feel like it's a work to me," he said. "If you do what you love, it's never work."
On Okinawa, the prefectural government reported three people tested positive for coronavirus of 196 people tested as of Thursday, according to its website.
A third of Okinawa's children, 29.9%, live in poverty, a rate twice Japan's national average, according to a study by the prefectural government and released in March 2019.
"This result is very concerning," Okinawa Gov. Denny Tamaki said at the time, citing the report.
According to the study, Okinawa's divorce rate is the highest in Japan since 1985; rates of teenage pregnancy are twice as high as the rest of the nation.
Aubrie Owens, a Marine spouse and a manager of Help Feed Oki — a sister organization to Help Oki — has been collecting food from the military community and donating it to the local food bank for over a year.
"Just last week, we donated over 1,130 pounds of food that was collected from the military community to the local food bank," Owens said.
Ivory Molina, a Marine spouse, volunteered with Help Oki since last October. Molina and her family love Okinawa and they are on the second tour here, she said.
"I want to make a difference for the community," she said.
ichihashi.aya@stripes.com Twitter: @AyaIchihashi
---
---
---
---