US military bases in Japan adapt to life under coronavirus threat
---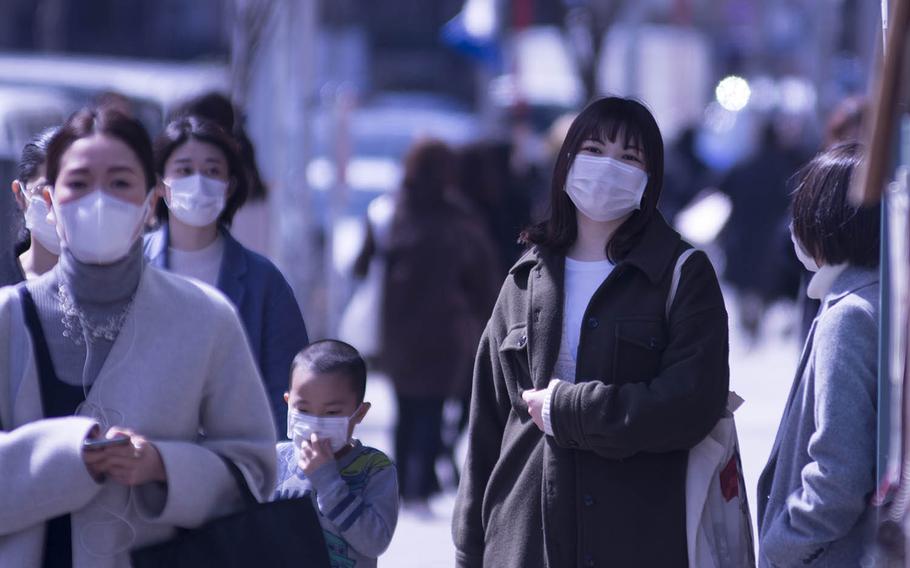 Read more coronavirus coverage from Stars and Stripes.
YOKOSUKA NAVAL BASE, Japan — Fitness classes are postponed, some religious services will move online and bingo games are canceled as U.S. military bases across Japan adapt to everyday life in the time of coronavirus.
Guards at the gates to U.S. bases started a hands-off policy for checking ID cards. At Yokota Air Base in western Tokyo, the Samurai Fitness Center on Tuesday canceled some group exercise classes and intramural sports and put the steam and sauna rooms off limits. At Yokosuka Naval Base, the Morale, Welfare and Recreation office canceled bingo.
Officials with U.S. Forces Japan, headquartered at Yokota, at a Facebook town hall Tuesday told viewers to stay flexible, expect changes and stay in touch with unit commanders for more information.
"The situation is evolving, and policy is changing," said Air Force Chief Master Sgt. Richard Winegardner Jr., the USFJ top enlisted leader. "Keep talking to your commanders and medical providers."
A staff member at Yokota's child development center was to be tested for possible exposure to the virus, according to an official base Facebook post Tuesday. The center is closed until Monday pending the result.
No one connected to the U.S. military in Japan — service members, Defense Department civilian employees or their families — has tested positive for the virus that appeared four months ago in China and has spread across the globe, said Maj. Allen Fisher, the Yokota public health emergency officer, during the town hall.
"We have testing being done and negative results are coming in on a daily basis," he said.
Virtual worship At Yokosuka, chapel services were canceled for the foreseeable future, according to a Monday announcement on the chapel's official Facebook page. Chaplains are developing alternatives such as pre-recorded worship services for congregation members to access online.
Tuesday, Yokosuka moved the base orientation class for newly arrived service members and their families, usually held over three days in person, to an online session, said base spokesman Randall Baucom. Orientation briefings were recorded ahead of time in anticipation of the change.
Elective dental services such as teeth cleaning, "orthodontic consultations and routine operative procedures" were suspended Tuesday, according to a Navy Hospital Yokosuka public health notice issued Monday. At Yokota, the 374th Medical Group has been postponing elective surgeries until May.
Installations across Japan also began conducting "no-touch" ID checks at base gates, according to Navy and Air Force statements. Instead of handing over ID cards to security personnel, cardholders are asked to hold up their IDs for inspection, then flip them around to allow the guard to scan the bar code.
"This change in procedures is precautionary to protect the health and safety of all visitors and Navy personnel," Navy Forces Japan spokesman Lt. Cmdr. David Levy said in an email Monday to Stars and Stripes.
No Friendship Day The Friendship Day 2020 celebration at Marine Corps Air Station Iwakuni, which annually hosts 200,000 Japanese residents, was canceled Monday by base officials.
Canceling the 44th annual airshow, scheduled for May 5, was a joint decision between the U.S. military and the Japan Maritime Self-Defense Force's Fleet Wing 31, all based at Iwakuni, according to a press release Monday.
The list of performers for this year's event never fully materialized and was further delayed once global travel restrictions began to impact the ability of certain acts to fly to Iwakuni, said 2nd Lt. Phillip Parker in an email to Stars and Stripes Tuesday.
Misawa's 'support cell' Misawa Air Base created a "support cell" to help service members and their families navigate the Defense Department restrictions on travel, the air base's official Facebook page said Sunday.
DOD on Friday imposed a "stop movement" order that froze temporary duty assignments and permanent changes of station for 60 days. A similar ban on U.S. domestic travel was implemented Monday.
Individuals from the Misawa Airmen and Family Readiness Center, transportation management and housing offices, military personnel flight and finance are available at the support cell to take questions daily from 7 a.m. to 7 p.m.
At Naval Air Facility Atsugi, the personal property processing office stopped taking in-person appointments on Tuesday. Instead, customers should seek help scheduling shipments using the move.mil website, according to a post on the official base Facebook site Tuesday.
At Yokota, in addition to the gym restrictions, the base discontinued all self-serve food options such as buffets and catered events at the enlisted and officer clubs and other base facilities, according a post Saturday on the official base Facebook page. All dining facilities on base have also increased the space between tables to encourage social distancing.
Stars and Stripes reporter James Bolinger contributed to this report.
---
---
---
---