US Marines scale back typhoon relief operations
by
Ashley Rowland
November 20, 2013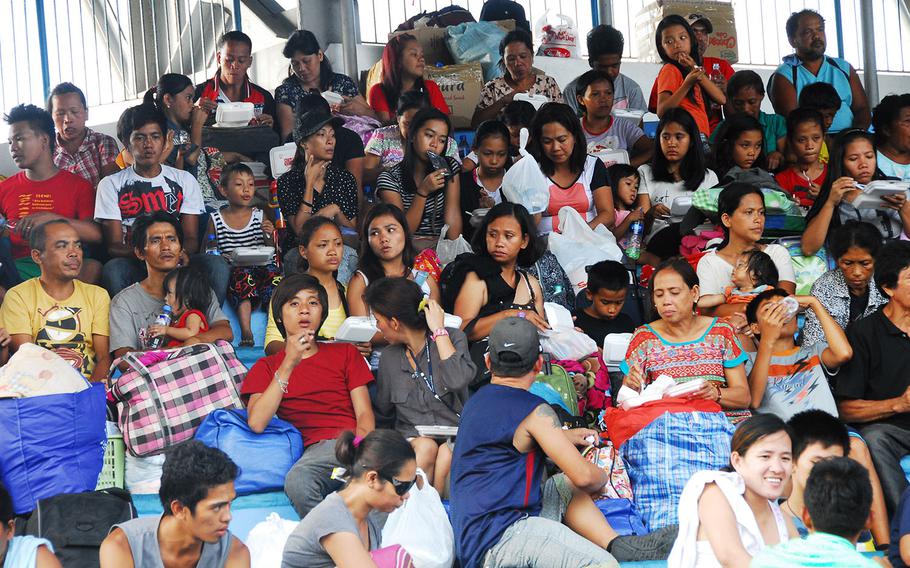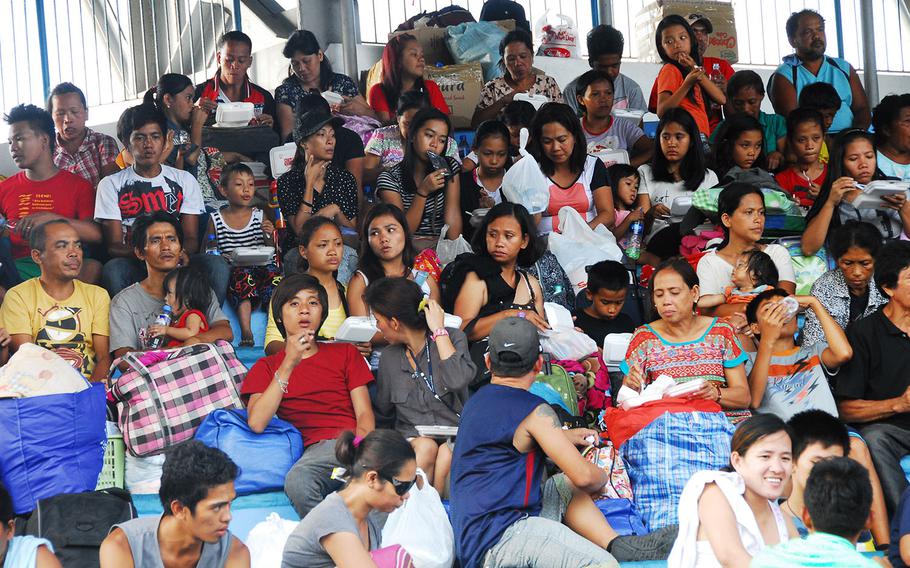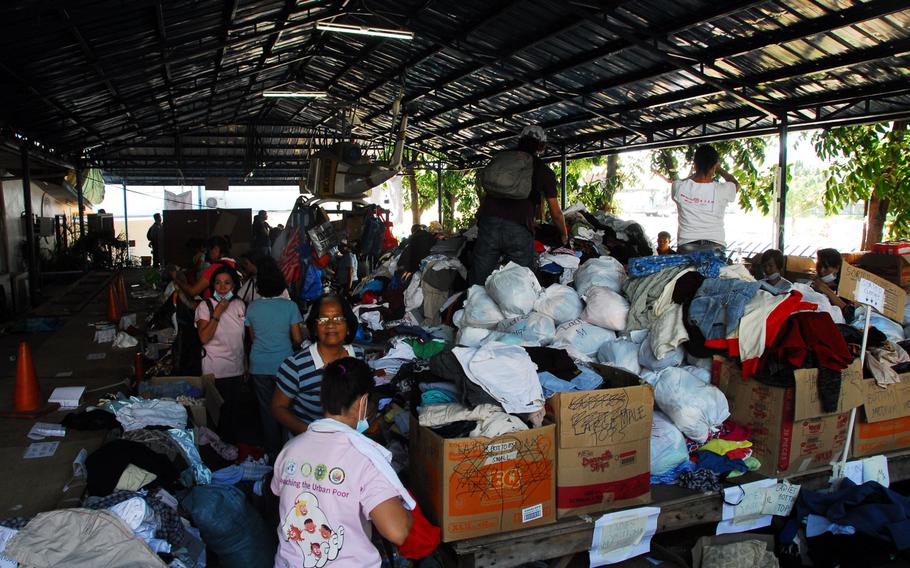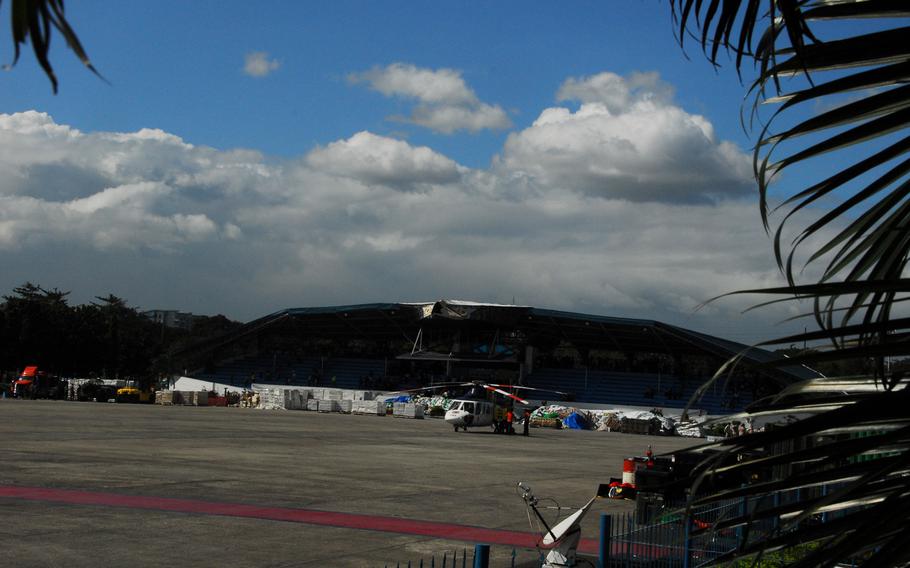 VILLAMOR AIR BASE, Philippines — The U.S. Marines are scaling back their relief efforts as roads in the areas hardest hit by Typhoon Haiyan are being cleared, allowing the Philippine military and aid groups to deliver supplies on their own.
"The roads are open, the needs are going down, so we're meeting the needs of the people," said Lt. Col. Rodney Legowski, operations officer for the 3rd Marine Expeditionary Brigade at Villamor Air Base in Manila. "All the conditions appear to be that we're in a recovery."
Some Marines could be redeployed from the Philippines as soon as Wednesday or Thursday, he said, and relief supply distribution is increasingly being assumed by nongovernmental organizations and the Philippine military.
Planning is also underway to possibly transfer Tacloban's airfield to Japanese forces, and the city's water production plant is operating at 40 percent capacity with the ability to support 150,000 people, he said.
On Tuesday, the military began to scale back its tilted and rotary-wing operations in the affected zones, he said.
The "surge" of U.S. military assistance after the typhoon roared ashore Nov. 8 helped operations run smoothly, he said.
"I don't think anything has been extremely difficult because we got here really quickly and we got the authority from PACOM to send in sufficient forces really quickly," he said.
The U.S. military is still sending supplies to the disaster zone from Villamor, a hub for the Marines' relief efforts, and ferrying planeloads of evacuees back to Manila.
As of Tuesday, the latest day for which figures were available, U.S. aircraft, including C-17s, C-130s and Ospreys, had flown nearly 11,600 Haiyan survivors — including 540 Americans and 301 third-country nationals — out of the Tacloban area, Legowski said.
The U.S. military's role ends when the evacuees land at Villamor and the Philippine government takes over their care, giving them food and medical care and taking them to a stadium for debriefing. Most evacuees leave Villamor for other destinations the same day.
Evacuees, many carrying suitcases or backpacks, trudged up the Villamor stadium stairs and quietly ate meals from Styrofoam containers. One group stood in the stands and clapped after they arrived.
"They have been waiting for so long to come to Manila. When they come here, they are tired and stressed and hungry," said a Philippine air force member who was not authorized to speak to the media.
"We are very lucky to be here," Fe Salve said as she stuffed a giant rice sack with donated clothes. The 45-year-old traveled from Tacloban with her two sisters-in-law after losing her house to the storm surge. "I'm very thankful that we are alive."
A "taxi brigade" of volunteers, including retired Philippine military officers and their family members, waited to drive evacuees to the homes of family members in Manila, or outside the capital to bus stations that would take them to relatives in distant provinces. Those who had no family to stay with were sent to government-run social welfare centers.
Elyn and Rodolfo Pada planned to stay in Manila at a relative's house with their three children, ages 8, 5, and 4 months. The family rode out the typhoon by hiding under a table in a local church. Their home was washed away.
Since then, they have rationed what little food they had left. But they ultimately decided to leave Tacloban because Rodolfo, a laborer, couldn't find work.
Edith Apayart, a regional social worker for the Salvation Army, said many of the evacuees were shell-shocked when they arrived, aside from being hungry after having eaten little for days.
"We just let them talk and talk and talk," she said. "They are depressed. Sometime they are very silent and they don't want to talk. They cry and cry. We just listen, that is the most important thing."
Legowski said local Philippine leaders had been remarkably efficient in distributing U.S.-delivered supplies on the ground and in caring for evacuees after their arrival at Villamor.
"They're very organized," Legowski said. "This is one of the primary areas that gets hit by typhoons all the time, and their system is a model for the Pacific area of operations."