US Marines in Australia kick off large-scale, live-fire field exercise
by
Seth Robson
September 1, 2020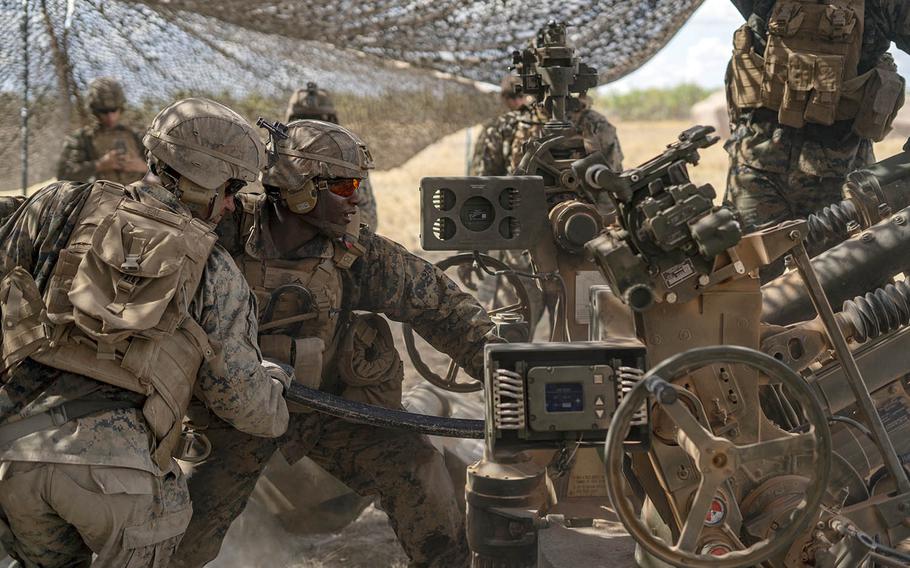 More than 1,000 Marines began a field exercise Tuesday with 400 local troops in Australia's Northern Territory, according to the Marine Corps and the Australian Defence Force.
Exercise Koolendong, which will last through Sept. 11, is happening at the Mount Bundey Training Area in the far north of the country, said 1st Lt. Bridget Glynn, a spokesman for the Marines in Darwin. The service has trained Down Under during the southern hemisphere's winter months each year since 2012.
"All of [Marine Rotational Force — Darwin] will participate in Koolendong, totaling just over 1,000 Marines," Glynn said.
That's fewer than the 1,200 the Marines had planned to rotate to Australia and well short of the 2,500 sent there last year.
This year's mission has been curtailed by the coronavirus pandemic, which forced Marines to quarantine for two weeks after arriving. The last Marines to arrive in country only finished quarantine Aug. 7.
One of those involved in Koolendong, Marine Gunnery Sgt. William Horton, said his unit — Kilo Battery, 3rd Battalion, 11th Marine Regiment out of Twentynine Palms, Calif. — has been at Mount Bundey, a 290,000-acre former cattle station near Kakadu National Park, since the start of July.
The 60 Marines from the battery who made it to Darwin can operate only three of six M777A2 howitzers that were prepositioned there, Horton said.
Mount Bundey is "mountainous terrain similar to what we have in Twentynine Palms," he said, adding that the Australian conditions are more humid.
The gunners have just finished live-fire training in support of 3rd Battalion, 7th Marine Regiment and 5th Battalion, Royal Australian Regiment, Horton added.
They've been using RQ-21 Blackjack drones to get eyes on potential targets such as simulated troop formations and armored vehicles. So far, they've blasted about 500 high explosive projectiles down range, he said.
During the training the ground troops stay a minimum of 1,640 yards away from the targets, although in actual combat they could be closer, Horton said.
"We're really pushing the limits of cannon artillery in line with the commandant's guidance," he said, referring to a planning document issued by Gen. David Berger last summer.
"We are a naval expeditionary force capable of deterring malign behavior and, when necessary, fighting inside our adversary's weapons-engagement-zone," Berger wrote in the guidance.
Marines are taking plans they might have used in previous years and pushing them forward into enemy territory, said Horton, a veteran of deployments to Iraq and Afghanistan.
Kilo Battery's guns aren't the only indirect fire at Mount Bundey. The 3rd Battalion, 7th Marines has 81 mm and 60 mm mortars in its rifle companies, Horton said.
There are also guns there from 103rd Battery, 8th/12th Royal Australian Artillery Regiment, he added.
"They're our sister battery here in Australia," Horton said. "They have three M777A2 howitzers."
During Koolendong, the Marine howitzers will support the Australian Army for two days and then transition to supporting U.S. Marine infantry, he said.
robson.seth@stripes.com Twitter: @SethRobson1