US looking for 'strategic defensive investments' from S. Korea
By
Ashley Rowland rowland.ashley@stripes.com
August 20, 2013
---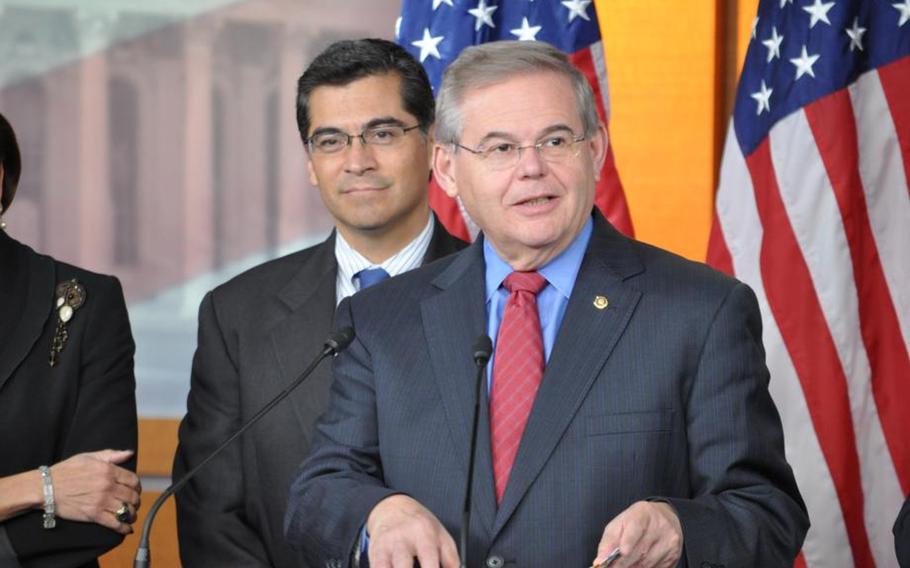 SEOUL — A top U.S. lawmaker says Washington has yet to decide how much to ask South Korea to contribute for the costs of stationing U.S. troops on the peninsula — a critical issue with both countries facing tight budget constraints.
"To my knowledge, we do not have a specific percentage that we are looking at, but we are obviously looking to create security through strength," Sen. Robert Menendez, head of the Senate Foreign Relations Committee, told a largely Korean audience during a speech Monday at the Asan Institute for Policy Studies.
Menendez, D-N.J., said in an apparent reference to South Korea that "strategic defensive investments" need to be made before the scheduled 2015 transfer of wartime operational control to Seoul takes place.
Those investments, he said, would "send a message to North Korea and others in the region that any aggression against the South has real consequences."
The U.S. and South Korea began discussions last month on the renewal of the Special Measures Agreement, with negotiations expected to conclude in October. The latest SMA was signed in 2009, setting South Korea's contribution for that year at about $775 million, with provisions for annual increases for inflation.
The U.S. is expected to seek an increase in South Korea's contribution toward the upkeep of the 28,500 U.S. troops on the peninsula. The Senate Armed Services Committee found in an April report that South Korean contributions were not keeping pace with the growth in U.S. costs, and in 2012, U.S. spending was expected to outpace South Korean contributions by $330 million.
Menendez's wide-ranging comments addressed what he described as the "new American internationalism" and "economic statecraft," focusing on the U.S. foreign policy pivot to Asia and the importance of open trade and economic cooperation in influencing politics.
He said the U.S. has strengthened its alliances with Asian-Pacific countries including South Korea, Japan, the Philippines, Australia and Thailand. A number of countries in the region have been spooked by China's rapid growth and increasingly aggressive tactics in territorial disputes in the East and South China Seas.
While reiterating the Obama administration's position that the U.S. welcomes the peaceful rise of China, he urged Beijing to work with Washington to address a number of issues, including intellectual property theft, trade barriers and cyber threats faced by U.S. businesses.
"We must be clear-eyed and consistent in our approach to China: develop opportunities for cooperation on shared political, economic, environmental and security objectives, while at the same time exerting a firm insistence that China live up to its obligations to the international community and adhere to international norms, institutions and the rule of law," he said.
Menendez visited the Demilitarized Zone and met with U.S. and South Korean troops on Sunday, the day before the annual joint Ulchi Freedom Guardian exercise began. He warned that North Korean provocations would strengthen the U.S.-South Korea relationship and lead to stronger international sanctions against Pyongyang.
Responding to a question, he addressed what remains a source of anger and a top foreign policy issue for many South Koreans – Japan's perceived reluctance to fully acknowledge its actions during its 35-year colonization of the peninsula. While Japanese rule ended nearly seven decades ago, the use of sex slaves during the occupation and other issues continue to strain the relationship between the two U.S. allies.
Menendez said he believes "historical issues need to be met and heard," and said the U.S. became stronger after it addressed its past use of slavery.
"I think nations are liberated when they recognize their past," he said.
---
---
---
---