US, Japan plan more single-enlisted housing at Yokosuka, support facilities for Ikego
by
Hana Kusumoto and Caitlin Doornbos
November 23, 2018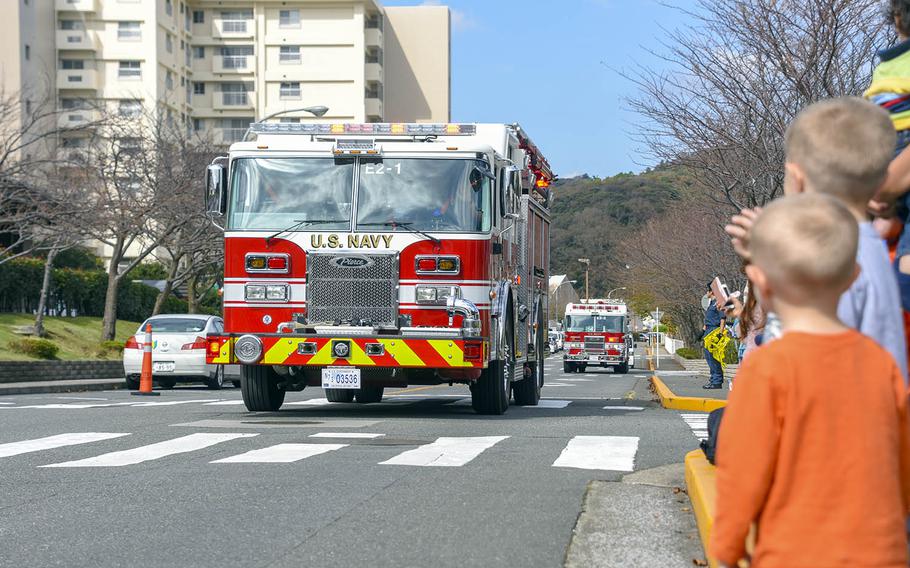 TOKYO — The U.S. and Japan governments have agreed to revise an agreement to build more family housing in Kanagawa prefecture in a move that will hand land back to Japan in exchange for the construction of single-enlisted housing and support buildings.
The two governments agreed Nov. 14 that Japan will build several new buildings — including more single-enlisted housing at Yokosuka Naval Base — while scrapping a previous plan to build additional units at Ikego Housing Area, according to Defense Ministry and U.S. Forces Japan officials.
"This agreement … sets conditions for the construction of a new loading wharf, bachelor housing and improvement of living support facilities at Yokosuka, Ikego Housing Area, and Tsurumi fuel depot in exchange for the release of the Negishi Housing Area in Yokohama to the Government of Japan," USFJ spokeswoman Maj. Genieve White told Stars and Stripes in an email Wednesday.
Japan's Defense Ministry said in a news release last week that "over 10 years have passed since the agreement and the security situation surrounding our country has become severe and there have been changes to the posture and ability of the U.S. Navy, such as an increase in U.S. military vessel operations at Yokosuka Naval Base."
White said those changes align with the Navy's needs.
"The new bachelor housing will ensure that eligible single Sailors assigned to Yokosuka are provided accommodations in line [with] U.S. Navy standards," she said. "There is currently an adequate quantity of family housing for those at Yokosuka, so the focus of the current [Facilities Adjustment Panel for Kanagawa] agreement was toward bachelor housing and community support facilities."
The governments also agreed to build a pier at Urago Ordnance Storage Area "to secure safe, effective and smooth operation of loading ammunition to U.S. ships," the release said. It will also build a fire station at the Navy's Tsurumi Fuel Terminal.
The Japanese government will also build support facilities such as an assembly hall and sports facility, as well as a repair shop and fire station at the Ikego Housing Area near Yokosuka.
The support facility additions will allow for the consolidation of multiple assets into one, White said.
"With regard to Ikego, the agreement benefits all U.S. Navy residents by constructing a new community support facility, which will upgrade and consolidate various functions, under one roof," she said. "The agreement also calls for the replacement of any existing community facilities that may be displaced by construction."
To speed up the process of returning Negishi Housing to the land owners, the governments will discuss joint usage of the housing area to start the restoration work needed to use the land after it is returned, according to the statement. They will decide the area's return date based on the progress of any restoration work.
White said the release of Negishi "will be contingent upon specific construction milestones to protect the interests of both governments." She did not identify those milestones.
In exchange, the governments withdrew a plan to build additional housing on the Yokohama side of Ikego. The plan was first made in 2003 when the U.S. and Japan agreed to return the Fukaya Communication Site, Tomioka Storage Area and most of Kamiseya Communication Station, as well as to build 800 additional housing units at Ikego. They also agreed to return Negishi Dependent Housing Area after housing units and support facilities were built at Ikego.
The Fukaya and Kamiseya communication sites were returned in 2014 and the number of housing units to be built at Ikego was reduced. In 2014, the number of units shrank to 171.
Further details of the new plans will be released at a future date, Chief Cabinet Secretary Yoshihide Suga told reporters Wednesday.
"The Japanese government will thoroughly explain the details [of the agreement] to the local communities, as well as to proceed with the procedure and work for restoration, which we hope to be done in about three years," he said when asked about the timeline for return of Negishi Housing. "We want to continue to steadily proceed with the agreements reached."
doornbos.caitlin@stripes.com Twitter: @CatlinDoornbos