US, Japan conduct anti-submarine drills in the South China Sea
by
Tyler Hlavac
March 13, 2018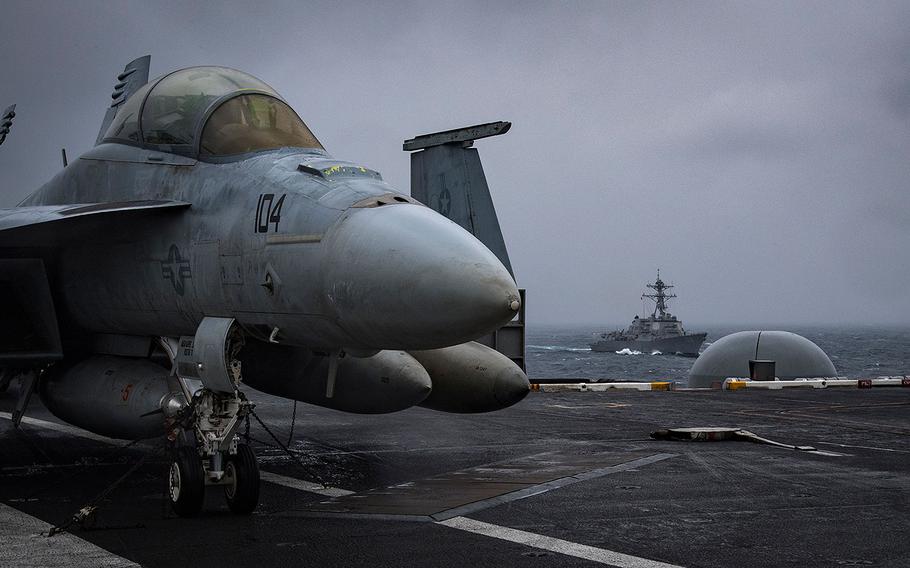 YOKOSUKA NAVAL BASE, Japan – U.S. and Japanese warships are once again conducting anti-submarine drills together, this time in the South China Sea.
The aircraft carrier USS Carl Vinson and the destroyer USS Wayne E. Meyer have been working alongside the Japan Maritime Self-Defense Force's JS Ise, a Hyuga-class helicopter destroyer, since Sunday, a Navy statement said. The warships are doing formation steaming, anti-submarine and air-defense training.
It's the second anti-submarine drill the allies have conducted this month. A Japanese destroyer, the JS Fuyuzuki, joined the USS Antietam, USS Curtis Wilbur, USS Benfold and USS Mustin for anti-submarine, surface warfare and live-fire training off Guam during the annual MultiSail exercise that ended Wednesday.
In recent years, China has built artificial islands in the South China Sea, militarizing them with airstrips, ports, hangars and other military-related infrastructure. This has upset several of its neighbors – including Brunei, Indonesia, Malaysia, Taiwan, the Philippines and Vietnam – that also have maritime claims in the region.
Chinese activity in the East China Sea has been an issue for Japan. Tokyo protested to Beijing in January after a submarine, presumed to be Chinese, was detected near Okinawa and the disputed Senkaku Islands. Vice Foreign Minister Shinsuke Sugiyama expressed "great concern" over the issue and urged China not to repeat the incursion.
However, a JMSDF spokesperson said the latest anti-submarine training isn't geared toward specific incidents.
The San Diego-based Carl Vinson has been patrolling the Western Pacific since January under an initiative that sends 3rd Fleet ships into 7th Fleet waters. It made a port call in Vietnam earlier this month, a first for a U.S. carrier since the Vietnam War.
The Carl Vinson is filling in for the Japan-based USS Ronald Reagan, the Navy's only forward-deployed aircraft carrier, which is undergoing maintenance at Yokosuka.