US, Japan agree to revamp security guidelines, add new radar
by
Erik Slavin slavin.erik@stripes.com
October 3, 2013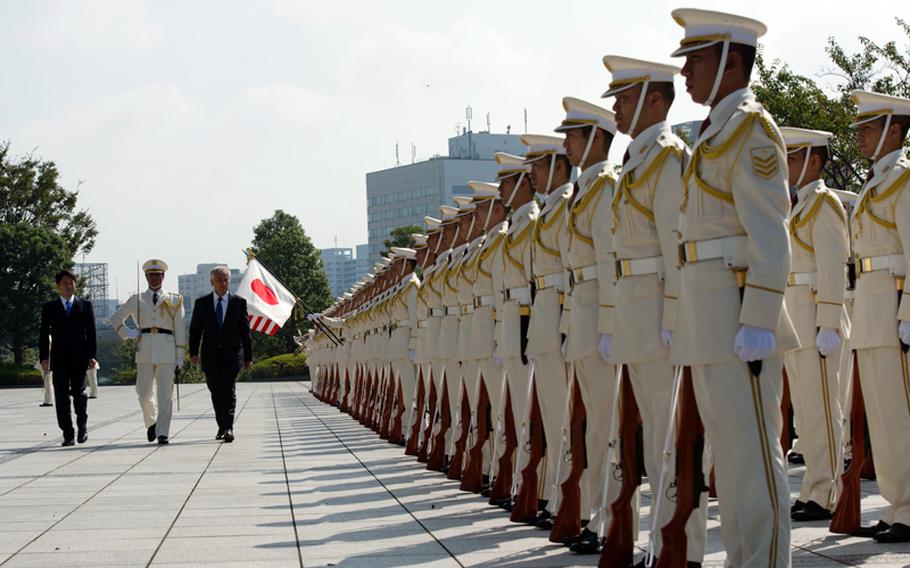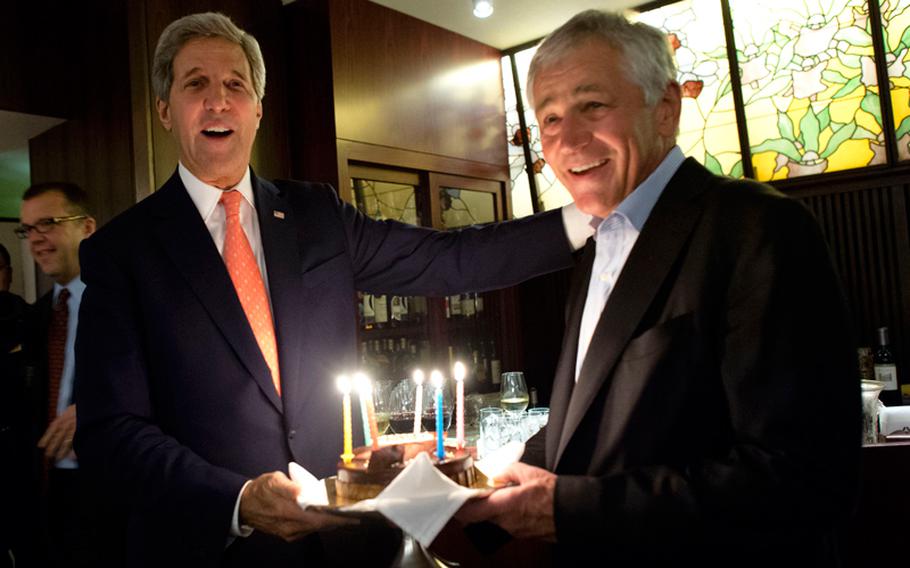 TOKYO — U.S. and Japanese officials agreed Thursday to bolster the security alliance between the two nations with new guidelines and equipment to address potential threats arising from North Korea, cyberspace and East China Sea territorial disputes.
Following a meeting with Japanese Foreign Minister Fumio Kishida and Defense Minister Itsunori Onodera, U.S. Secretary of State John Kerry and U.S. Secretary of Defense Chuck Hagel said America will deploy a new ballistic missile defense radar in Kyoto Prefecture with the intention of tracking missile launches by North Korea.
Concerns over North Korea's nuclear program and its ability to deliver weapons have risen since Pyongyang successfully launched a three-stage rocket last December and conducted a nuclear test in February, then threatened to launch strikes on South Korea and U.S. territory.
"This additional radar will bolster our ability to defend the U.S. homeland and Japan against North Korea's ballistic missiles," Hagel said.
Kerry said the United States would welcome renewed talks with North Korea and would be willing to sign a non-aggression pact with Pyongyang; however, any framework for talks would have to begin with North Korea's renunciation of nuclear weapons as a starting point.
"We have said again and again that we are not going to get into a repeat of past negotiations, which go around in a circle where there are some concessions, some agreements, and then the agreement is broken," Kerry said.
This week's 2+2 cabinet-level talks in Tokyo were the first of their kind between Japan and the U.S.
Following the meeting, the officials also announced a planned revision of the bylaws that determine each country's security role in peacetime and in war, and later reaffirmed a commitment to a realignment of U.S. troops in the Asia-Pacific region. A working group will devise the new security guidelines by the end of 2014, they said.
Kerry said the new emphasis on electronic attacks and counterterrorism would set a roadmap for the U.S.-Japan security alliance over the next 15-20 years.
"The defense guidelines were last examined in 1997," Kerry said. "Obviously, we have seen an enormous transition in the nature of the threats."
The guidelines cover each nation's security responsibilities in peacetime and during armed conflicts. During war, the U.S. is generally accorded the role of attacking an aggressor, while Japan takes defensive measures in line with its pacifist constitution.
The changes come in the wake of increasing tensions in the East China Sea. Competing claims over the uninhabited, Japan-administered Senkaku Islands — called the Diaoyu Islands by China — have resulted in repeated fighter jet scrambles and maritime contacts during the past year.
"We are decidedly opposed to the attempt to change the status quo through coercion," Kishida said.
The security guidelines were first designed in 1978 as a contingency plan for war with the Soviet Union. In 1997, the plan was updated to include contingencies in areas surrounding Japan with "an important influence on Japan's peace and security."
slavin.erik@stripes.com Twitter:@eslavin_stripes