US Forces Korea plans to dedicate new headquarters in late June
by
Kim Gamel
April 16, 2018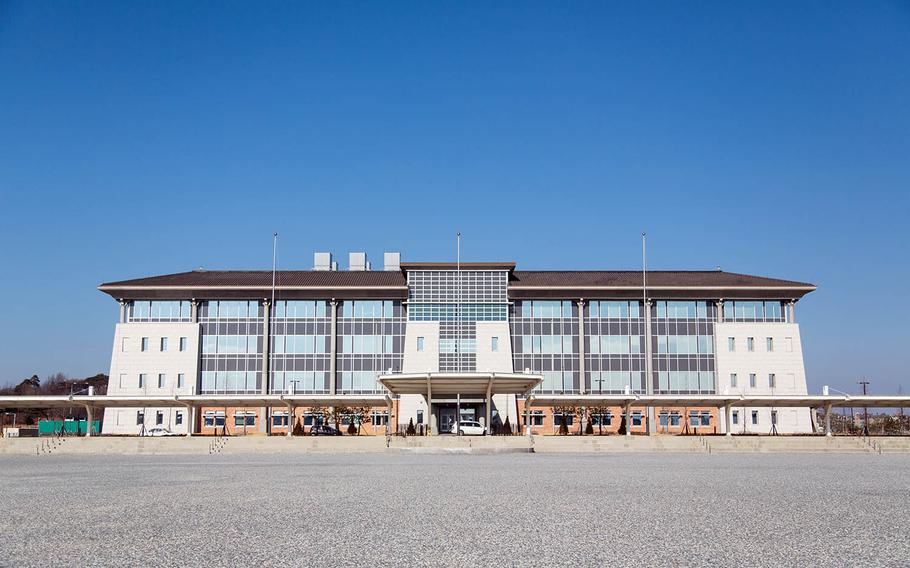 SEOUL, South Korea – The U.S. military's main command in South Korea plans to dedicate its new headquarters building in late June, marking the beginning of its historic relocation to a newly expanded base south of Seoul, a spokesman said Monday.
U.S. Forces Korea's move from its longtime home on the Army's Yongsan Garrison in Seoul to Camp Humphreys near the rural city of Pyeongtaek has been a long time coming. Seoul and Washington agreed to station most American troops, contractors and family members in 2004, but the effort was delayed several times due to construction problems and other issues.
"USFK will begin its transition in earnest from Yongsan to its new headquarters at Camp Humphreys in June — a transition that will take some months," USFK spokesman Col. Chad Carroll told Stars and Stripes in an email.
"USFK has tentatively scheduled dedication of their headquarters building for late June, but ongoing consultation between (South Korea) and U.S. may lead to some flexibility on relocation events," he added.
The new headquarters building, which has a tiled roof and sits next to the already-occupied Eighth Army headquarters, was completed and determined to be troop ready in January, other officials have said.
But it has been complicated by delays in the completion of a secure operations center, which is not expected to be fully ready until January 2021, according to a timeline laid out at a Yongsan town-hall meeting last month.
Col. Jon Haight, the lead relocation planner, said a temporary secure facility is being built to expedite the relocation, although it's not expected to be finished until February.
Camp Humphreys has been transformed from a remote outpost to the equivalent of a small American town in a nearly $11 billion construction project that was largely funded by the South Koreans.
The population doubled to about 26,000 after the Eighth Army moved from Yongsan last year, although several facilities, including the new hospital, have yet to be completed.
Gen. Vincent Brooks — who wears three hats as the commander of USFK, the United Nations Command and the Combined Forces Command — has pressed for the acceleration of the relocation plans.
"Gen. Brooks has directed us to accelerate our headquarters relocation from Seoul to the maximum extent possible," Haight said during the March 14 town hall.
"We have already commenced a four-phase operation that will ultimately split the three commands and completely relocate all three of them to new headquarters facilities by the summer of 2021," he added.
While officials stress the situation is fluid and timelines are subject to change, Haight said that two-thirds of the UNC and USFK headquarters, or about 650 employees and their families, were expected to move to Humphreys this summer.
"The vast majority of staff will move within the months of June and July after the school year is finished on June 14, 2018," he said.
The Combined Forces Command staff will move from Yongsan to facilities on the adjacent South Korean defense ministry compound in Seoul. Haight said that will position the command to eventually transition from U.S. to South Korean wartime operational control.
Haight said that was expected to happen later this year but could be pushed back to the middle of next year depending on the completion of the new facilities.
South Korean media also have reported that President Moon Jae-in's administration has pressed for the Americans to completely vacate Yongsan despite a deal that would allow them to keep a residual force and the Dragon Hill Lodge.
"The USFK will likely vacate the Dragon Hill Lodge hotel in the South Post of the Yongsan base," the Yonhap News Agency quoted an unidentified source as saying. U.S. and South Korean officials have not confirmed the reports.
In addition to freeing up prime real estate in Seoul, the move will provide the military with upgraded and hardened facilities at Humphreys, about 40 miles south of Seoul.
It also will put the bulk of the some 28,500 American servicemembers, civilian contractors and family members at a safer distance from North Korea's massive arsenal of conventional weapons poised on the border, just 35 miles north of Seoul.
gamel.kim@stripes.com Twitter: @kimgamel