US Forces Korea commander says 'we should all be outraged' by George Floyd killing
by
Kim Gamel
June 6, 2020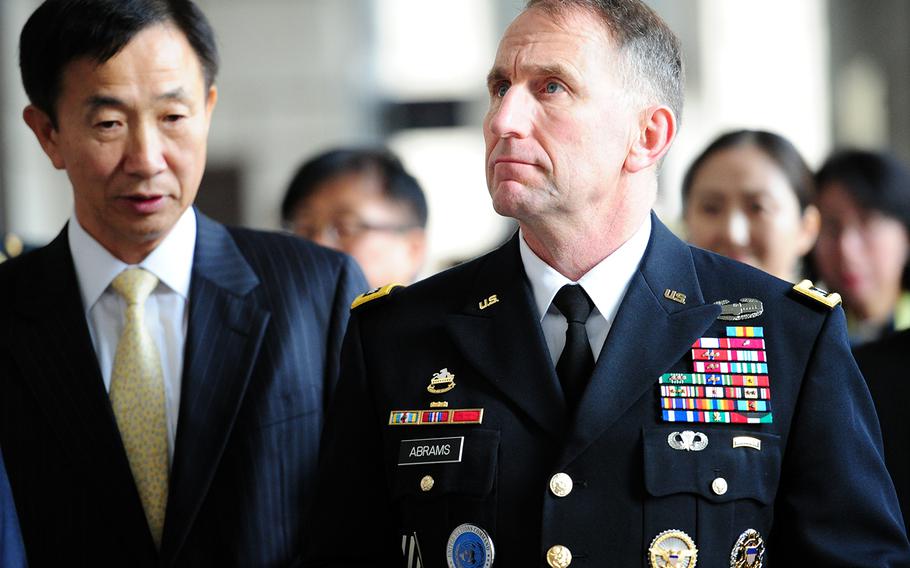 SEOUL, South Korea — The top U.S. commander in South Korea expressed outrage over the police killing of George Floyd and called on leaders at all levels to do more to fight racism and bigotry in the military.
Gen. Robert Abrams was the latest senior official to speak out publicly on Floyd's death, which has unleashed nationwide unrest and anger that has extended to troops overseas.
"We should all be outraged and ashamed at the killing of George Floyd & others by police. I know I am," Abrams said Friday in a series of tweets. "We should be equally outraged against racism and bigotry that continues."
"To be clear - there is NO place for it in our country and NO place for it in our military. ZERO." he said.
Floyd died on May 25 in Minneapolis, gasping that he couldn't breathe as a white police officer kept his knee on his neck for several minutes.
The police officer, Derek Chauvin, has been charged with murder, but protests continued.
Abrams said he spent the week speaking privately with many black service members about their worries and their families at home.
"The pain is deep and real. These are not isolated cases of discrimination and bigotry … it is in many places," he wrote. "We can and must do better."
He noted the topic has long been taboo, saying it's time for action.
"Start in your squad/platoon/flight/staff section and every other echelon up to USFK HQ. This is leader business," he said. "If you don't think there is a problem, you might be part of the problem. Have the courage to start the conversation."
Abrams also urged leaders to ensure diversity in their formations.
"Last and most importantly, we need to do less talking the talk, and start walking the walk in our daily actions that demonstrates our commitment to our values and dignity and respect for everyone," he said.
His comments came two days after Defense Secretary Mark Esper addressed the killing for the first time, calling it "a tragedy that we have seen repeat itself too many times."
Esper insisted the military has been a leader on racial issues but acknowledged "we still have much to do on this front."
gamel.kim@stripes.com Twitter: @kimgamel