US Forces Korea: 11 more troops from US test positive for coronavirus
by
Kim Gamel
July 13, 2020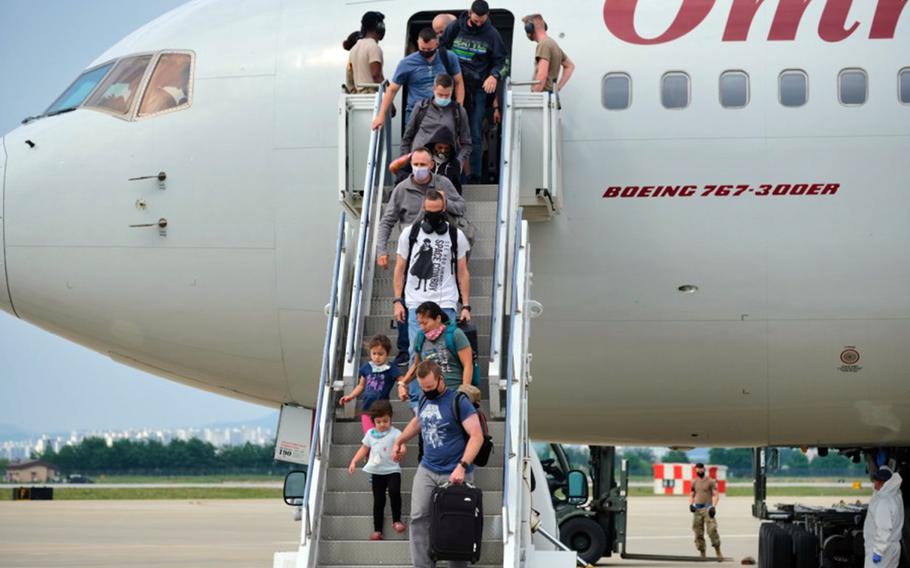 Stars and Stripes is making stories on the coronavirus pandemic available free of charge. See other free reports here. Sign up for our daily coronavirus newsletter here. Please support our journalism with a subscription.
SEOUL, South Korea — Eleven more American service members tested positive for the coronavirus after arriving in South Korea from the United States, the military said Monday.
The new cases raised to 74 the number of people affiliated with U.S. Forces Korea who have contracted the respiratory virus since the first outbreak began in late February.
Two service members arrived on July 7 at Osan Air Base on a U.S. government-chartered flight known as the Patriot Express, USFK said in a press release.
Nine others landed at Incheon International Airport on four separate commercial flights since July 8, it added.
USFK said all 11 troops tested positive before entering a mandatory two-week quarantine as part of an arrivals process aimed at containing the spread of the virus.
The patients "have since been transferred to an isolation facility designated for confirmed COVID-19 cases on either Camp Humphreys or Osan Air Base," it said.
While the number of cases coming from the United States continues to mount, the military has expressed confidence in its anti-coronavirus measures.
Travelers must test negative before being allowed to exit quarantine.
Those who are placed in isolation must meet four conditions before release — being asymptomatic for seven days, free of fever without medication, receiving negative results on two consecutive tests no less than 24 hours apart and being cleared by a medical professional.
USFK health professionals also determined there was a limited need for contact tracing because all passengers traveling in South Korea must be tested and quarantined upon arrival.
"Thorough cleaning of all quarantine rooms has been completed," it said.
The command said Friday that it had 21 active-duty troops in isolation. It didn't provide an updated figure on Monday, saying only that the number was "less than 1%" of the force.
The move to include only a percentage was "in order to better align with Defense Department guidance to not release aggregate numbers," spokesman Col. Lee Peters said in an email.
More than 28,500 U.S. service members are stationed in South Korea, which technically remains at war with the North after their 1950-53 conflict ended in an armistice instead of a peace treaty.
In all, USFK has reported 74 coronavirus cases among troops, military dependents, contractors and other U.S. and South Korean civilian employees. Only 24 of those were contracted locally, with the most recent on April 14.
"USFK continues to maintain a robust combined defense posture … while maintaining prudent preventive measures to protect the force," it said.
South Korea was once an epicenter of the pandemic with the highest number of cases outside of China, where the virus first appeared late last year.
The South has largely flattened its daily count from a peak of 909 on Feb. 29 with an aggressive policy of testing and contact tracing, although health authorities continue to battle cluster infections and imported cases.
On Monday, the Korean Centers for Disease Control and Prevention reported 62 new cases, with only 19 local infections and 43 from abroad.
gamel.kim@stripes.com Twitter: @kimgamel