US Forces Japan commander declares public health emergency for Tokyo-area bases as virus cases surge
by
Seth Robson
April 6, 2020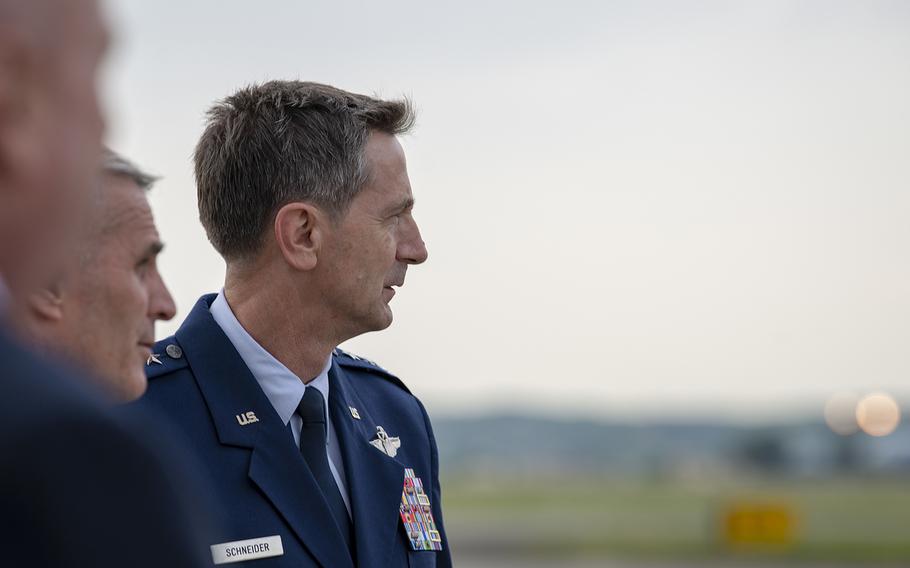 Stars and Stripes is making stories on the coronavirus pandemic available free of charge. See other free reports here. Sign up for our daily coronavirus newsletter here. Please support our journalism with a subscription.
YOKOTA AIR BASE, Japan — The commander of U.S. Forces Japan has declared a public health emergency for U.S. military bases on the Kanto Plain in and around Tokyo.
The declaration Monday afternoon "ensures commanders possess the necessary authorities to enforce compliance health protection measures among military, civilians, and contractors who live and work on U.S. installations," a USFJ statement said. The guidance will be in effect until at least May 5.
Lt. Gen. Kevin Schneider, USFJ commander, said in the statement that protecting the health and safety of everyone associated with USFJ is his No. 1 priority.
"I cannot underscore enough the importance of personal responsibility at a time like this," he said. "Stopping the spread of [the coronavirus] requires the entire team – service members, civilians, families, and our Japanese partners. The virus makes no exceptions based on military or civilian status, and our policies and procedures won't either."
Kanto Plain installations include Yokosuka Naval Base, which is on lockdown because of positive cases there; Yokota Air Base, home of USFJ and 5th Air Force; Naval Air Facility Atsugi; Camp Zama, home of U.S. Army Japan; and the Marine Corps' Camp Fuji training area.
The declaration gives commanders the power to order U.S. civilian workers, contractors, Japanese employees and dependents to follow rules imposed to curtail spread of the virus, said Air Force Maj. Genieve White, a USFJ spokeswoman.
U.S. civilians and dependents have, so far, been "highly encouraged" to follow guidance laid out by commanders in Japan to combat the virus.
Now, a commander could punish a civilian who broke those rules, such as a curfew or restriction on movement, for example, by barring them from bases or revoking their right to stay in Japan under the status of forces agreement and sending them back to the United States, she said.
White said she wasn't aware of any troops in Japan being punished for violating rules. However, not everyone is following them.
Capt. Brad Stallings, commander of Sasebo Naval Base, which has one confirmed case of coronavirus, made his frustrations clear in a Facebook post Sunday.
"What I have seen, heard about or read about in our community over this past weekend concerns me greatly … bottom Line, we have folks who FLAT OUT DO NOT GET IT," he wrote.
"I have … received word that parties are being planned. I am directing you NOT TO DO IT!"
In a previous post, Stallings made a similar statement and urged everyone on base to take seriously the restrictions on leave, liberty and social distancing that apply to service members.
Not following the rules has already gotten service members in trouble in South Korea. A sergeant first class with the 2nd Infantry Division was handed summary punishment for visiting a bar in Songtan, outside Osan Air Base, and making a false statement, according to a Facebook post by the U.S. Eighth Army. The unnamed sergeant forfeited $2,473 pay per month for two months with one month suspended for 180 days.
The soldier was also placed on restriction for 45 days, given the same amount of time on extra duty and received a written reprimand, according to the post.
The U.S. Forces Japan commander's emergency declaration also empowers him to mandate changes to operations at commissaries and exchange stores on bases in Japan, White said.
Schneider could also repurpose facilities to respond to the virus, White said, but added: "We're not planning on doing that."
Japanese Prime Minister Shinzo Abe was expected to declare a state of emergency Tuesday amid the surge of coronavirus cases in the nation's capital, according to local media reports.
Tokyo, now the epicenter of the pandemic in Japan, reported 143 new infections on Sunday, marking the highest rate of increase on record. The total number of positive cases confirmed in the capital reached 1,033 with 30 deaths, according to the Tokyo Metropolitan Government's website.
There have been 3,569 coronavirus infections and 73 deaths in Japan as of Sunday, according to a Ministry of Health, Labor and Welfare news release.
robson.seth@stripes.com Twitter: @SethRobson1