US expects N. Korea to keep promise not to resume missile tests, Pompeo says
---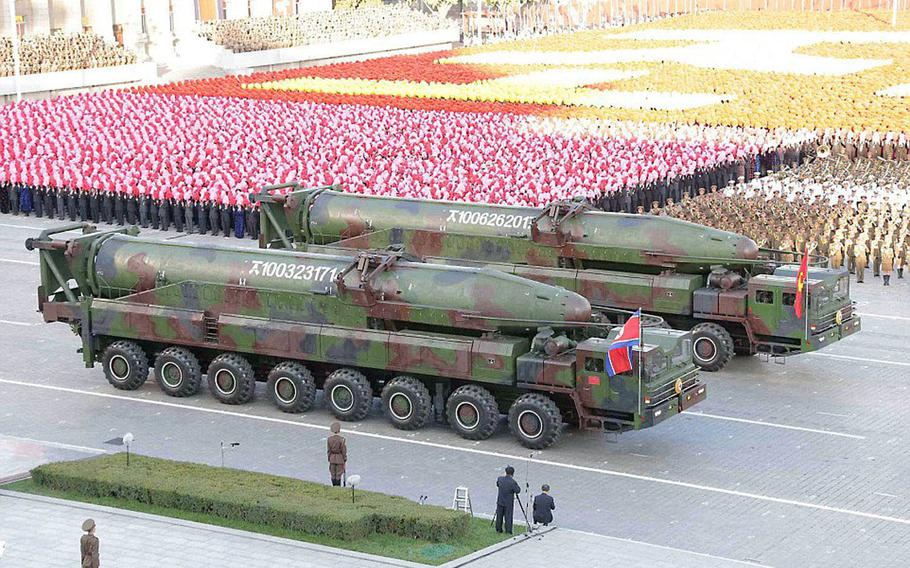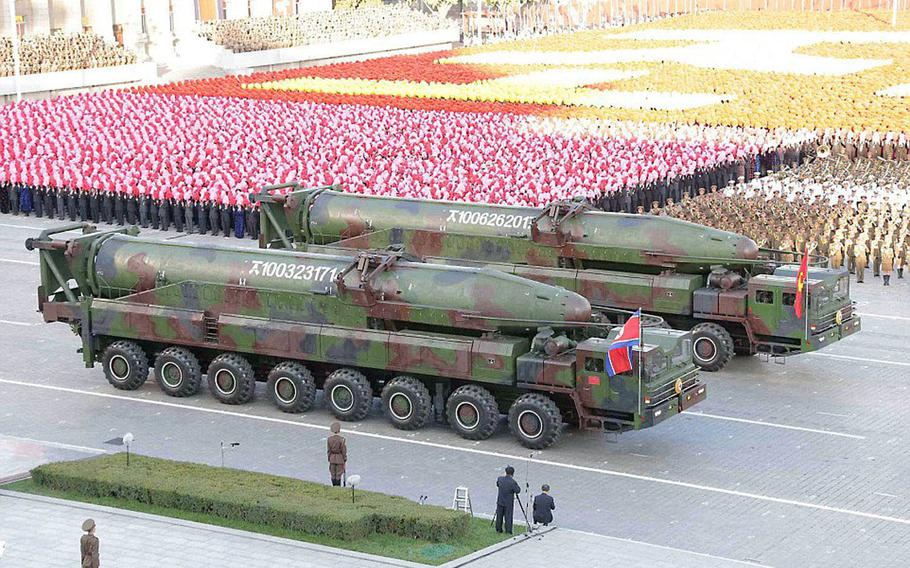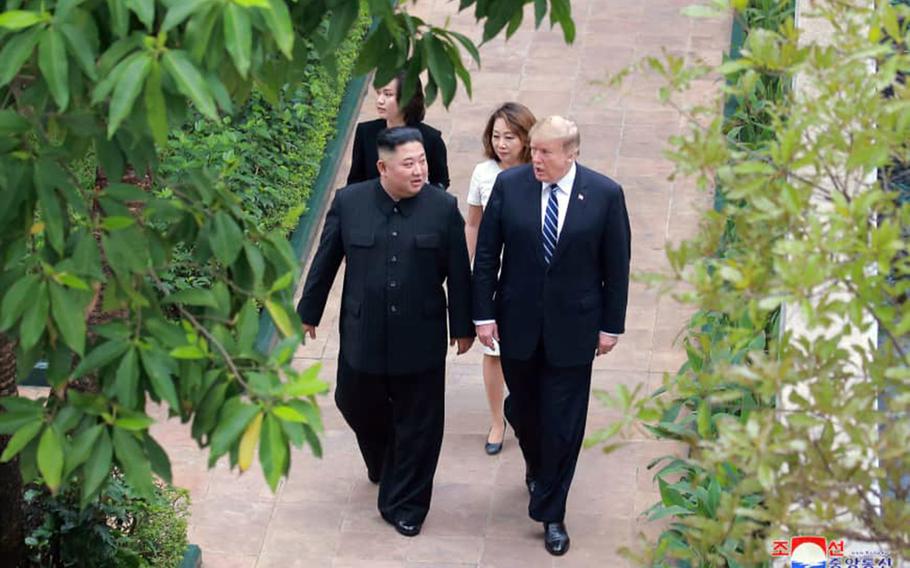 SEOUL, South Korea — North Korea warned that it's considering ending nuclear talks and lifting its missile-testing moratorium, saying Friday that Washington missed a "golden opportunity" at the recent summit between the two countries.
Secretary of State Mike Pompeo responded by saying that North Korean leader Kim Jong Un personally promised President Donald Trump that he would not resume missile or nuclear tests.
"So that's Chairman Kim's word. We have every expectation he will live up to that commitment," Pompeo said Friday during a press conference in Washington.
Fears of new tensions have risen after the Feb. 27-28 summit between Trump and Kim collapsed without agreement on ending North Korea's nuclear weapons program.
Recent satellite images also showed that the North has rebuilt a long-range rocket launchpad that had been partially dismantled as part of disarmament steps.
Pyongyang expressed new frustration on Friday over the U.S. refusal to bow to its demand for a reciprocal approach to the talks that would include rewards such as sanctions relief for measures already taken.
The North suspended its missile and nuclear tests last year after it began engaging in diplomacy with the United States.
"Whether to maintain this moratorium or not is the decision of our chairman of the state affairs commission," Vice Foreign Minister Choe Son Hui was quoted as saying Friday, using one of Kim's titles.
"He will make his decision in a short period of time," she added during a meeting with diplomats and foreign journalists in Pyongyang.
Journalists were not allowed to ask questions during the briefing, which lasted nearly an hour, according to The Associated Press.
Kim was deeply disappointed by the failure to reach any agreements at the summit in Hanoi, Vietnam, Choe said, accusing the U.S. of being too demanding and inflexible.
"What is clear is that the U.S. has thrown away a golden opportunity this time," she said. "I'm not sure why the U.S. came out with this different description. We never asked for the removal of sanctions in their entirety."
Pyongyang has no plans to compromise or continue talks unless the U.S. takes measures to reciprocate for steps already taken, including the testing moratorium, Choe said.
North Korea has not conducted nuclear or missile tests since Nov. 28, 2017, although skeptics say the communist state could afford the pause because it already has demonstrated strong progress toward its goal of developing a nuclear weapon that could reach the U.S. mainland.
"Of course, if North Korea returns to nuke and ICBM tests – something Choe apparently just put back on the table – then we'll be back to serious confrontation," tweeted Joshua Pollack, a North Korea expert at the James Martin Center for Nonproliferation Studies in Monterey, Calif. "This is diplomatic brinkmanship."
Trump said at a news conference after the summit breakdown that he had to walk away because the North had demanded that all sanctions be lifted in exchange for insufficient steps toward denuclearization.
Choe reiterated the North's position that it sought only the removal of sanctions directed at its civilian economy.
The State Department has clarified that was true but said the lifting of those sanctions would essentially subsidize continued nuclear weapons activity by the North.
"This time we understood very clearly that the United States has a very different calculation to ours," Choe said.
The veteran diplomat didn't issue direct criticism of Trump, insisting that "personal relations between the two supreme leaders are still good and the chemistry is mysteriously wonderful."
But she blamed demands by Pompeo and National Security Adviser John Bolton for creating an atmosphere of hostility and mistrust during the Hanoi summit.
"They're wrong about that. I was there," Pompeo said, insisting that Choe had "left open the possibility that negotiations would continue" in her remarks.
Choe was among the entourage that traveled with Kim on a more than 60-hour train ride from Pyongyang to the Vietnamese border via China.
"On our way back to the homeland, our chairman of the state affairs commission said, 'For what reason do we have to make this train trip again?'" she said.
"I want to make it clear that the gangster-like stand of the U.S. will eventually put the situation in danger," she added. "We have neither the intention to compromise with the U.S. in any form nor much less the desire or plan to conduct this kind of negotiation."
North Korea already has rebuilt a launch site that it had partially dismantled as part of disarmament steps last year, according to an analysis of satellite images earlier this month by the U.S.-based think tanks 38 North and the Center for Strategic and International Studies.
Satellite images taken Wednesday show no new activity at the Sohae Satellite Launching Station, also known as Tongchang-ri, since the initial March 8 report, according to the North Korea-focused website 38 North.
South Korea, a staunch U.S. ally that is eager to advance economic and cultural engagement with the North, vowed to continue efforts to restart the dialogue.
"We're closely watching the situation right now," the presidential office said in a statement. "Our government will strive for the resumption of North Korea-U.S. negotiations under any circumstances."
Stars and Stripes reporter Yoo Kyong Chang contributed to this report.
gamel.kim@stripes.com Twitter: @kimgamel
---
---
---
---