US did not request five-fold increase for stationing troops in Japan, nation's defense minister says
by
Hana Kusumoto
November 18, 2019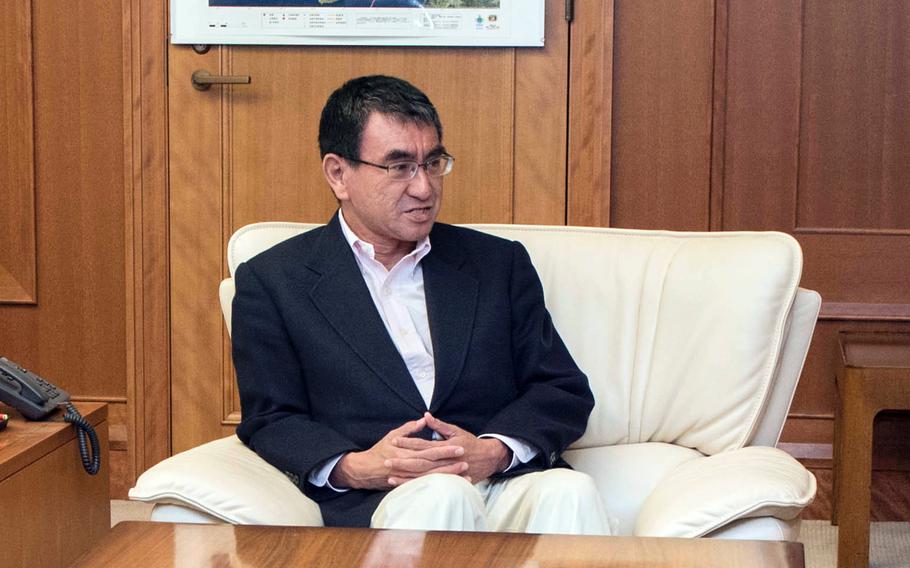 TOKYO — Japan's government on Sunday denied a report it had been asked to fork over five times as much as it now pays to support United States forces stationed in the country.
Kyodo News reported Saturday that Japan had rejected a request for the funding increase that was delivered by John Bolton, then national security adviser to President Donald Trump, when he visited Tokyo in July.
Japanese Defense Minister Taro Kono refuted the report, according to a transcript of a Sunday press conference posted on the Defense Ministry's website.
In Japan's fiscal 2019 draft budget, about $1.8 billion has been earmarked to host U.S. forces, which include more than 50,000 servicemembers, mostly stationed on Okinawa. Japan would have to pay more than $9 billion annually if it had acceded to the request, Kyodo reported.
The talk about cost-sharing echoes news from South Korea, where U.S. Defense Secretary Mark Esper on Friday called on the government to increase its share of the cost to support 28,500 U.S. troops stationed on the divided peninsula.
Trump has insisted that U.S. allies, including NATO members, need to pay more for their own defense.
Esper also called on Seoul to reverse its decision to cancel a military intelligence-sharing agreement with Japan before it expires on Saturday.
The U.S. fears the pact's termination could jeopardize security as North Korea resumes weapons testing amid stalled nuclear talks.
kusumoto.hana@stripes.com Twitter: @HanaKusumoto