US bombers train over S. Korea in face of North's 'unacceptable threat'
---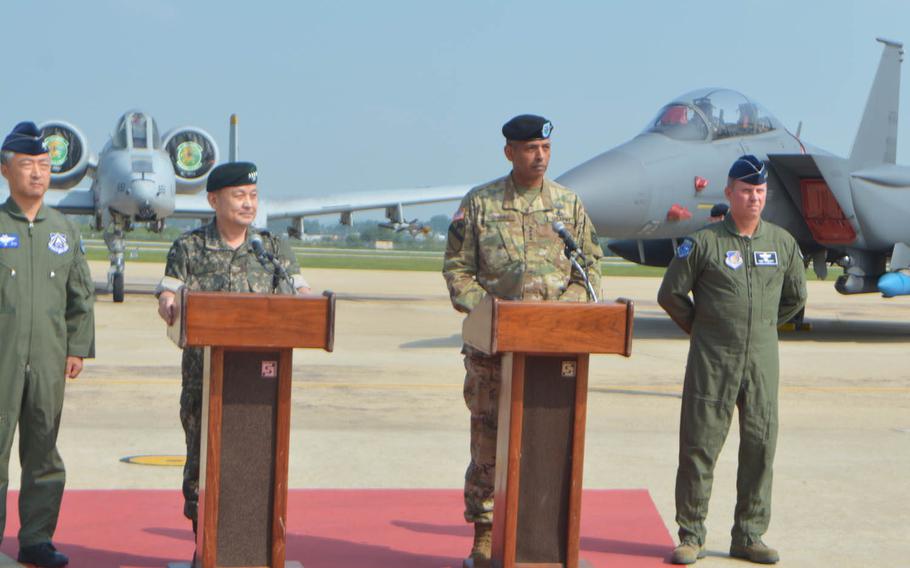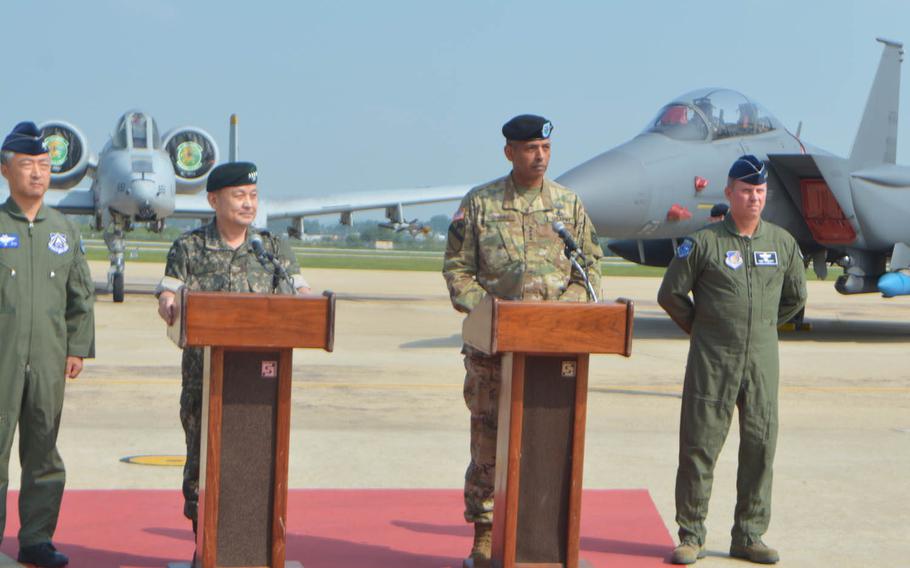 OSAN AIR BASE, South Korea — Two U.S. supersonic bombers roared over South Korea Tuesday as part of a trilateral training drill with Japan that doubled as a show of force in response to North Korea's latest nuclear test.
The flyover came four days after the North conducted its fifth and most powerful atomic blast, deepening tensions that have been building since the last one occurred in January followed by a long-range rocket launch and several missile tests.
The growing threat from Pyongyang raises the stakes for the U.S. and its allies, who have seen little effect from tough economic sanctions that were imposed in an effort to rein in the communist nation.
"North Korea's nuclear test represents a dangerous escalation and poses an unacceptable threat," Army Gen. Vincent Brooks, commander of U.S. Forces Korea and the combined forces, said on the tarmac after the morning flyover at Osan Air Base.
"The United States has an unshakable commitment to defend allies in the region and will take the necessary steps to do so," said Brooks, who pointed to plans to deploy an advanced U.S. missile defense system known as a THAAD to South Korea.
The anti-missile battery is also a source of tension with China, which fears it could be used against its military. China, a traditional ally of North Korea, has joined in condemnation of the nuclear test, but analysts say it may hesitate before supporting stronger measures against Pyongyang.
Brooks, who addressed reporters with South Korean Gen. Lee Sun-jin, chairman of the joint chiefs of staff, said the bombers are just one example of the "deep arsenal" available to the U.S. and its ally South Korea.
On the diplomatic front, the U.S. envoy for North Korea said Tuesday that Washington and Seoul were considering unilateral measures in addition to a new sanctions push at the U.N. Security Council.
"Our intention is to secure the strongest possible resolution that includes new sanctions as quickly as possible," Sung Kim told a news conference after talks with South Korean officials in Seoul.
The Guam-based B-1B Lancers flew low over Osan Air Base — about 40 miles south of Seoul and 50 miles south of the heavily militarized border that divides the peninsula — in two separate passes, flanked by U.S. and South Korean fighter jets.
The U.S. Pacific Command said the flights occurred after the bombers from Andersen Air Force Base conducted interception training in the vicinity of Japan with fighter aircraft from the Japan Air Self Defense Force.
The B-1Bs were then handed off to the South Korean pilots in international airspace before doing the flyover and returning to Guam, it said.
"These flights demonstrate the solidarity between South Korea, the United States, and Japan to defend against North Korea's provocative and destabilizing actions," Adm. Harry B. Harris Jr., the head of the Pacific Command, said in a statement.
Friday's underground explosion was recorded as magnitude-5.3 and had an explosive yield of about 15 to 20 kilotons, according to preliminary reports. North Korea called it a nuclear warhead and claimed it has the ability to produce them in significant numbers and mount them on "strategic ballistic missiles."
South Korean military officials said Monday that the North is prepared to conduct another nuclear explosion in an unused tunnel at its main test site.
Nuclear researcher Siegfried Hecker, who has visited North Korean facilities in the past, estimated the communist state may have sufficient fissile material to produce about 20 bombs by the end of this year and add seven more per year. He also said the North appears to have nuclear warheads that can be mounted on some short-range and possibly medium-range missiles.
"Left unchecked, Pyongyang will likely develop the capability to reach the continental United States with a nuclear-tipped missile in a decade or so," he wrote in an analysis posted on the 38 North website, which is run by the U.S.-Korea Institute at Johns Hopkins University.
"Much more troubling for now is that its recent nuclear and missile successes may give Pyongyang a false sense of confidence and dramatically change regional security dynamics," he added.
Economic sanctions and diplomatic pressure have so far failed to halt the North's provocations. Instead, the regime has stepped up the pace of missile tests in recent months with increasing success, apparently learning from its failures.
President Barack Obama and other world leaders have vowed to intensify pressure on the North, including likely new sanctions.
His envoy on North Korea said the United States would work with China to close loopholes in the new sanctions that were passed earlier this year.
"China has been very clear that they understand the need for a new U.N. Security Council resolution in response to the latest North Korean nuclear test," Kim said.
He also said the U.S. remained open to "credible, meaningful, authentic dialogue." Six-nation negotiations aimed at dismantling North Korea's nuclear program broke down in 2008.
He also dismissed calls by some South Korean lawmakers to allow their country to have its own nuclear force or to ask the United States to bring back tactical nuclear weapons that were withdrawn under a 1991 pact to denuclearize the peninsula.
"We have a great deal of confidence that we have the capabilities to defend against the threat posed to this country," Kim said. "I think both our leaders, perhaps more importantly our military experts, have determined that there is no need to reintroduce nuclear weapons on the peninsula."
The U.S. has about 28,500 servicemembers stationed in South Korea. The divided peninsula remains technically at war after the 1950-53 conflict ended with an armistice instead of a peace treaty.
Stars and Stripes staffer Yoo Kyong Chang contributed to this report.
gamel.kim@stripes.com Twitter: @kimgamel
---
---
---
---