US begins process of returning Yongsan Garrison to South Korea, but closure not imminent
by
Kim Gamel
December 11, 2019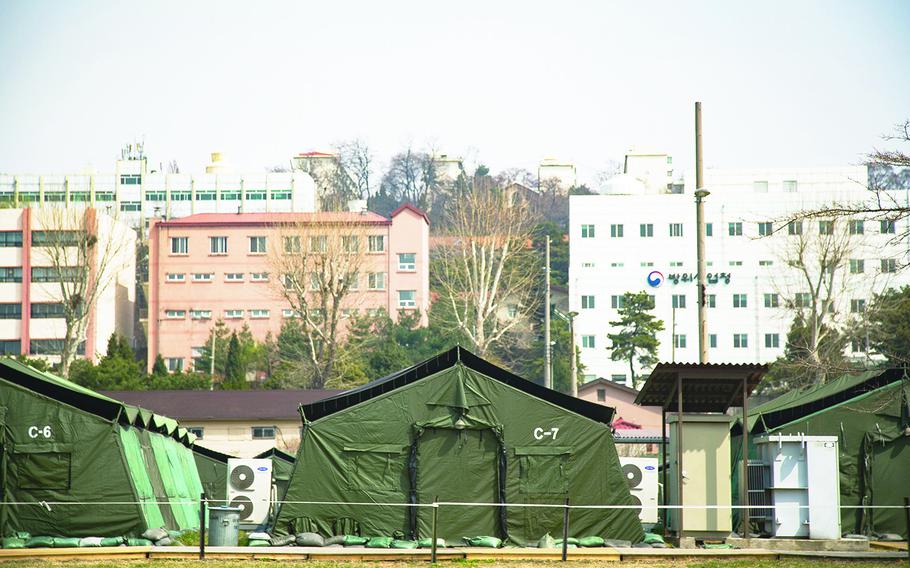 SEOUL, South Korea — The United States formally returned four small military bases to South Korea and began the process Wednesday for returning Yongsan Garrison in Seoul as it faces pressure to speed a long-delayed transition plan.
The allies decided at a regular joint meeting to discuss the status of forces agreement that governs issues related to some 28,500 U.S. troops stationed on the divided peninsula.
The returns of Camps Eagle and Long in Wonju, 90 miles east of Seoul, a parcel of Camp Hovey known as Shea Range in Dongducheon to the north and parcels of Camp Market to the west of the capital were completed at the meeting.
"This marks the biggest land return of former U.S. sites to [South Korea] since 2015," U.S. Forces Korea said in a press release, adding that 13 other "completely vacated and closed sites" also were ready for return.
The SOFA Joint Committee, which held its 100th meeting, also "initiated the return process for Yongsan Garrison, which reaffirms the U.S. commitment to the Korean people and the Korean government in the execution of the Yongsan Relocation Program," it added.
Yongsan is the center of a plan to consolidate most U.S. forces at Camp Humphreys and other hubs south of Seoul and farther from the border with North Korea.
The process has been complicated by construction delays at Camp Humphreys, the U.S. military's new home south of Seoul, and disagreements over responsibility for environmental cleanup and other issues.
However, President Moon Jae-in's office began pressing the U.S. in August to expedite the handover of 26 U.S. military installations. Many of the bases have been closed for years but remained under U.S. control.
The allies also are mired in contentious defense cost-sharing talks as South Korea balks at President Donald Trump's demands for a sharp increase in funding for the maintenance of American troops here.
Yongsan, a sprawling base in the heart of Seoul that is expected to become a park, has closed several facilities since USFK moved its headquarters to Camp Humphreys last year, taking most of its personnel with it.
South Korea has provided labor and funded most of the nearly $11 billion expansion project at Humphreys, a former helicopter outpost in the rural area of Pyeongtaek.
However, the Americans are expected to retain a presence until the U.S.-led Combined Forces Command moves to Humphreys and a new secure operations center is completed.
The Army's resort-style hotel, Dragon Hill Lodge, will remain open, and U.S. Embassy staff will remain in a gated area on the portion of the base known as South Post, officials say.
The food court and PX will close at the end of this month, leaving the once-busy garrison resembling a ghost town.
Yongsan commander Col. Monica Washington said last week that barracks will remain open for the foreseeable future, although family housing will be vacated by Aug. 1.
"The only places where we will actually have individuals living on the installation of course will be the barracks," she said at a Dec. 5 town hall-style meeting. "We are consolidating that space so we don't have everyone spread out."
On the bright side for those remaining in Seoul, she said the commissary is expected to remain open until at least September 2021 instead of closing this year as had been planned.
Many services have been moved to K-16, a South Korean base that hosts American troops near Seoul, and Camp Casey near the border, which is expected to remain open.
USFK's deputy commander, Air Force Lt. Gen. Kenneth Wilsbach, and South Korean Foreign Ministry official Ko Yun-ju, who heads the ministry's North American affairs bureau, led the meeting Wednesday at Camp Humphreys.
"USFK remains committed to returning installations as expeditiously as possible to [South Korean] government control," according to the press release.
gamel.kim@stripes.com Twitter: @kimgamel