US bases in Japan hold town halls, cancel events over coronavirus concerns
---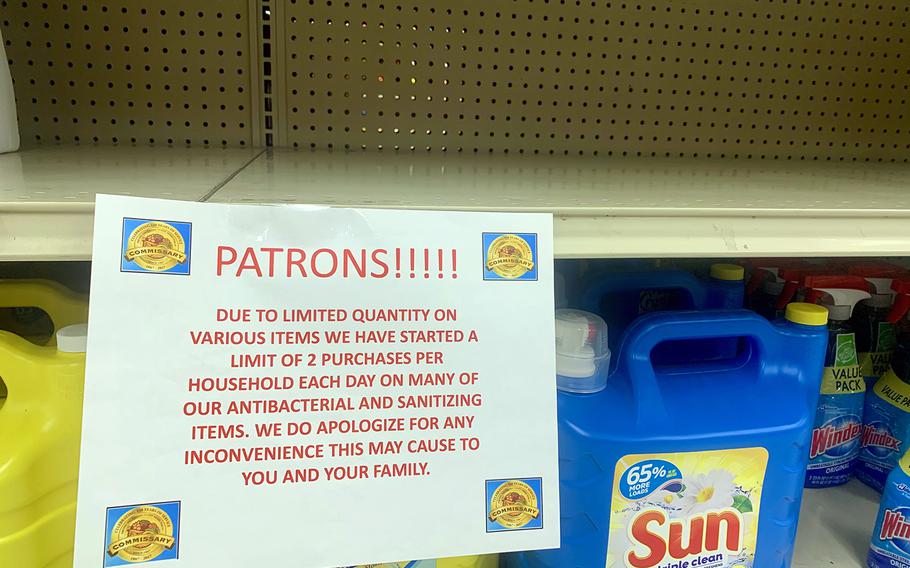 CAMP ZAMA, Japan — Authorities at U.S. military bases across Japan are taking steps to reduce the likelihood that COVID-19 finds its way onto those installations, including stocking up on masks and hand sanitizer.
Rumor control is part of that effort. At a town hall meeting Wednesday evening at Camp Zama, home to U.S. Army Japan headquarters, one man asked whether dependents would be evacuated.
"No," U.S. Army Japan Major Gen. Viet Xuan Luong told a packed ballroom of service members, civilian employees and their families.
That's a possibility if the coronavirus outbreak reaches pandemic status "months from now," he said, but advised the audience not to "worry about that right now."
Seven people associated with U.S. Army Japan are undergoing 14 days of quarantine after disembarking the Diamond Princess, a cruise ship moored three weeks at Yokohama after COVID-19 appeared on board.
U.S. Army Japan spokesman Elias Chelala said Thursday that none have tested positive for the virus.
U.S. Forces Japan spokeswoman Maj. Genieve White told Stars and Stripes on Thursday that the wife of a U.S. contractor had tested positive for coronavirus but has since recovered after treatment at a medical facility in Japan.
So far, 691 people of more than 3,700 who had been on the ship have tested positive for the virus.
Misawa Air Base held a virtual town hall on its Facebook page Thursday evening to address coronavirus concerns. One change announced was that security forces working at base entry points will no longer handle ID cards, but rather will have entrants hold up their IDs for scanning.
U.S. Forces Japan on Wednesday said base commanders may impose health screenings for those entering installations in Japan and urged them to cancel public base gatherings such as meetings, formations and social events.
Military units were instructed to place bulk orders for masks, gloves, eye protection, alcohol, hand gel, sanitation wipes, bleach and towels, according to a copy of the public health order obtained Thursday by Stars and Stripes.
The Camp Zama commissary and post exchange sold out of large bottles of hand sanitizer and face masks within days of the last shipment, despite a one-per-family restriction on purchases, officials said at Wednesday's town hall.
The exchange and commissary are restocking shelves and rationing those items, officials said. Similar rationing is taking place at the Navy Exchange and commissary at Yokosuka Naval Base.
A day after the USFJ announcement, installations across Japan announced event changes and cancellations due to the coronavirus risk.
Upcoming open-base spring festivals at Camp Zama, Army Garrison Okinawa and Naval Air Facility Atsugi have been canceled.
Yokosuka will hold its festival March 28, though it will no longer be open to the public without an escort, said base spokesman Randall Baucom. Base residents and personnel may still bring guests.
"The installation commander is continuously reviewing all activities on a case by case basis to determine if they need altered or cancelled," Baucom said in an email to Stars and Stripes on Thursday.
Atsugi officials on Thursday announced on Facebook that the annual Tomodachi Bowl football game between American and Japanese high school players was canceled. The next open-base event will not happen until August, they added.
At Marine Corps Air Station Iwakuni, no cancellations or changes have been announced, but spokesman Maj. Josh Diddams said the base is "monitoring the spread of COVID-19 closely and is currently evaluating upcoming events and taking appropriate precautions as the situation develops."
---
---
---
---