US, Australian forces kick off massive, monthlong military drills Down Under
---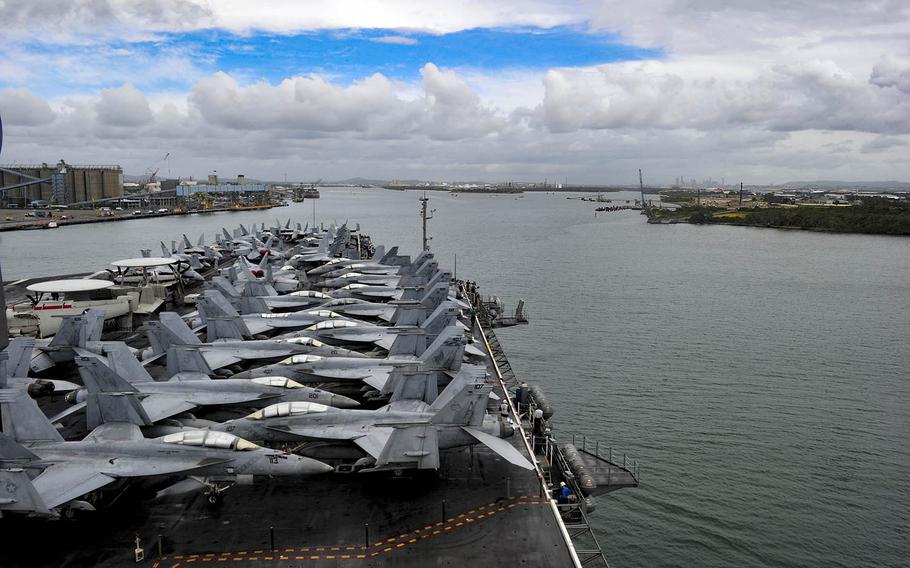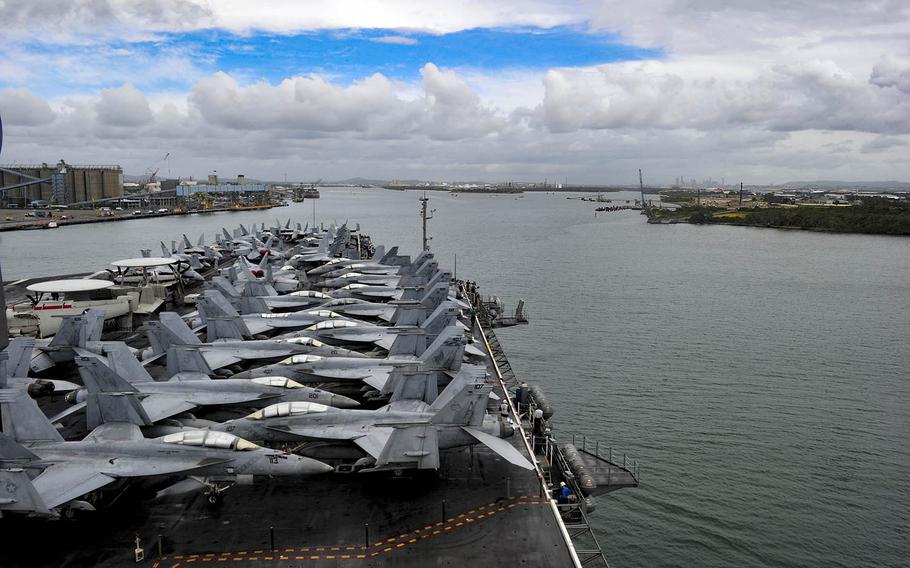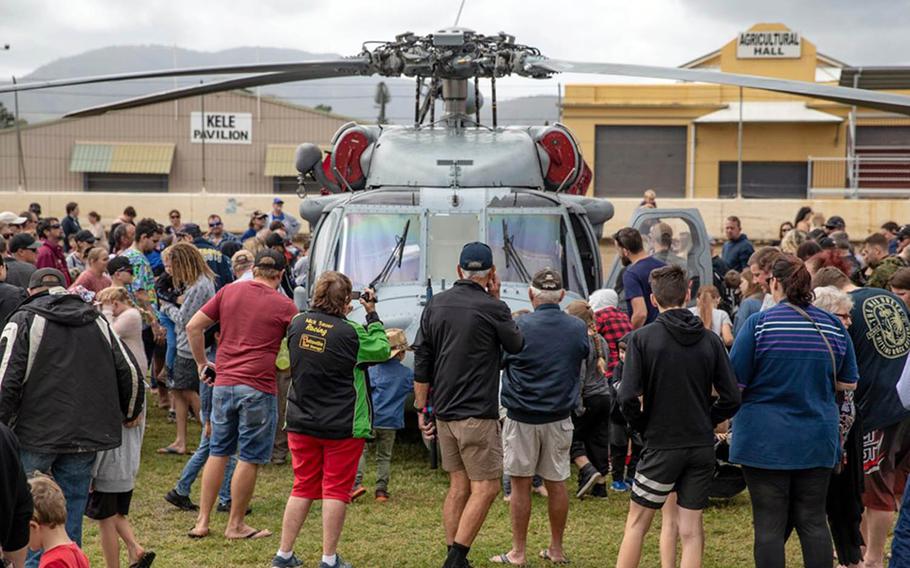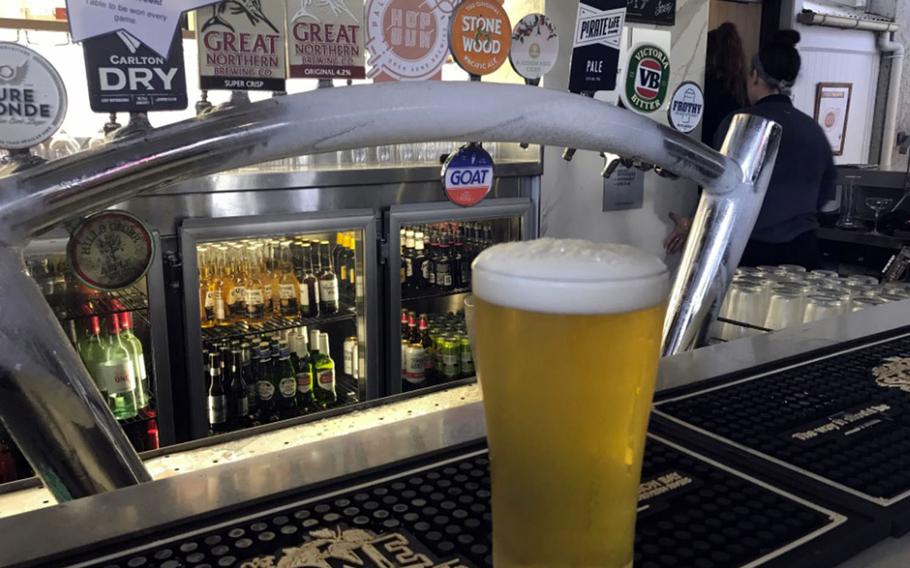 A monthlong, biennial military exercise involving more than 34,000 personnel from the United States and Australia opened Sunday aboard the USS Ronald Reagan aircraft carrier at the Port of Brisbane.
Talisman Sabre 2019 is designed to enhance combat readiness and cooperation between the Australian and U.S. armed forces, Australian Defence Minister Linda Reynolds said in a statement announcing the drills.
"This premier military engagement reflects the strength of the Australia-US alliance and the closeness of our military to military relationship," she said.
Most drills will take place at Shoalwater Bay Training Area and surrounding state forests near the town of Rockhampton, Queensland. Events will also occur in other parts of the state, on Australia's east coast and at the Evans Head Air Weapons Range in the state of New South Wales, according to the statement.
Forces from Canada, Japan, New Zealand and the United Kingdom will be embedded alongside Australian personnel and delegations from India and South Korea will observe the exercise, Reynolds said.
Eighteen nations from across the Indo-Pacific region have also been invited to an international visitor program, she added.
The Japan-based Ronald Reagan arrived in Brisbane on Friday along with the guided-missile cruiser USS Chancellorsville. The guided-missile destroyer USS McCampbell pulled into Townsville, Australia, on Thursday, the Navy said in a statement.
"USS Ronald Reagan Sailors are excited to engage in Talisman Sabre 2019 with their Australian counterparts," Capt. Pat Hannifin, the aircraft carrier's commander, said in the statement. "Having served alongside Aussies in every conflict for 100 years, we are truly honored to visit your beautiful country again. We look forward to the sights of Brisbane and the hospitality that Australians are known for."
The Marine Corps has brought the M142 High Mobility Artillery Rocket System, or HIMARS, for the first time Down Under and were scheduled to conduct live-fire drills with it at Shoalwater Bay on Monday.
The training comes amid heightened concern about Chinese influence in the South Pacific.
On Sunday, Australia's ABC television network reported that a Chinese Auxiliary General Intelligence vessel was headed toward Australia and expected to closely monitor the exercise.
"We're tracking it," Australia's chief of defence joint operations, Lt. Gen. Greg Bilton, said at Talisman Sabre's launch in Brisbane, according to the broadcaster. "We don't know yet what its destination is, but we're assuming that it will come down to the east coast of Queensland, and we'll take appropriate measures in regards to that."
Chinese spy ships have also monitored the multinational Rim of the Pacific military exercises in Hawaii in recent years.
Australian public opinion has soured on China this year following reports of Chinese communist efforts to influence Australian politicians and universities through donations and other funding.
A poll released by Australia's Lowy Institute released last month shows only 32 percent of Australians trust China to act responsibly. Seventy-two percent of Australians rate the alliance with the U.S. as important, according to the same poll.
Ross Babbage, a former Australian assistant defense secretary, said there appears to be plenty of support for the exercise among locals in Queensland.
In Brisbane, for example, U.S. sailors were welcomed by a local pub, the Plough Inn, with a specially brewed beer called "Hop Gun."
The inclusion of other important allies and partners such as Canada, Japan and New Zealand is positive since it shows that the exercise is growing, Babbage said. So are the experiments with new military technology expected at Talisman Sabre, Babbage said.
"We are seeing a much better range of capabilities [than in past years] including intelligence and cyber capabilities," he said.
Stars and Stripes reporter Caitlin Doornbos contributed to this report.
robson.seth@stripes.com Twitter: @SethRobson1
---
---
---
---