US Army Japan says seven aboard Yokohama cruise ship will undergo additional quarantine at home
---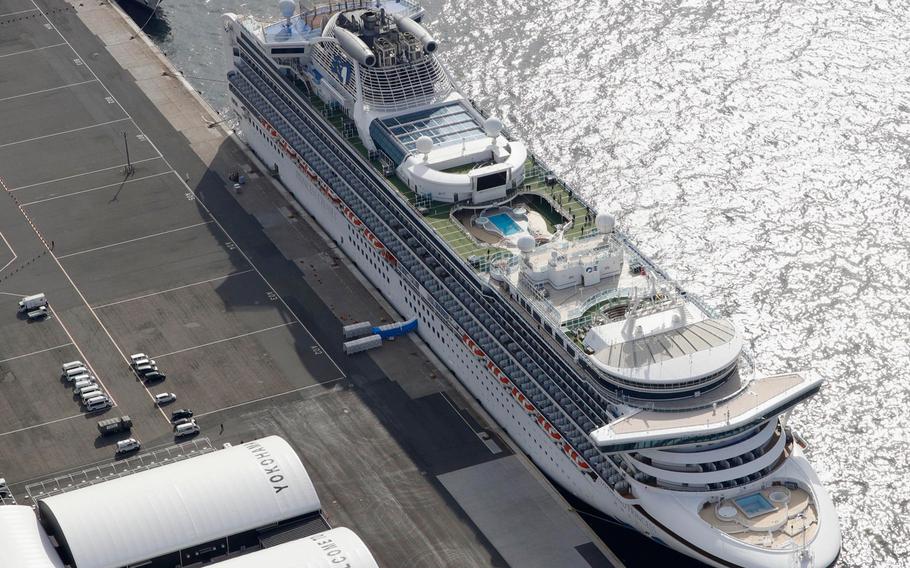 YOKOSUKA NAVAL BASE, Japan — Seven people associated with U.S. Army Japan who spent two weeks potentially exposed to the new coronavirus on a cruise ship in Yokohama must spend another 14 days quarantined at home, officials said Tuesday.
The Japanese government is expected to release the seven, who fall under the status of forces agreement in Japan, from the ship over the next few days, according to a post on U.S. Army Japan's official Facebook page. A SOFA defines the legal status of the U.S. armed forces stationed in host countries. It governs uniformed service members, civilian Defense Department employees and their families.
The seven spent two weeks aboard the Diamond Princess, a cruise ship at anchor in Yokohama Bay, after the virus, called COVID-19, was discovered on board as the vessel was en route to Japan.
After completing the additional observational quarantine, the seven will be "free and safe to interact in the [U.S. Army Japan] community" as long as they show no symptoms, according to the Facebook post. The Army has provided temporary accommodations for those in quarantine whose homes share a common heating and air conditioning system.
No U.S. Army Japan personnel have tested positive or shown symptoms of the coronavirus to date, the post said.
Naval Forces Japan said no Navy SOFA personnel were aboard the ship. Pacific Air Forces and 3rd Marine Expeditionary Force did not respond to requests for information on Wednesday.
The Japanese government on Wednesday began releasing passengers from the ship who live in the country. All passengers are set to leave the Diamond Princess by Friday, according to the Japan Times newspaper.
On Sunday, the State Department chartered two airplanes to bring American cruise passengers back to the United States. Those people are undergoing another 14-day quarantine at Travis Air Force Base in California and Joint Base San Antonio-Lackland in Texas.
The Centers for Disease Control and Prevention in a statement Tuesday called the efforts to quarantine the Diamond Princess passengers "extraordinary," but said an additional quarantine is necessary to protect the public.
"While the quarantine potentially conferred a significant public health benefit in slowing transmission, CDC's assessment is that it may not have been sufficient to prevent transmission among individuals on the ship," the CDC said in the statement. "CDC believes the rate of new infections on board, especially among those without symptoms, represents an ongoing risk."
Of the 400 Americans who were aboard the Diamond Princess, about 100 remain in Japan at hospitals or on the ship. They will not be allowed to return to the U.S. for 14 days after disembarking the Diamond Princess, according to the CDC statement.
---
---
---
---