US Army Japan eases travel restrictions in time for Labor Day weekend
by
Aya Ichihashi Joseph Ditzler
September 4, 2020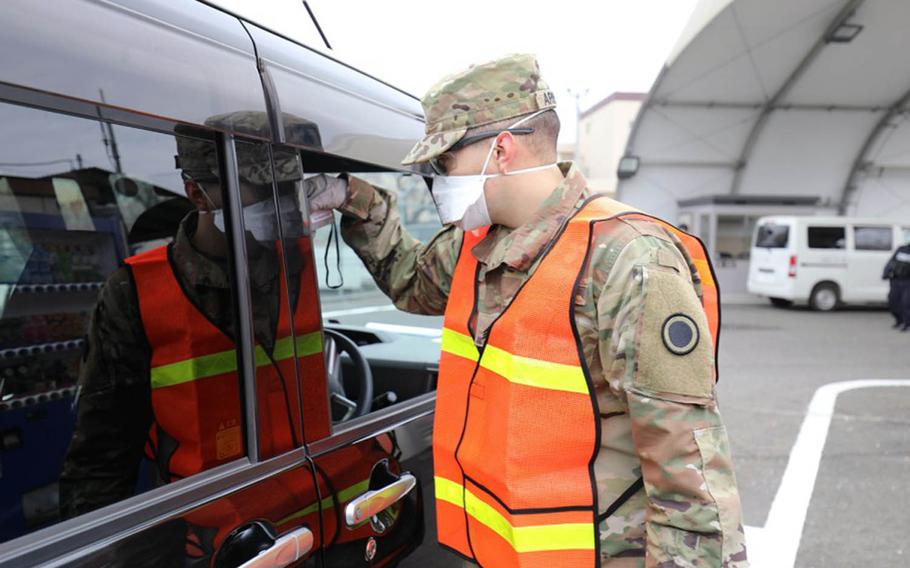 Stars and Stripes is making stories on the coronavirus pandemic available free of charge. See other free reports here. Sign up for our daily coronavirus newsletter here. Please support our journalism with a subscription.
TOKYO — Japan's capital city reported more than 100 new coronavirus cases Friday, the 11th consecutive day above 100, while the U.S. military reported fewer than five new infections.
U.S. Army Japan, citing a drop in new cases on its installations near Tokyo, on Friday lowered its level of infection risk, relaxed some travel restrictions and eased some limits on activities like shopping, dining and outdoor recreation.
The Tokyo Metropolitan Government reported 136 people infected with the virus Friday, according to public broadcaster NHK. The city has recorded 21,475 cases during the pandemic. Most – about 18,490 – have recovered, according to metro government data.
Central Tokyo is off limits to U.S. military personnel.
Yokosuka Naval Base, about 40 miles south of Tokyo, reported two new coronavirus cases on Friday, both of them new arrivals to Japan who have been in quarantine. Another 13 people recovered, leaving the base with 31 active cases.
Yokosuka, which reported 14 new cases this week, remains under a substantial risk of new infections, in military terms Health Protection Condition-Charlie.
U.S. Army Japan eased some of its coronavirus restrictions on Friday and broadened its permitted off-duty travel area in time for Labor Day weekend.
The Army also lowered its coronavirus risk level from substantial to moderate on Friday, citing a "steady decline" in the threat of COVID-19, the respiratory disease caused by the coronavirus, according to a Facebook post by the Army.
Army installations in Japan are now in Health Protection Condition-Bravo, one level down from condition Charlie. U.S. Army Japan reported one new case this week.
The change to Bravo applies to Camp Zama, headquarters for U.S. Army Japan, and the nearby Sagami General Depot and Sagamihara Family Housing Area. Maj. Gen. Viet X. Luong, commander of U.S. Army Japan, raised the risk level to substantial on July 30 after three people tested positive for the virus and the city of Tokyo reported a new daily high.
Under condition Bravo the Defense Department schools at Camp Zama may switch from online instruction required under condition Charlie to regular classroom attendance. Most families across the Department of Defense Education Activity opted to send their children back to class; however, the July change to Charlie set aside that option.
Classroom instruction will begin Sept. 21, DODEA spokeswoman Miranda Ferguson wrote in a Friday email to Stars and Stripes. In the meantime, remote learning will continue through Sept. 18.
The transition period will allow schools to prepare for the return to the brick-and-mortar environment, coordinate busing, update the student meal program and complete any necessary training prior to student arrivals, she said.
In another change, Army personnel, including troops, civilian employees and family members, are now allowed to travel within 93 miles of Camp Zama, with some exceptions. An off-limits area arcs from Chiba through central Tokyo and parts of Saitama prefecture to Yokohama and Yokosuka, including Yokosuka Naval Base. A map of the area was posted on Facebook by U.S. Army Japan.
According to the Army, a 10 p.m. curfew for its personnel remains in effect, and public transportation along with bars, izakayas and "social clubs" are still off-limits.
Trips to other U.S. military bases are permitted unless those installations are in condition Charlie. Yokosuka and the U.S. bases on Okinawa fall into that category.
Also, dining at restaurants is permitted unless they are overly crowded or have counters that lack a physical boundary between patrons.
Soldiers must limit their dining time to 90 minutes, wear masks while not eating and practice social distancing, according to the Army.
The same rules apply to shopping. Army personnel are permitted to shop for essential and nonessential items in Japan within the authorized travel areas, according to the Facebook post.
On Okinawa, where the bulk of U.S. forces are stationed, the Marine Corps for a second day reported no new coronavirus cases and six individuals recovered.
Kadena Air Base reported one new case, an individual who was quarantined after reporting coronavirus symptoms. Contract tracing found the only individuals at further risk are family members, who are also in quarantine, according to a base Facebook post. Another two individuals at Kadena recovered from the virus, according to the base.
Okinawa prefecture reported 28 new infections on Friday, a prefectural health official told Stars and Stripes by phone. The prefecture has reported 2,201 cases during the pandemic and 31 deaths.
Okinawa Gov. Denny Tamaki on Friday said a state of emergency he declared July 31 will end Saturday. He extended the declaration twice as a second wave of coronavirus cases rolled over the island.
Wednesday, the Japan Ground Self-Defense Force 15th Brigade completed the medical assistance it provided civil authorities since mid-August.
The 15th Brigade deployed 31 medical specialists to three hospitals in Okinawa, according to Japan's Ministry of Defense.ditzler.joseph@stripes.com Twitter: @JosephDitzlerichihashi.aya@stripes.com Twitter: @AyaIchihashi