US approves Osprey sale to Indonesia as Japan preps to deploy the aircraft
by
Seth Robson
July 7, 2020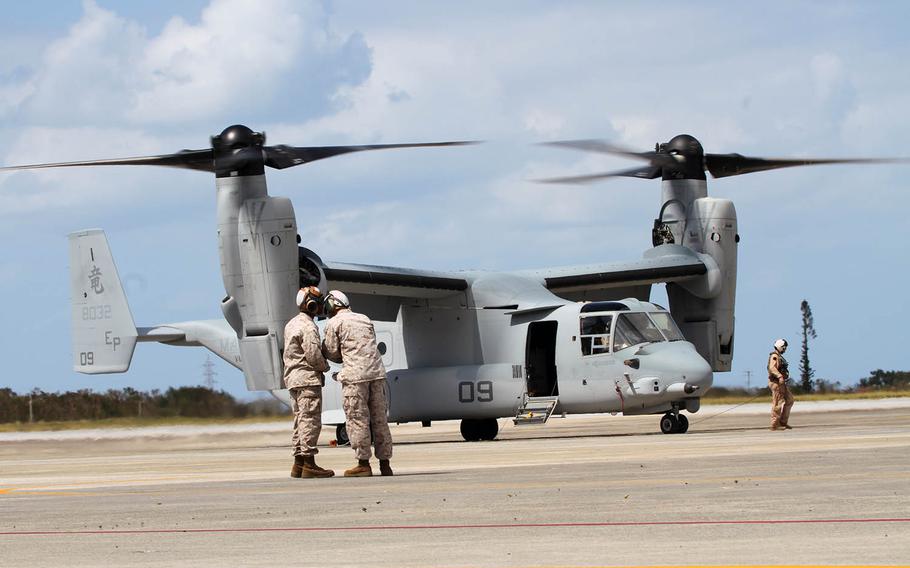 The State Department has approved the sale of eight MV-22 Osprey tiltrotor aircraft to Indonesia, the Defense Security Cooperation Agency announced Monday.
The announcement comes as Japan prepares to deploy its first of 17 Ospreys to Camp Kisarazu, a Japan Ground Self-Defense Force airfield in Chiba Prefecture.
The total cost to Indonesia for the helicopter/airplane hybrids along with related equipment is estimated at $2 billion, the agency said in a statement.
The sale includes 24 Rolls Royce engines, infrared radars, missile warning systems, multi-band radios, airborne GPS, machine guns and various other equipment along with software, training for personnel and U.S. government and contractor engineering, logistics and technical support, the statement said.
Indonesia, the world's most populous Muslim nation with territory spread across more than 17,000 islands, employs a large fleet of conventional military aircraft for disaster relief and in a decades' long fight against Islamic extremists. Like several other Southeast Asia nations, Indonesia claims South China Sea territory that is also claimed by China.
"This proposed sale will support the foreign policy goals and national security objectives of the United States by improving the security of an important regional partner that is a force for political stability, and economic progress in the Asia-Pacific region," the agency's statement said. "It is vital to U.S. national interest to assist Indonesia in developing and maintaining a strong and effective self-defense capability."
The proposed sale will enhance Indonesia's humanitarian and disaster relief capabilities and support amphibious operations, the statement added.
Japanese Defense Minister Taro Kono said during a press conference Tuesday that his nation's first Osprey was scheduled to arrive at the base Monday, but its delivery was delayed by bad weather. The aircraft would travel to Kisarazu "hereafter" weather permitting, he said.
U.S. forces in the Far East include Air Force CV-22 Ospreys stationed at Yokota Air Base, Tokyo, and Kadena Air Base, Okinawa. The Marine Corps has flown Ospreys out of Okinawa since 2012.
Stars and Stripes reporter Hana Kusumoto contributed to this report.
robson.seth@stripes.com Twitter: @SethRobson1