US and Filipino troops gear up for weeklong 'warriors of the sea' exercise in the Philippines
---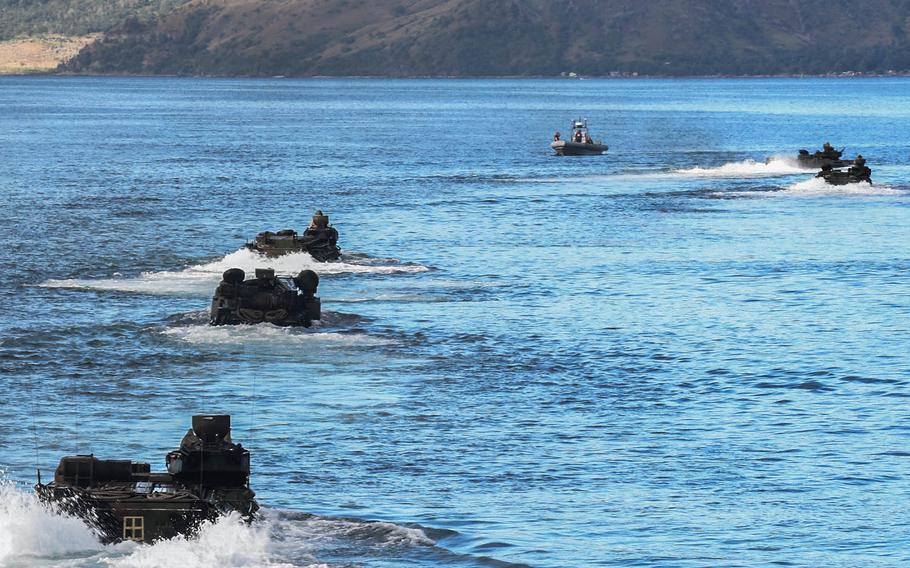 U.S. and Philippine forces will practice amphibious operations, live-fire training, urban combat, aviation ops and counterterrorism during the third-annual Kamandag exercise on the islands of Luzon and Palawan.
The activities at this month's Kamandag — scheduled for Oct. 9-18 — will represent an increase in military capability and demonstrate the ability to deploy forces in the event of a crisis or natural disaster, the U.S. Embassy in Manila said in a statement Monday.
Kamandag — short for "Kaagapay Ng Mga Mandirigma Ng Dagat," or "Cooperation of Warriors of the Sea" — will also involve Japan Self-Defense Forces conducting humanitarian-assistance and disaster-relief missions with U.S. and Philippine troops, the embassy said in its statement.
About 2,400 troops – 1,400 Americans, 900 Filipino and 100 Japanese – will be involved in the drills, according to information provided by U.S. officials.
U.S. participants include the Okinawa-based III Marine Expeditionary Force and the 11th Marine Expeditionary Unit out of Camp Pendleton, Calif. Ships include two San Diego-based amphibious vessels, the USS Boxer and the USS John P. Murtha, along with the Sasebo, Japan-based dock landing ship USS Germantown.
"New for this year's KAMANDAG, U.S., Philippine, and Japanese forces will conduct assault amphibious vehicle training together," the embassy said in its statement. "It will also be the first to include U.S. and Philippine low-altitude air defense training and threat reaction training."
Manila, which has clashed with Beijing over island territory in the South China Sea, is expanding its amphibious capability. Last year, the Philippine navy commissioned a second sealift vessel called the BRP Davao del Sur.
Last month, Philippine marines trained for the first time with eight amphibious armored vehicles purchased from South Korean company Hanwha Defense, according to Jane's Defense Weekly. The vehicles, like those operated by U.S. Marines and the Japan Ground Self-Defense Force, can each carry up to 25 troops and can be armed with a 40 mm automatic grenade launcher and a 12.7 mm machine gun, as well as smoke grenade launchers, according to Jane's.
Kamandag will also feature health and community relations events throughout Luzon, according to the statement.
"The purpose is to exchange information on hygiene skills, life support, first response, and safety protocols, as well as conduct religious ministry, primary education and athletic events," the statement said.
It's unclear whether the exercise has been boosted since last year, Carl Baker, executive director of Pacific Forum think tank in Hawaii, said in a telephone interview Tuesday. "The media in the Philippines don't have much about it. It's sort of a non-event in the Philippines."
However, local reporters were interested in a recent exercise involving about 500 paratroopers from the U.S. and Philippine armies who parachuted onto Luzon late last month. The Manila Bulletin newspaper posted video on its website of some of the soldiers jumping out of planes over Basa Air Base on Sept. 22.
"This training will enhance our troops' technical expertise in airborne operations, enabling our combat units to better respond to future contingency operations and other security challenges," Lt. Gen. Macairog Alberto, commanding general of the Philippines' army, said of the "friendship jump," according to the newspaper.
The embassy's statement on Kamandag doesn't mention the 2014 Enhanced Defence Cooperation Agreement, which allows the U.S. military to construct facilities, position defense assets and deploy troops on a rotational basis on five Philippine military bases.
Last month, Pacific Air Forces commander Gen. Charles Q. Brown told reporters in Hawaii that the Pentagon is considering expanding beyond the five locations.
"There is discussion about trying to do maybe more sites," he said. "I think it's important that we actually make sure we get the initial sites right."
However, to date, the only facility built is a "Humanitarian Assistance and Disaster Relief warehouse" at Cesar Basa Air Base that opened on Luzon in January.
"There doesn't seem to be a lot of movement in terms of actual construction," Baker said.
There may be more engagement between U.S. and Philippine forces but "they have gone away from the big, splashy exercises," he said.
Kamandag replaced PHIBLEX, an annual amphibious-landing exercise that involved 1,500 U.S. troops and 500 Filipino servicemembers, in 2017.
The exercise was established after firebrand Philippine President Rodrigo Duterte — then at odds with the U.S. and Europe over his crackdown on drug dealers — called for U.S. special operators to leave Mindanao Island and advocated scrapping future drills with U.S. forces.
However, the special operators remained to help Filipinos battle Islamic militants, and a scaled-down version of the annual Balikatan exercise between the U.S. and Philippines went ahead that year.
robson.seth@stripes.com Twitter: @SethRobson1
---
---
---
---