US air base on Okinawa offers burial sites for culled hogs after swine fever outbreak
by
Aya Ichihashi
January 13, 2020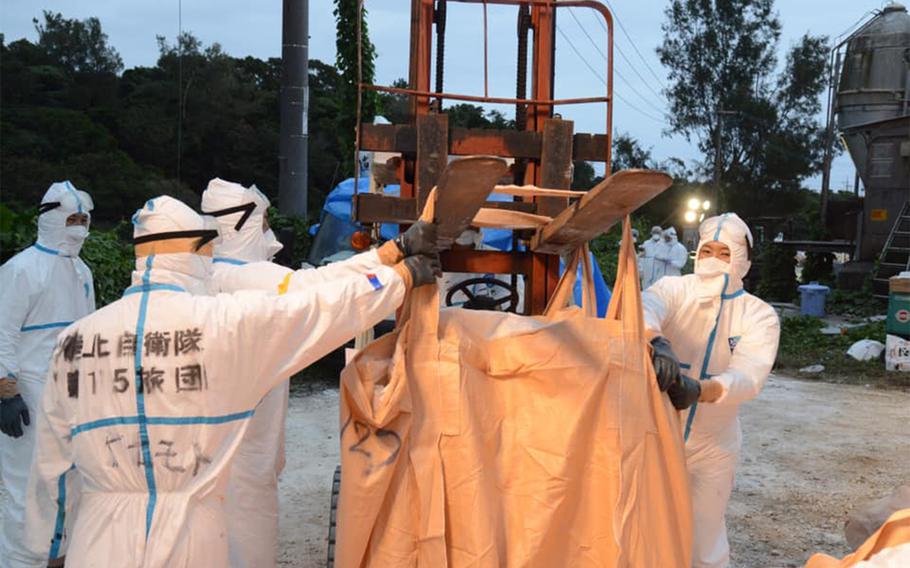 CAMP FOSTER, Okinawa — Officials at Kadena Air Base agreed Sunday to provide burial space for hogs culled on Okinawa due to an outbreak of classical swine fever, or hog cholera.
The area approved by the Air Force is about a mile from Chibana Housing Area and 3,500 feet from the nearest home at nearby Camp Shields, a Navy base, according to a statement Monday from Lt. Col. Christy Stravolo, chief of public affairs for the 18th Wing.
None of the affected carcasses had been buried on the base as of Monday.
"Kadena will be the alternative site if we cannot bury all the infected pigs," said Kazushi Kubota, a spokesman for the agricultural section of Okinawa prefecture, on Monday.
Of the approximately 5,000 hogs affected, more than 3,000 have been culled since Wednesday on Okinawa, where classical swine fever was discovered last week for the first time since 1986. The animals are killed to prevent the disease from spreading.
The Okinawa prefectural government is first burying the culled animals on the affected farms to minimize the risk of spreading the disease, Kubota said.
"The 18th Wing is cooperating with the Government of Japan, leveraging our strong alliance to help Okinawa City officials prevent the further spread of this disease," the wing said in a statement Sunday.
Classical swine fever is not a risk to human health, according to Japan's Ministry of Agriculture, Forestry and Fisheries.
"There has never been a reported case where [classical swine fever] has been transmitted to humans," Kubota said.
The 18th Wing scheduled a town hall meeting for 5:30 p.m. Monday at Schilling Community Center to address questions or concerns from Kadena and Chibana residents.
The mayor of Okinawa City, Sachio Kuwae, approached Kadena officials for help, according to the wing's statement.
"Okinawa is our home, too, and we want to do everything we can to help our neighbors," wing commander Brig. Gen. Joel Carey was quoted as saying.
The government of Japan is taking the lead on disposing of the animals and monitoring the site, Stravolo said in her statement.
"The burial site for the pigs in Chibana Area near Kadena Air Base will comply with Japanese regulations and U.S. recommendations to protect health and the environment," she said.
The outbreak was confirmed Wednesday after an Uruma city farmer reported pig deaths due to an unknown respiratory ailment, according to a statement from the Okinawa prefectural government. Since then, the disease has been discovered at two additional farms in Uruma and one in Okinawa city.
Symptoms of the highly contagious viral disease include fever, diarrhea and purple discoloration. The animals generally die within two weeks.
ichihashi.aya@stripes.com Twitter: @AyaIchihashi