US agrees to temporary deal allowing furloughed South Korean employees to return to work
By
Yoo Kyong Chang Kim Gamel
June 3, 2020
---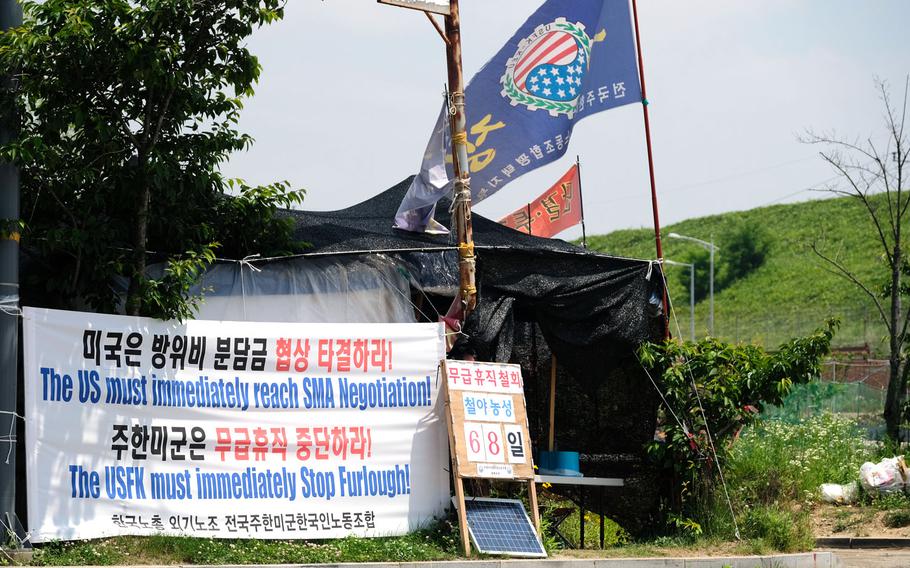 SEOUL, South Korea — The United States and South Korea agreed to a $200 million stopgap measure allowing more than 4,000 local base employees to return to work after months of unpaid leave, despite the allies' failure to reach a broader defense cost-sharing deal.
The Pentagon said Wednesday that it has accepted Seoul's proposal to fund the labor costs for all South Korean employees of U.S. Forces Korea through the end of this year amid stalled talks on reaching a new contract known as the Special Measures Agreement.
"This decision effectively ends the partial furlough," USFK commander Gen. Robert Abrams said in a separate statement. "We expect our entire workforce to return back to USFK within the next few weeks."
The South Korean government, which has long suggested that the two sides settle the labor issue first, welcomed the decision. "South Korea and the U.S. will make efforts to seal a defense cost-sharing deal as soon as possible," the foreign ministry said.
The previous Special Measures Agreement expired Dec. 31 as the longtime allies deadlocked over U.S. demands that South Korea sharply increase the amount it pays to offset the costs for stationing some 28,500 American troops in the country.
USFK used programmed funds to keep South Korean employees at work for the first three months of the year but said those ran out on March 31, forcing the unprecedented furlough of half its local workforce.
Pak Song Chin, 54, who worked at the motor pool on Camp Humphreys, said he and many other furloughed workers found themselves ineligible for government loans and have been trying to make a living with part-time jobs.
"We have been going through a pretty tough time," he said in a telephone interview. "We're ready to get back to work."
Cho Mi Kyong, a 45-year-old dining facility worker, agreed, saying the furlough has caused much emotional distress and financial hardship.
"Many of us were living hand to mouth even before we were furloughed," she said. "Now we're happy to hear this news today."
The Pentagon had provided additional funds to maintain about 4,500 employees deemed essential for "life, health, safety and minimum readiness," as well as critical logistics contracts.
However, the furlough raised concerns about the military's ability to maintain fighting capabilities and the delivery of services, which already had been hampered by restrictions to prevent the coronavirus' spread.
"We all fully understood the impacts the partial furlough had on readiness and our ability to provide a robust combined defense posture, as well as the essential role our Korean National employees provide to the (South Korean)-U.S. alliance," Abrams said, acknowledging it's a temporary measure.
"Today's announcement presents a short-term solution for labor cost sharing, yet it still highlights the need for an overall Special Measures Agreement for the long term," he said.
South Korea has supported U.S. troops under the Special Measures Agreement since 1991, with most of the funds used to pay for more than 9,000 local employees, logistical support and construction projects.
The two countries also failed to meet the deadline in 2018 but agreed retroactively to a one-year compromise in which South Korea increased its contribution by 8.2% to nearly $1 billion.
President Donald Trump has frequently called South Korea "a very wealthy nation" and insisted it can afford to pay more in line with his "America First" policy. The negotiations with South Korea are seen as a test for upcoming alliance talks with Japan and NATO.
In April, South Korean Foreign Minister Kang Kyung-wha said Seoul had put forward its best offer, which was a 13% increase. She also confirmed that Trump had rejected that amount, which was much lower than the nearly fivefold increase that was reportedly the U.S. starting point.
While polls show that overall support remains strong for the alliance, anti-American protests have erupted over the cost-sharing talks, with activists accusing the Trump administration of trying to extort money and using American troops as "mercenaries."
In its announcement, the Pentagon said the United States "has unilaterally shouldered the burden for all costs associated with U.S. forces in Korea," including labor costs, logistics contracts, construction project design and oversight costs.
"Today's decision will provide over $200 million in [South Korean] funding for USFK's entire [Korean national] work force through the end of 2020," it said, calling the move "a more equitable sharing" of the labor burden."
The move also demonstrates the U.S. "commitment to readiness, to our Korean employees, and to the Alliance – 'the linchpin of peace and stability on the Korean Peninsula," it added.
The Pentagon called on South Korea "to reach a fair agreement as quickly as possible.
"The United States has shown considerable flexibility in their approach to the SMA negotiations, and requests that [South Korea] does the same," it said, warning that "critical defense infrastructure projects will remain suspended" without a new special measures agreement.
"USFK's mid- and long-term force readiness remains at risk," the Pentagon said.
gamel.kim@stripes.com Twitter: @kimgamel
---
---
---
---