'Unusual senior year': DODEA students enjoy in-person graduations in South Korea
by
Matthew Keeler Kim Gamel
June 5, 2020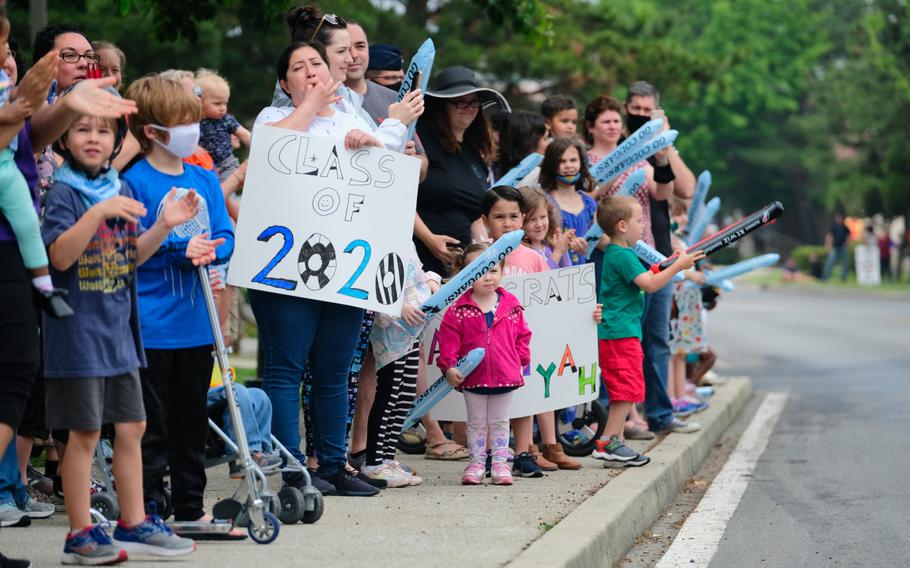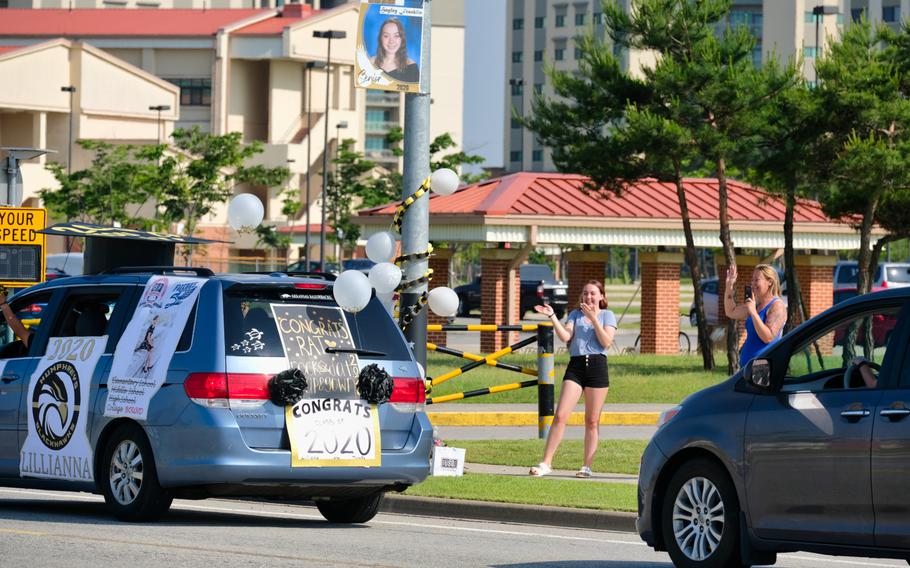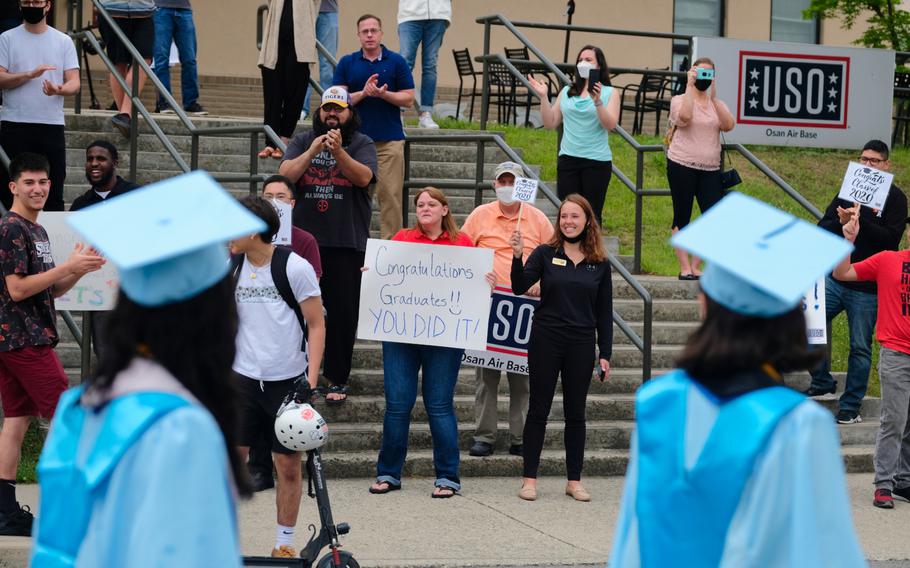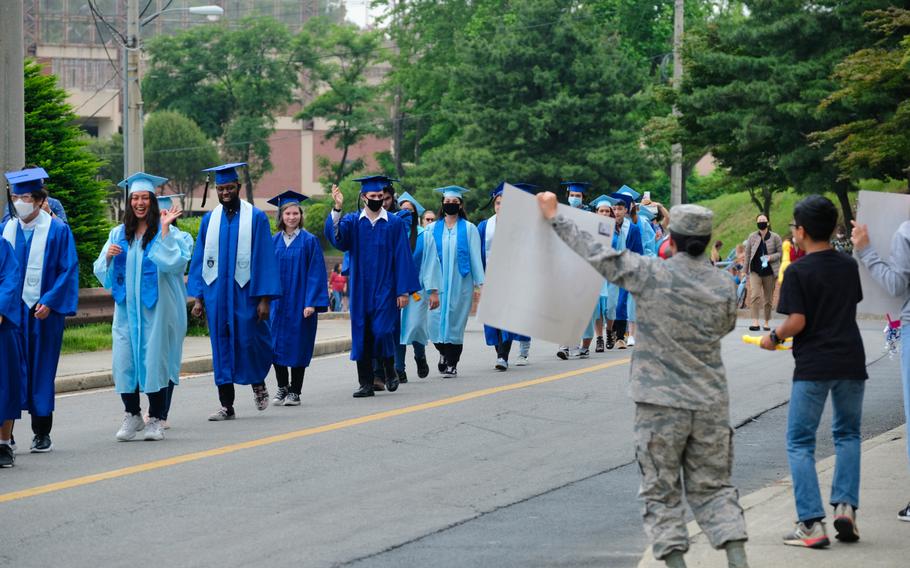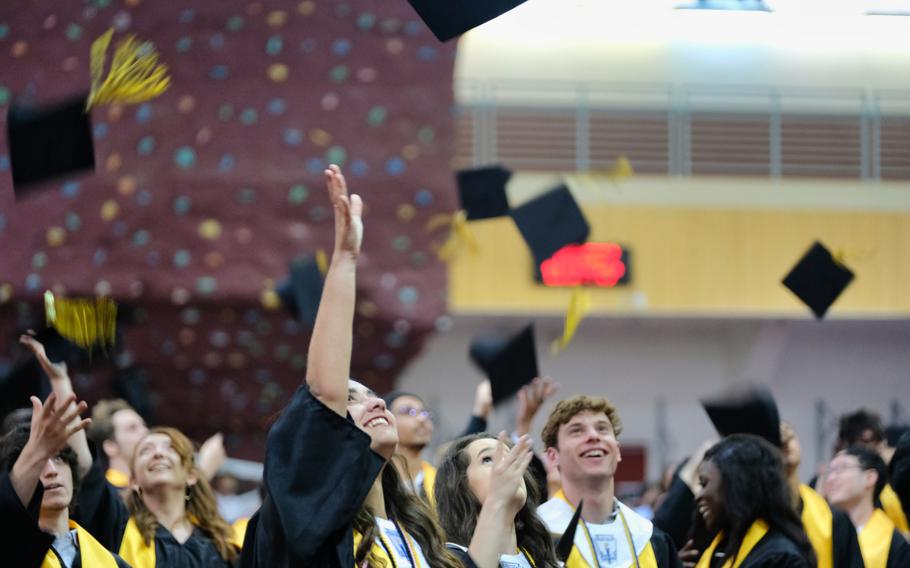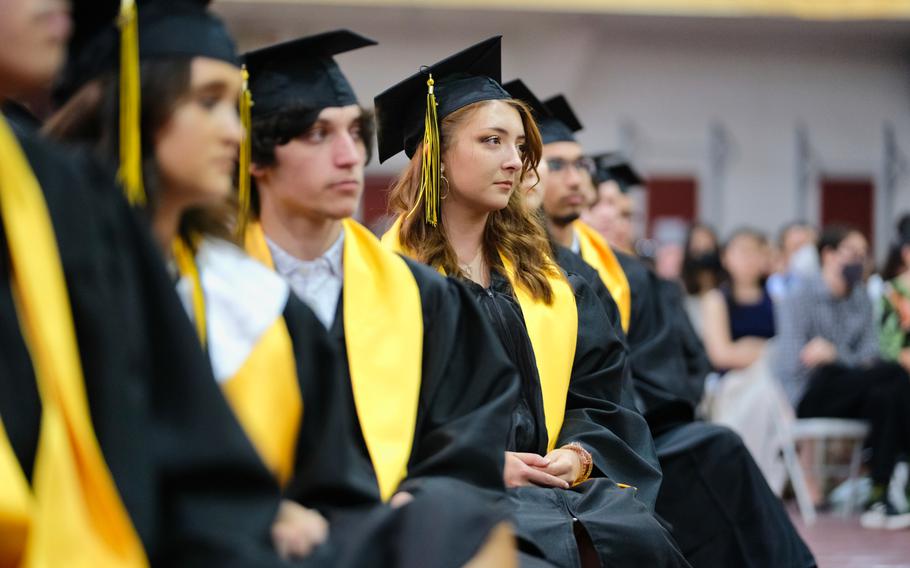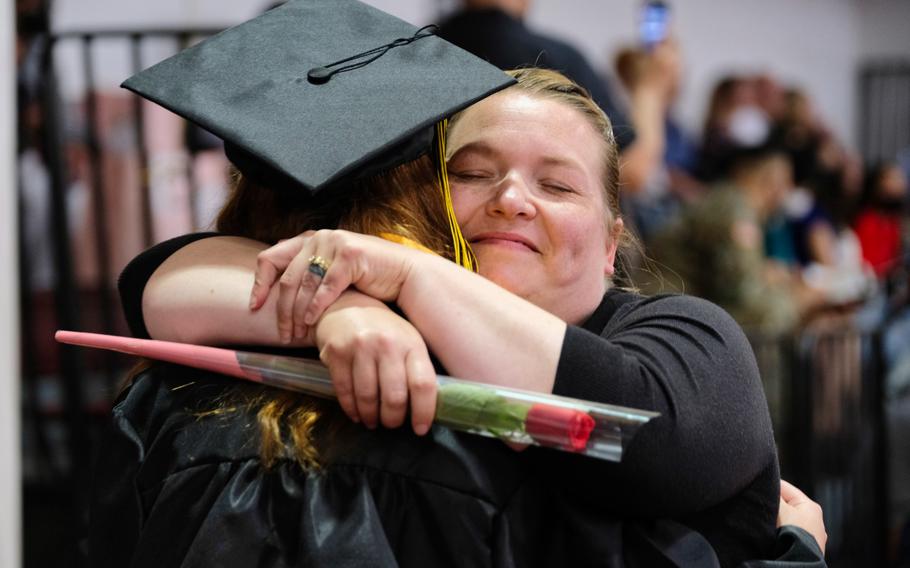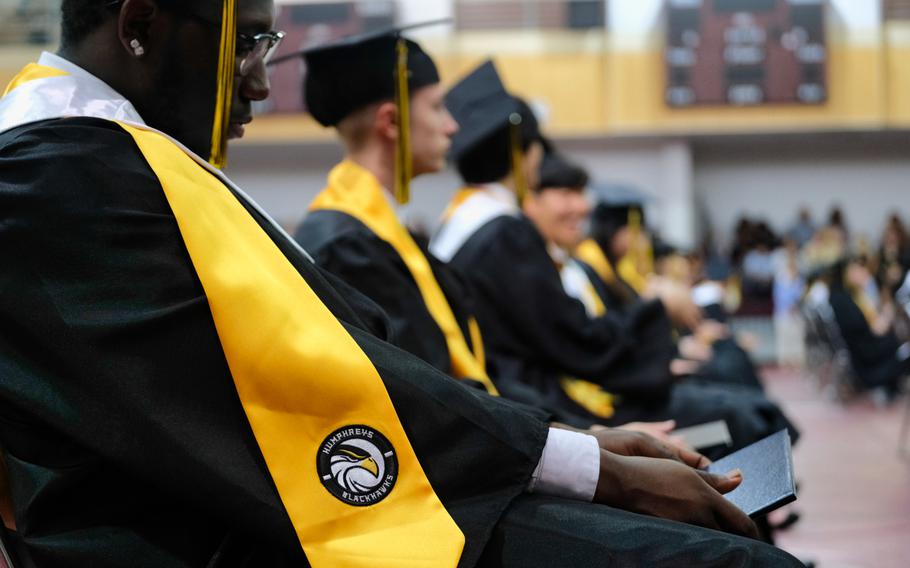 Stars and Stripes is making stories on the coronavirus pandemic available free of charge. See other free reports here. Sign up for our daily coronavirus newsletter here. Please support our journalism with a subscription.
CAMP HUMPHREYS, South Korea — With elbow bumps and masks, seniors at Defense Department high schools in South Korea enjoyed rare in-person graduation ceremonies this week after months of online classes due to the coronavirus pandemic.
Humphreys High School graduates wore face masks along with their caps and gowns as they entered the gym for Thursday's ceremony, although most took them off after sitting in chairs placed several feet apart to ensure social distance.
Family and friends cheered from behind as the students walked across the stage to collect their diplomas after a series of speeches, then tossed their caps in the air in line with tradition.
Seniors at Osan Middle High School also participated in a ceremony on Thursday at the Osan Air Base Theater.
The Daegu Middle High School held its commencement exercise Friday on Camp Walker, with school officials and graduates greeting each other with elbow bumps instead of handshakes.
The pandemic and protests against police brutality and racial injustice in the United States loomed over the pomp and circumstance.
"I stand before you today in remembrance of George Floyd, Breonna Taylor, Ahmaud Arbery, Eric Garner, Tamir Rice, Trayvon Martin and countless others whose voices have been silenced," Daegu valedictorian Kamala Kenny said in her speech.
Kenny, who is planning to attend Howard University in Washington, D.C., in the fall, called on her classmates to work for change.
"It's important that we all educate ourselves and stand up for what is right and what is righteous," she said.
Army Garrison Daegu schools, which sit in eponymous city at the heart of South Korea's initial outbreak, were the first to close as the Department of Defense Education Agency began sending students home and implementing virtual learning programs in late February.
However, the U.S. military has lifted many anti-coronavirus restrictions since South Korea has largely succeeded in flattening the rate of new infections. DODEA announced last month that schools would remain closed for the rest of the year but those in South Korea could hold in-person graduation ceremonies and other end-of-the-year activities to supplement online broadcasts.
Students welcomed the opportunity to salvage the final tradition of their high school career after so many others were canceled because of restrictions imposed to stem the spread of the virus.
"To say the least, we've had quite the unusual senior year," Osan valedictorian Kelly Kenyon, who is headed to the University of Southern California, said Thursday in her speech.
"We have missed out on some of the most binding and anticipated moments of senior year — spring sports or a true senior prom and many other events," she said. "Class of 2020, your courage and resilience is a testament to your character. You've shown us all that we can persevere."
Osan had 42 graduates, including three seniors who were homeschooled but had enrolled for elective courses. Daegu had about 30 graduates and Humphreys had 142.
The military communities also feted the seniors with parades and special dinners to substitute for proms in the days leading up to the ceremonies.
On Wednesday, Camp Humphreys held a "reverse parade" in which the graduates hung out by light poles festooned with their photos, balloons and other decorations while people drove by honking and fire engines sounded their horns.
Samuel Spinuzzi, who is going to Missouri University of Science and Technology in the fall, said he was glad he had made the most of the first half of the year by attending seminars and a model Congress since most later events were canceled.
"I've just been at home for the past couple of months, although it's been getting better now that we've finally gone back to Bravo," he said, referring to a lower category of restrictions.
Ray Feliciano, who is going to Baylor University in Waco, Texas, said he made the most of the past few months despite the lack of physical classes.
"In my lens, I feel like it was a pretty good impact. It helped me focus more on college and my next phase in life," he said before going to his pole after the graduation rehearsal on Wednesday.
"Considering that teachers were a little bit more lenient on grading policies, I was able to complete my work better and just focus more on my future steps and what that looks like going back to the United States."
Some 28,500 U.S. service members are stationed in South Korea, which remains technically at war with the North after their 1950-53 conflict ended in an armistice instead of a peace treaty.
gamel.kim@stripes.com Twitter: @kimgamel
keeler.matthew@stripes.com Twitter: @MattKeeler1231