Unlikely anyone survived Marine helicopter crash, US commander says
---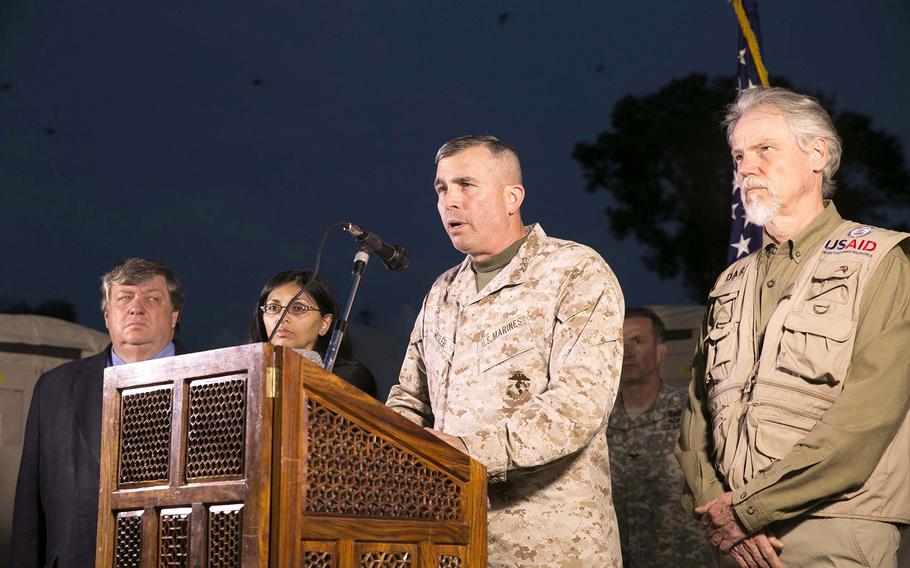 YOKOTA AIR BASE, Japan — U.S. and Nepalese searchers found the wreckage of a Marine Corps UH-1Y helicopter that went missing during earthquake relief efforts in Nepal, and an American commander said Friday that it was unlikely anyone survived the crash.
The aircraft — carrying six Marines and two Nepalese soldiers — went missing Tuesday while delivering aid in the Himalayan nation following a magnitude-7.8 earthquake on April 25.
Marine Lt. Gen. John Wissler, commander of Joint Task Force 505, which is overseeing U.S. relief operations, said in a televised statement that the wreckage was found in rugged terrain about 11,000 feet above sea level and that "because of the nature of the wreckage it is unlikely there are any survivors."
He said recovery efforts were suspended for the night because of rugged terrain and freezing temperatures and would resume Saturday at first light.
Nepal's Defense Secretary Iswori Poudyal told The Associated Press the wreckage was in pieces "and there are no chances of any survivors." Poudyal said Nepalese army rescuers had found three bodies at the site and their remains were charred. He did not say whether the bodies were American or Nepalese.
The helicopter was from Light Attack Helicopter Squadron 469 based in Camp Pendleton, Calif.
The U.S. military has not released names of the Americans on board, but Kansas media have identified the pilot as Capt. Chris Norgren, a native of Wichita. His father Ron Norgren of Wichita told news organizations that the Marines had notified the parents that their son was among the missing Americans.
The father said his son took time out from relief operations to send flowers on Mother's Day.
The wreckage was found at approximately 12:30 p.m. local time Friday by a Nepalese search team 15 miles north of Charikot, according to Task Force 505 statement.
A team of four pararescuemen and one combat rescue officer were on the ground. Two more Hueys and one MV-22 Osprey tiltrotor aircraft were supporting the survey, the statement said.
In Washington, Defense Secretary Ash Carter said "our hearts are heavy with grief for the U.S. Marines who perished" in the crash.
"This tragedy is a reminder of the vital but dangerous role that American servicemembers play in delivering humanitarian assistance and disaster relief. Our mission continues in Nepal, and we remain dedicated to answering the call when disaster strikes, both in the Asia-Pacific and around the world," Carter said in a statement.
About 300 American personnel are in Nepal helping with earthquake relief efforts.
robson.seth@stripes.com Twitter: @SethRobson1
---
---
---
---