U.S. troops restore a train station, one dirt pile at a time
by
Erik Slavin
April 25, 2011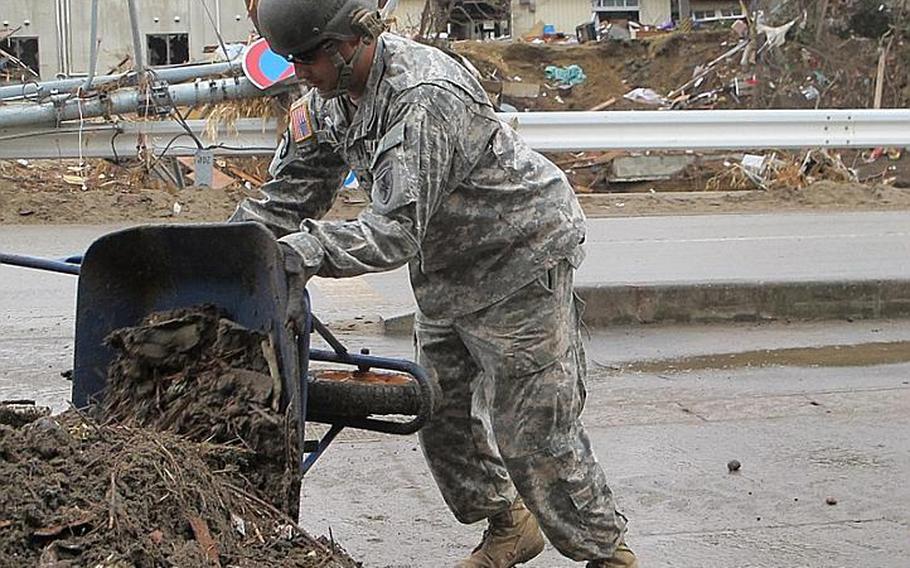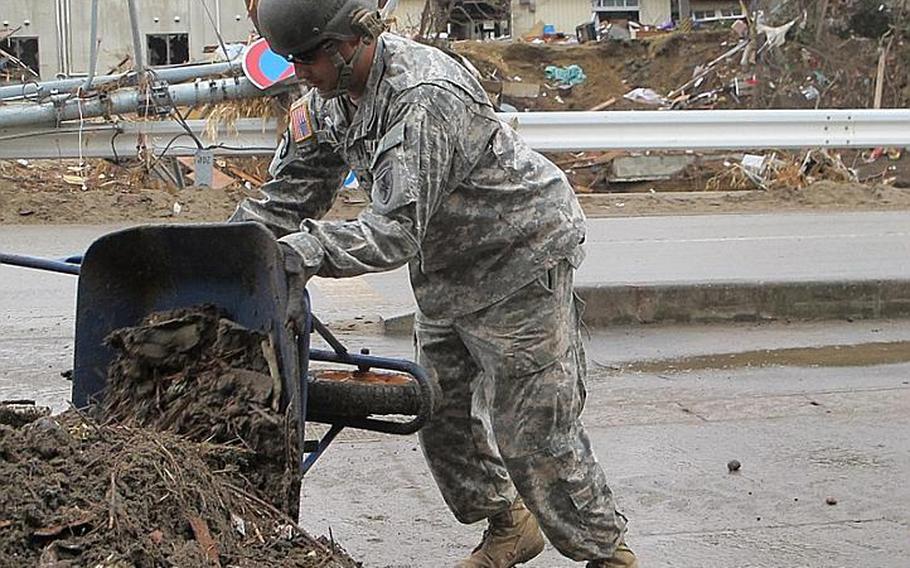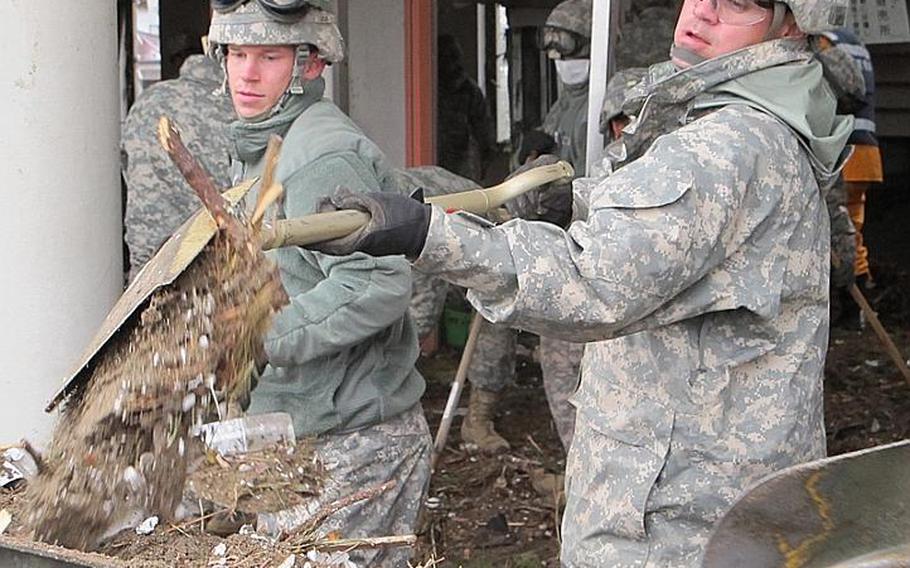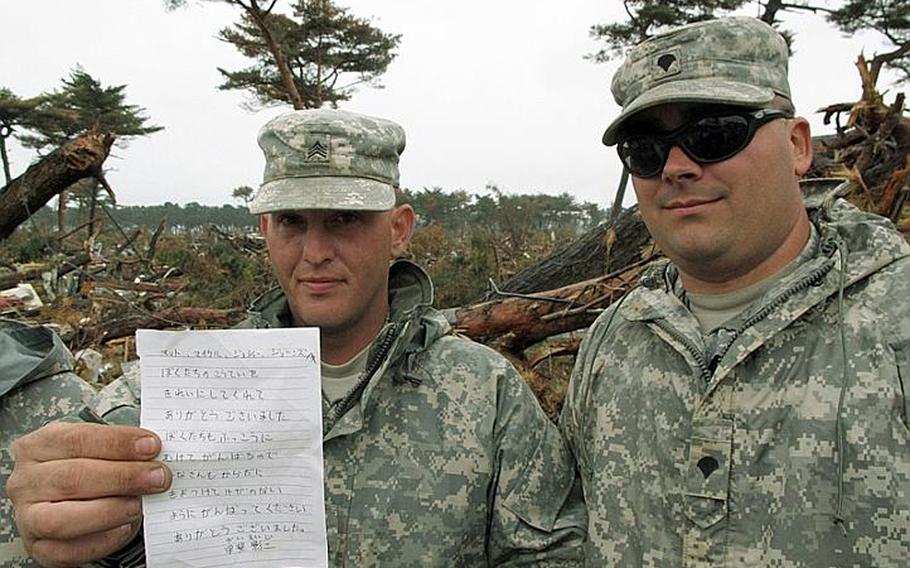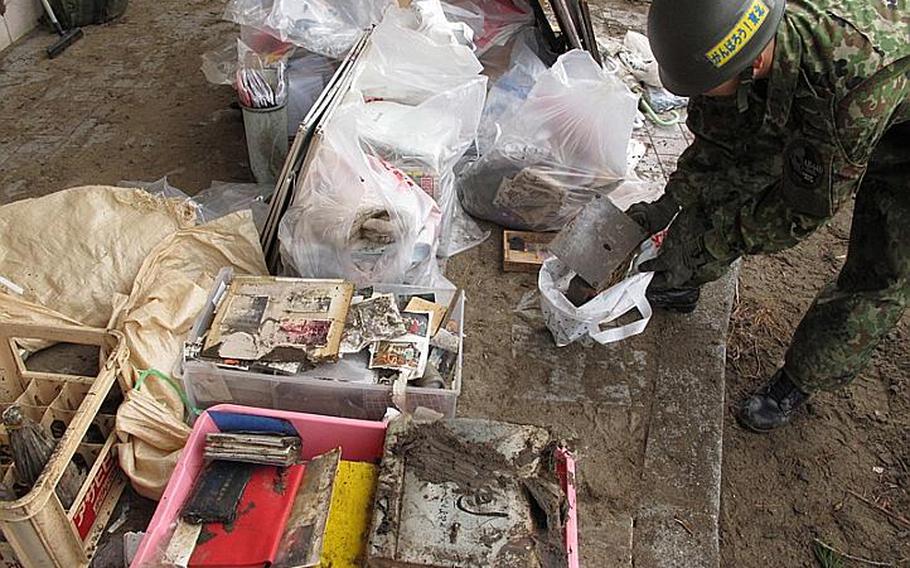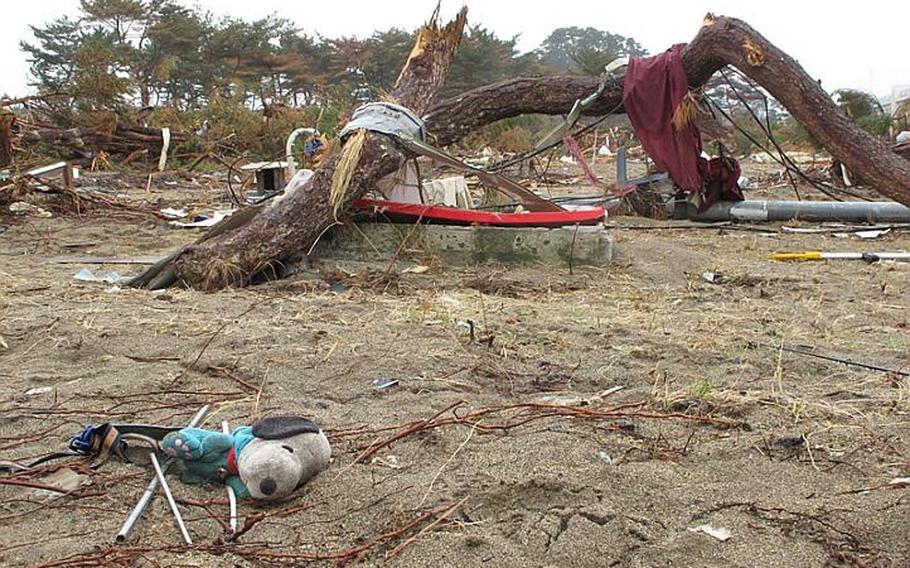 HIGASHIMATSUSHIMA, Japan — During peak hours, trains on the Senseki line used to arrive every few minutes at stations along a 30-mile stretch of Northeast Japan.
They were packed full of commuters headed into the regional hub of Sendai, or with city dwellers leaving their stress behind for a weekend of sun and sand.
The train traffic stopped at 2:46 p.m. on March 11, when the 9.0-magnitude earthquake struck. Minutes later, a tsunami slammed into large swaths of the Senseki line, rendering its tracks unusable.
The stretch at Nobiru, about halfway down the line, was one of the hardest hit. The Nobiru Station building's windows are shattered and its roof will need major repair, but it is still standing.
That makes it one of the few among thousands of buildings in this beach neighborhood that wasn't ripped from its foundations and swept away in the tsunami.
On Thursday, 42 U.S. soldiers and a team of Japan Self-Defense Force ground troops arrived at Nobiru on a mission to clean out the station.
The U.S. soldiers, based out of Camp Zama and Okinawa, are not construction workers. They are parachute riggers, Patriot missile operators, mechanics and others who have been doing the hard work of helping dig Japan out of its wreckage since March 20.
They found such a mess at Nobiru Station, it was difficult to know where to start. The building was jam-packed with sludge.
"We thought about tearing the front door frame down to get in," said officer-in-charge Capt. Lanelle Pickett, of Columbia, S.C., and the Army's 10th Support Group.
Instead, armed with shovels and wheelbarrows, they burrowed their way into the building.
Inside, feral animals had made various nooks of the station their home. The soldiers found overturned vending machines, jagged stone, appliances and family photo albums, as they dug pound after pound of dirt out of what used to be the ticketing area.
While shoveling, Spc. Jofa Mwakisege, a Tanzanian native and resident comic relief, asked a photographer whether his camera could record the full experience.
"Can you capture the smell?" he asked. "They're going to be able to do that in the future. They'll have it at the movies."
The scent of the muck differed from some of the other buildings the unit had cleaned during the past month. It had all the usual aromas of mud, sewage and rot, but this time, there was an odd hint of beach pine.
Upon further thought, both Mwakisege and the photographer agreed that it was probably a scent best kept a mystery to the rest of the world.
The rains came on Friday, adding a new element of mustiness. By afternoon, the dirt piles in Nobiru Station had largely receded. Soldiers loaded the scrap metal and other bulk waste they found into construction vehicles.
"There's just trash everywhere," said Sgt. Joshua Mason, a native of Hinesville, Ga., and a veteran of the Iraq War from 2003. "It looks a lot like Baghdad did, except for the pine trees."
Fortunately, the physical destruction is where the Iraq comparisons stop. Around here, the locals have truly welcomed these soldiers.
Mason keeps a thank-you letter in his pocket from a Japanese boy whose school was cleaned by soldiers last week. He also has a photo of the Japanese flag the school presented them, signed by the school's survivors and inscribed with a message in English: "When we had a crisis, you rushed in and helped us."
For soldiers doing such back-breaking work, such moments of appreciation make a big difference.
"It was a pretty good feeling," said Mason, of the 1st Battalion, 1st Air Defense Artillery Regiment. "The people here are keeping their heads up. Despite everything, I don't think they're letting this get them down too much."
No one is sure when trains will reach Nobiru again. Japan Rail says that Senseki line service will be restored for the first 16 miles leading out of Sendai by the end of May.
That is about five miles short of Nobiru. The tracks here remain covered with dirt, electric lines, debris and mangled machinery. A mile up the line from the station, someone will eventually have to move a 25-foot boat that the tsunami dumped on the tracks.
But rail travel is so integral to Japanese life that it's unthinkable that the trains won't be running again.
And so when the soldiers completed their task at Nobiru, they moved on to the next station up the road, and the next piles of dirt to be shoveled.
"It's almost not real," said Pickett, while looking out at the wasteland surrounding him. "But nobody here complains. They just get to it."