U.S. troops not exposed to high levels of toxins, radiation during quake cleanup, military says
by
Seth Robson
June 22, 2011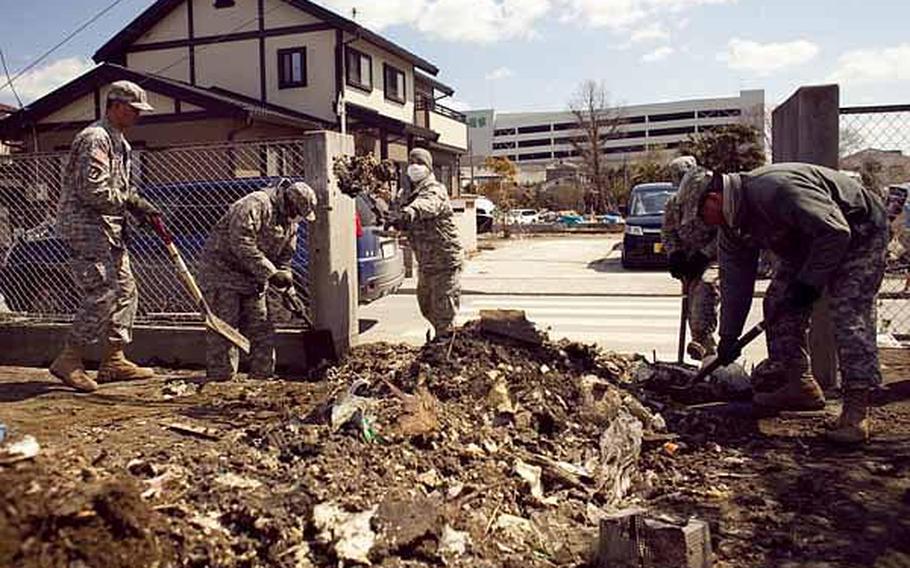 TOKYO — Air, water and soil samples taken from places where U.S. troops worked during Operation Tomodachi did not contain harmful levels of toxic substances, according to U.S. Forces Japan officials.
During the relief operations that followed the March 11 earthquake and tsunami, U.S. troops cleared massive piles of foul-smelling trash that was a mixture of broken buildings, wrecked cars, household goods, sludge and even dead bodies scattered by the tsunami that washed over northeastern Japan.
In an email, U.S. Forces Japan spokesman Maj. Neal Fisher said that samples collected from areas where troops deployed near Sendai were analyzed for hundreds of environmental contaminants. He did not directly respond to a question about how many samples were taken in the disaster zone and how many sites were surveyed.
"Preliminary results show that troops were not exposed to harmful levels of any substance," he wrote.
Fisher wrote in his email that initial test results are being reviewed and would be shared with family members as soon as possible.
Environmental health personnel in Japan and and with U.S. Army Center for Health Promotion and Preventive Medicine declined to be interviewed for this story.
Toxic chemicals, such as asbestos, have been a concern of health organizations since the clean-up effort began. In late April, The Associated Press reported that activists had found asbestos — a cancer-causing, fibrous material — in the air and in debris collected from the devastated northeastern coast. At that time, Japan's Health Ministry said it was issuing pamphlets outlining safety guidelines and distributing 90,000 masks in the hardest-hit prefectures in an effort to reduce the risks, the AP reported.
Col. Lance Koenig, commander of the 10th Logistics Group, who had more than 100 troops working in Sendai and Ishinomaki during the relief effort, said he is eager to hear the test results.
When his soldiers left the disaster zone, they went to Naval Air Facility Atsugi, stripped off their gear and uniforms, and stood in a machine that measured the amount of radiation they had absorbed, he said. "It took about 10 minutes to scan up and down and detect any radiation that was inside you," Koenig said.
Equipment used during Tomodachi was also tested for radiation, he said.
"We had a couple of vehicles that, when they returned, they had mud on the tires and the wheel wells that tested high and they were cleaned and later tested normal," he said.
He said public health teams working alongside his men in northeastern Japan told them that initial readings showed the work sites were safe.
"If we didn't have those initial readings (that suggested the work sites were safe), there would be a lot of interest," he said.
Additionally, soldiers working in the disaster zone wore radiation dosimeters, Koenig said. But those devices were more rudimentary than their Air Force counterparts' devices.
"The Air Force dosimeter gave you reading in real time — the dose rate as well as your cumulative exposure," he said. "The Army dosimeter didn't give you a reading. You just wore it and turned it in to the medical folks."
Koenig said he was curious to know what information the Army had gleaned from those dosimeters.
In all, more than 5,000 personnel who worked in the disaster zone or had contact with potentially contaminated materials were monitored for potential radiation exposure, Fisher said.
"Exposure assessment is still ongoing, but the levels of radiation seen so far have been negligible," he wrote in the e-mail. "The vast majority of U.S. personnel in Japan will have additional doses over one year that is less than would be received from one flight across the Pacific [O]cean."
He declined to name the place where U.S. personnel received the highest radiation doses, saying only that radiation readings were slightly higher among those personnel working closer to the Fukushima plant.
All personnel who worked in the disaster zone will receive post-deployment health assessments, Fisher said.
"The DOD requires that all operational forces who worked closest to the reactor (but still outside the 50-mile exclusion zone) complete post-deployment health assessments at redeployment and a reassessment again 90 to 180 days later," he said.
That could be important later in a soldier's career, Koenig said.
The Army collected a lot of information on where servicemembers worked during Tomodachi and how long they were at various sites.
"If this comes up in the future, we have historical records on everyone who served there," he said.