U.S. ships steaming toward Japan for relief efforts
by
Chiyomi Sumida Ashley Rowland
March 12, 2011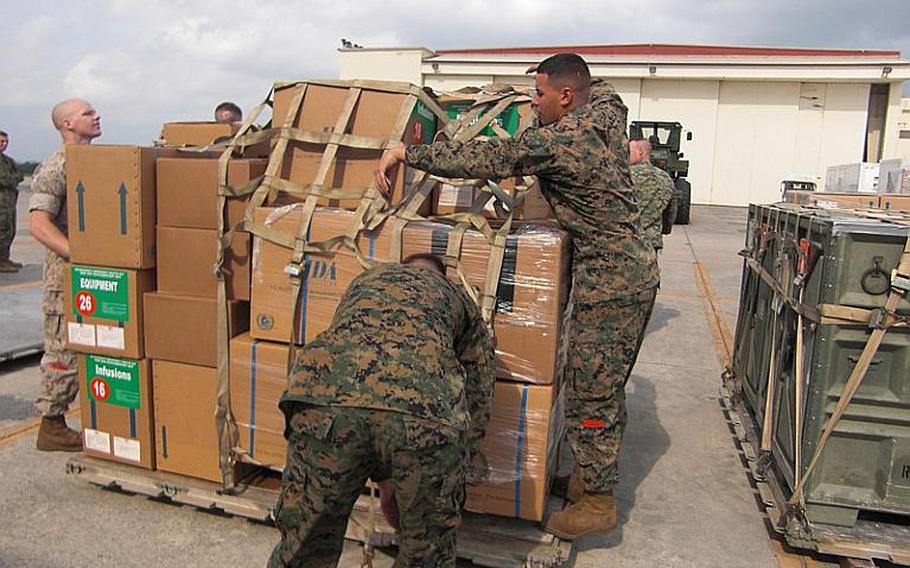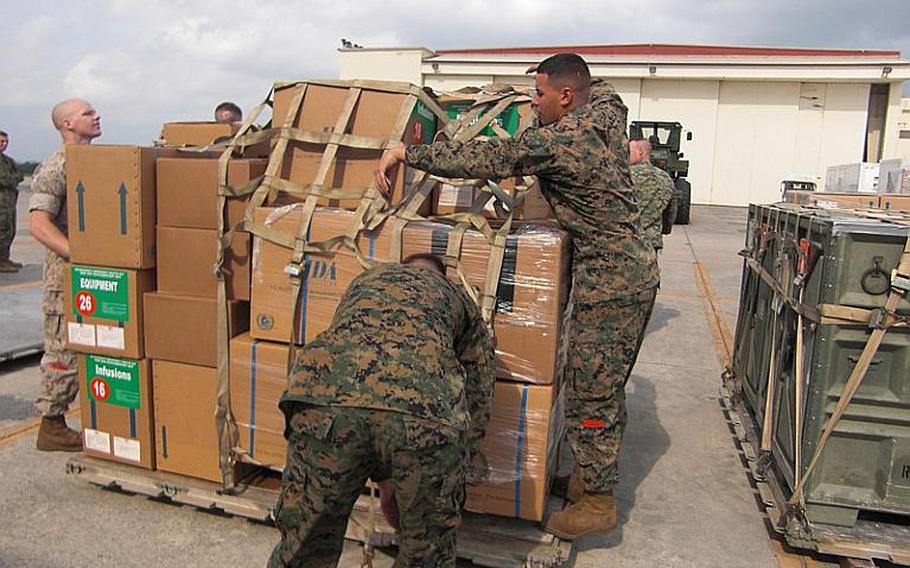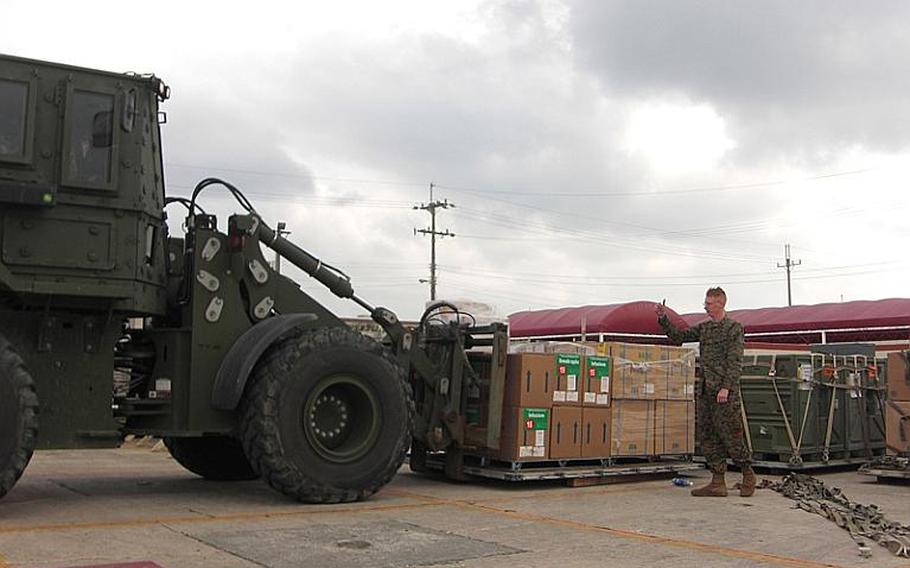 SEOUL — U.S. ships and aircraft began heading to mainland Japan on Saturday to assist in rescue and humanitarian operations, following a request for help from the Japanese government.
The USS Ronald Reagan carrier strike group is expected to arrive Sunday along the east coast of Japan's main Honshu island, where it will support relief efforts in areas hit hardest by Friday afternoon's earthquake, said 7th Fleet spokesman Cmdr. Jeff Davis.
Japanese officials said a request had been made for the ship to anchor off the shore of Miyagi Prefecture, near the epicenter of the 8.9 earthquake.
The Reagan was en route to South Korea, where it was scheduled to participate in a joint South Korean-U.S. military exercise next week.
The Reagan "is prepared to serve as an afloat platform for refueling Japan Self Defense Force and other helicopters involved in rescue and recovery efforts ashore," Davis wrote in an e-mail.
Japan's Cabinet Office said the Reagan was expected to provide support for operations in Miyagi and Fukushima prefectures.
Meanwhile, two SH-60 Seahawk helicopters left Naval Air Facility Atsugi today to deliver 1,500 pounds of bread and rice to Shiroishi City in Miyagi Prefecture. The donations came from Ebina City, which borders Atsugi.
The U.S. 7th Fleet destroyers USS McCampbell and USS Curtis Wilbur are at sea east of the Boso Peninsula and headed toward Miyagi Prefecture to assist Japanese authorities with at-sea search and rescue operations. An additional destroyer, USS Mustin, will depart Yokosuka on Sunday on the same mission.
The USS Tortuga is picking up heavy-lift helicopters near Pohang, South Korea, and is expected to arrive at the eastern Honshu coast Monday.
The USS Essex and the embarked 31st Marine Expeditionary Unit is expected to arrive in Japan on Thursday, after leaving Malaysia today.
The 7th Fleet flagship USS Blue Ridge left Singapore today and is scheduled to arrive with humanitarian aid on Friday, Davis said.
The Sasebo, Japan-based USS Germantown and USS Harpers Ferry have been redirected to Japan from seas in Southeast Asia.
Meanwhile, U.S. aircraft from Okinawa filled with medical and humanitarian relief supplies were scheduled to fly Saturday afternoon to Marine Corps Air Station Iwakuni, where they would be pre-positioned to respond quickly to the devastated regions.
Marine spokesman Lt. Col. David Griesmer said four CH-46E Sea Knight helicopters left Saturday afternoon for Iwakuni, and four KC-130J cargo aircraft were scheduled to depart later that day.
He did not know where the aircraft would go after arrival, or how many troops were involved in the effort.
"The focus is on the supplies and equipment, not the people," he said.
Japanese Prime Minister Naoto Kan on Saturday ordered 50,000 Japanese troops to take part in rescue operations. Japan had received offers of help from 50 countries, Kan said.
"We need to put our utmost effort into saving survivors and those who were isolated today," Kan said during an emergency meeting Saturday morning. "Today is a very important day on how much rescue efforts will move forward."
Japan's Ministry of Defense said in a news release that it had asked U.S. Forces Japan to transport approximately 900 Japanese troops and 250 vehicles to disaster-hit areas. The U.S. Navy's 7th Fleet and Japanese naval forces were making plans for a joint rescue operation, according to an MOD news release.
U.S. military officials in South Korea, Japan and at the U.S. Pacific Command in Hawaii could not say Saturday whether U.S. troops stationed elsewhere in the Pacific region would be asked to participate in rescue efforts. However, U.S. Secretary of Defense Robert Gates said Friday that the U.S. would help "in any way we possibly can."
Stars and Stripes reporter Erik Slavin contributed to this story.
---
---
---
---