U.S. military leaders in Japan say water on bases safe to drink
by
Charlie Reed
March 24, 2011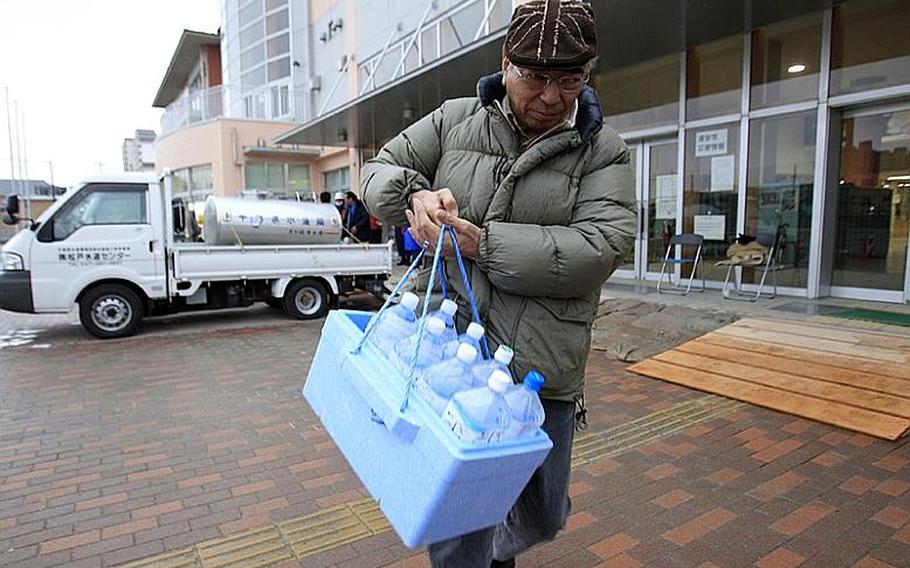 YOKOTA AIR BASE, Japan — Water at U.S. military bases in Japan is safe to drink, U.S. Forces Japan said Thursday as public concern grew over elevated radiation levels detected in water and food supplies in Tokyo in recent days.
The U.S. Embassy in Tokyo said Thursday that pregnant women and children under the age of three in the city should only drink bottled water. The embassy warning cited reports from the Tokyo Metropolitan Government that radioactive iodine levels exceeding consumable limits for children under 3 had been detected at a purification plant Wednesday.
While food and water are safe to consume at bases in Japan, the military has "enhanced our measures to safeguard food and water supplies on all our military installations in Japan," the USFJ statement read. "As an extra precaution, we have increased the frequency of water tests to daily to ensure the safety of our personnel and their families."
The extra water tests follow days of other precautionary measures, including the mandatory pick up of potassium iodide pills by all U.S. military personnel and their immediate dependents in Japan.
Yokota Air Base commander Col. Otto Feather said Wednesday that the water at the base was "delicious" and drinkable.
Water tests at Yokosuka have not found any dangerous levels of radiation, base commander Capt. David Owen said in a broadcast message on AFN Thursday morning.
Concerns about drinking water arose after Tokyo officials found radioactive iodine in the Tokyo water system.
Yokosuka Naval Base gets its water from the Yokosuka municipal supply, Owen said. The base tests water in 16 locations, including the Negishi and Ikego housing areas.
"There is no problem with our water," Owen said. "If there is, we would immediately let you know."
During a televised news conference Wednesday, Ei Yoshida, head of water purification for the Tokyo water department, told reporters that infants in Tokyo should not be given tap water to drink.
Officials found radioactive iodine levels at 210 becquerels per liter. Officials said that health risks begin at 100 becquerels per liter for infants and 300 becquerels for adults.
Certain Japanese products such as milk and spinach have been pulled off shelves en masse following reports of tainted supplies of those foodstuffs originating from Fukushima prefecture, where the runaway nuclear power plant continues to leak.
Japanese workers loaded trucks with boxes of bottled water to distribute across Tokyo on Thursday after residents cleared store shelves following warnings that the city's tap water had elevated radiation, The Associated Press reported Thursday morning.
Stars and Stripes reporter Erik Slavin contributed to this report.
---
---
---
---