Typhoon damage at DMZ truce village brings North Koreans, UN Command together
by
Kim Gamel
September 20, 2019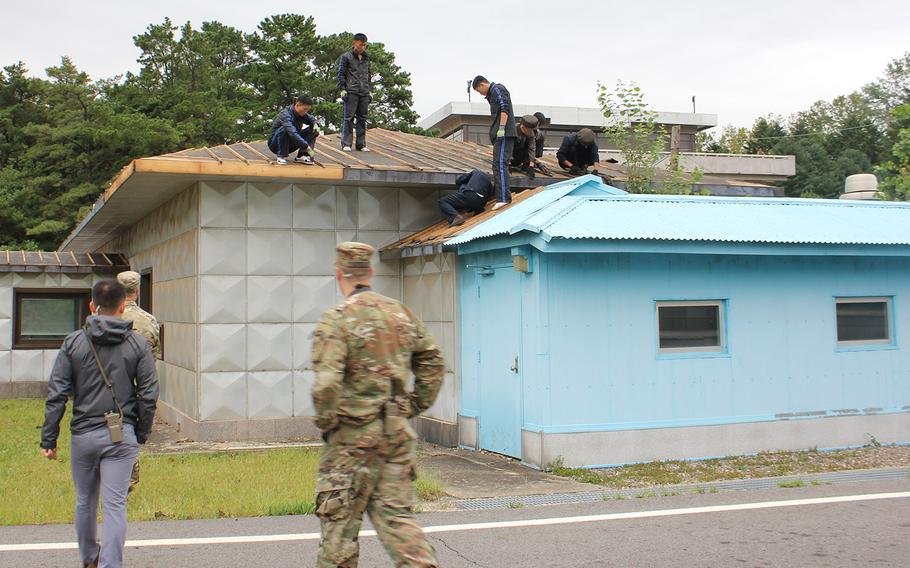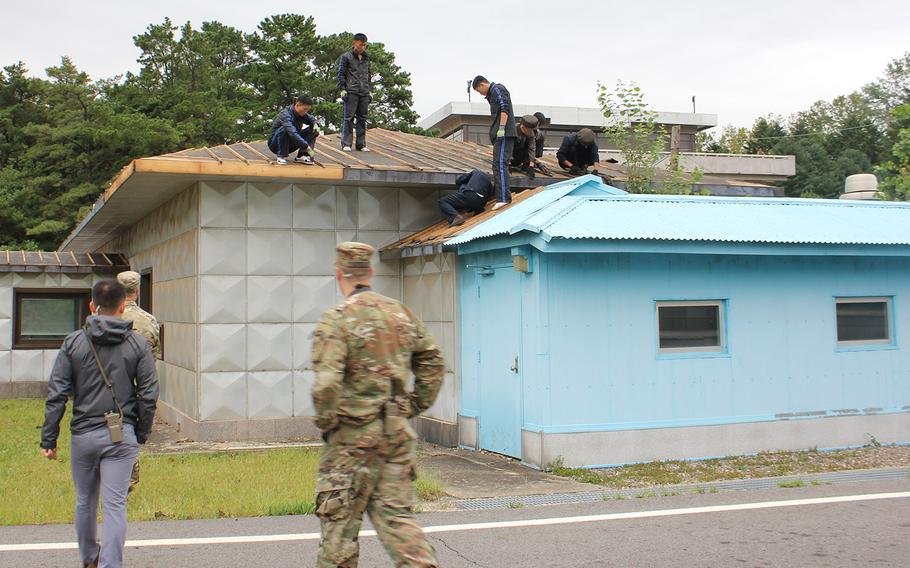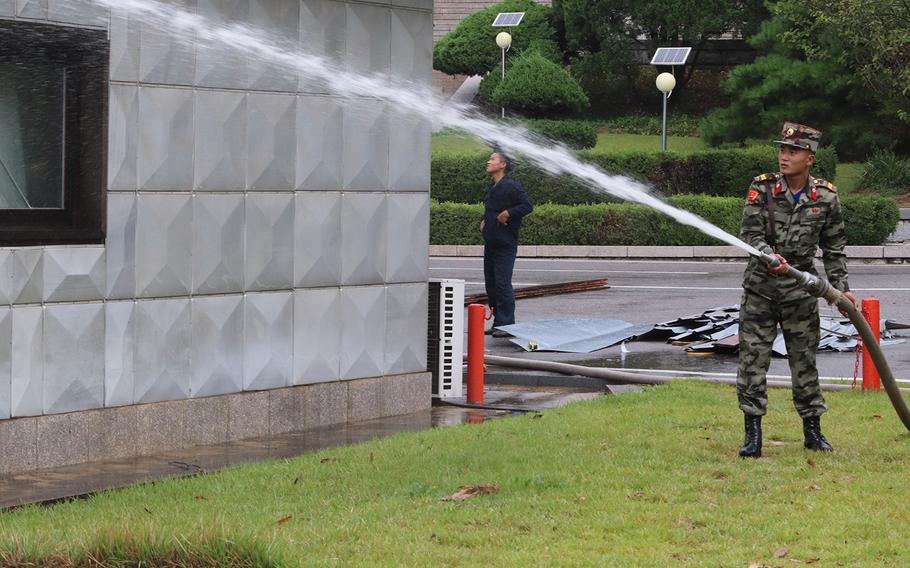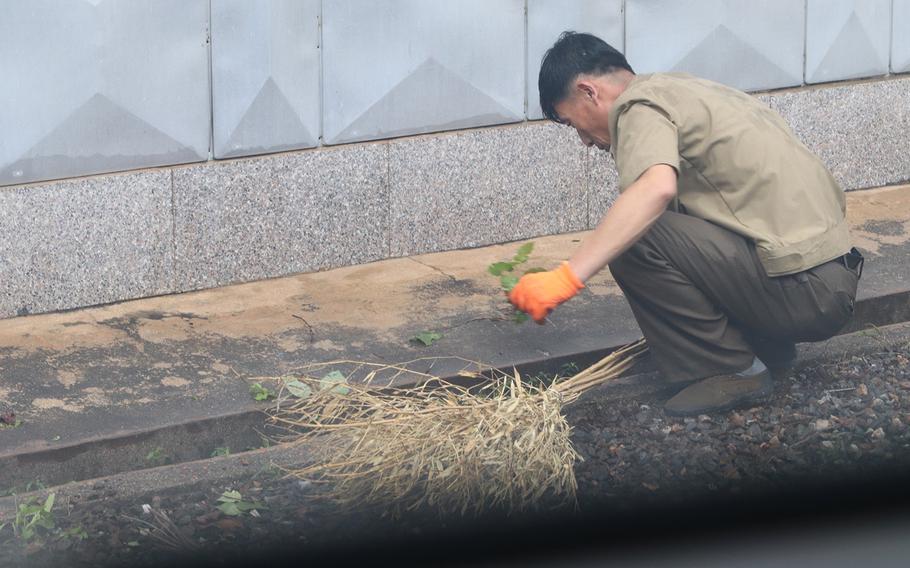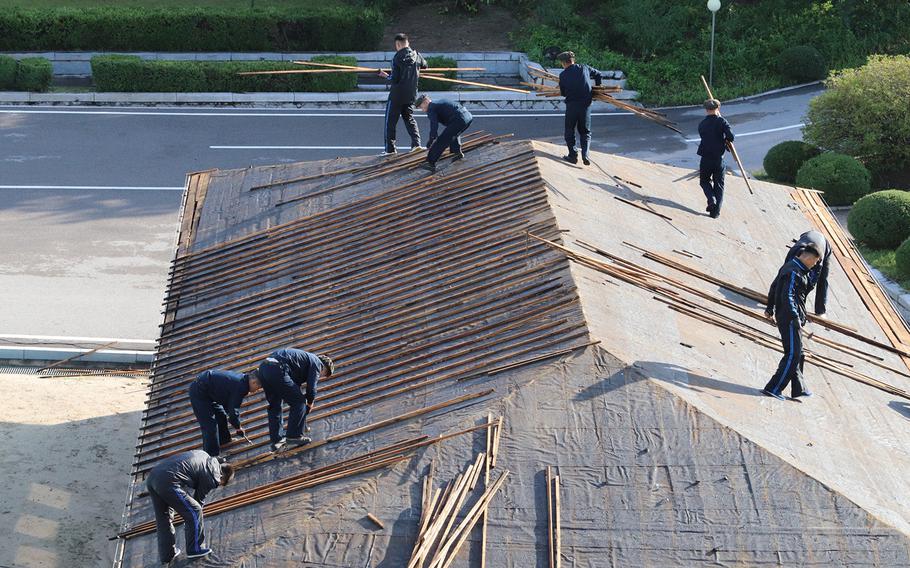 SEOUL, South Korea — A deadly typhoon that tore through the Korean Peninsula earlier this month didn't spare the truce village of Panmunjom that straddles the border between North and South.
Storm damage at the Joint Security Area was relatively minor but had a diplomatic side effect, bringing together the North Koreans and members of the U.S.-led United Nations Command for repairs.
"Following Typhoon Lingling, personnel on both sides of the Joint Security Area (JSA) recognized the need for damage repairs and maintenance activities," the U.N. Command said in a statement Friday.
The command also tweeted several photos showing North Koreans fixing a roof, spraying a hose and sweeping up around buildings known as "conference row" because of past talks that have been held there. U.N. Command security battalion soldiers were shown watching from the other side.
The armistice that ended the 1950-53 Korean War in lieu of a peace treaty was signed in one of the iconic blue buildings, and the area has become a popular tourist destination.
The JSA is the only point on the border where troops from both sides come face-to-face.
But the North Koreans haven't been very communicative since nuclear talks with Washington broke down after their leader, Kim Jong Un, and President Donald Trump failed to reach agreement during a February summit in Vietnam.
Trump and Kim agreed to resume working-level talks during an impromptu June 30 meeting at the JSA, but no date has been set.
However, Typhoon Lingling, which killed several people and left heavy damage in both Koreas, brought a momentary renewed sense of cooperation at the JSA. The work took place from Sept. 12-14, officials said.
Beginning on Sept. 11, the U.N. Command, North Korean and South Korean personnel "have employed routine telephone and face-to-face communication in Panmunjom to coordinate and execute a series of repairs to JSA's famous 'Conference Row,' along with other infrastructure in the area," it added.
The command said the cooperation was a reminder "of the importance of the JSA as an active link between all parties."
The U.N. Command — led by Gen. Robert Abrams, who also commands U.S. Forces Korea — is responsible for enforcing the armistice that ended the Korean War.
Tensions have eased since the two Koreas agreed during their third summit a year ago to transform the heavily fortified border into a peace zone. Soldiers from both sides are no longer armed and many guard posts have been removed.
However, the promise to allow tourists to move freely in the area has not been fulfilled as the diplomatic process has stalled.
gamel.kim@stripes.com Twitter: @kimgamel