Tsunami relief missions coming to an end for Misawa volunteer program
by
T.D. Flack
April 29, 2011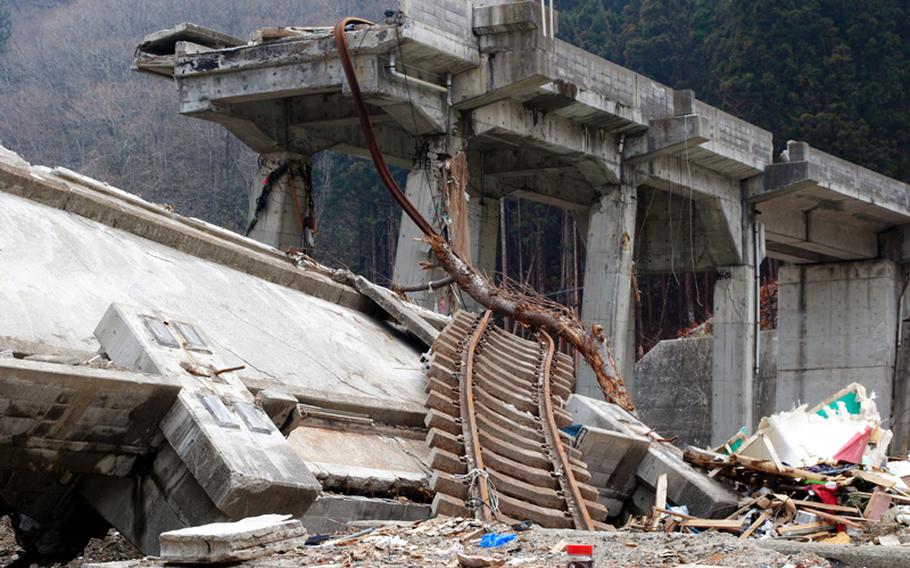 MISAWA AIR BASE, Japan — After more than six weeks of work, Misawa base residents are tackling their last major cleanup project along the tsunami-battered Japanese coast.
A small contingent from the 35th Civil Engineers Squadron, along with a group of Navy Seabees, started working in Tanohata on Wednesday, using dump trucks and front-end loaders to move more than 100 tons of debris out of the village. On Monday, the first of six overnight trips of 35 volunteers each will depart Misawa to help clear smaller debris there.
But the volunteer efforts — which included more than 60 "missions" and 29,000 man-hours of free labor — are nearing an end. There are fewer volunteer opportunities now, because the Japanese government released its annual budget earlier this month and the "money is now flowing" for cities to hire contractors, according to Master Sgt. Chris Burch, who had led the Misawa efforts.
Using contractors will speed up the work and pour money back into the struggling economy, Burch said.
He said officials from the areas where the volunteers have helped "more than appreciated" the work. More than 2,200 people from the base have volunteered to work with Misawa Helps — a command-sponsored program formed to lend aid to the Japanese communities that were devastated March 11 when massive tsunamis smashed into the coastline.
Volunteers helped clean debris in various areas including Misawa City, nearby Oirase, Hachinohe and in Noda village, a more than two-hour drive from base.
Tanohata, some 80 miles south of the air base, had been particularly hard hit by a tsunami. Takahiko Kudo, a Tanohata village official, said Thursday that 18 people were killed, 22 remain missing and 580 buildings, including 260 homes, were crushed by the wave. Given the water mark on the fourth floor of the village's resort hotel, officials there estimate the tsunami topped 65 feet at its peak.
Burch said officials at Tanohata immediately came up with a plan to put the Americans to work, and even arranged a community center for them to sleep in because it's too far to make a one-day trip worthwhile.
Kudo said residents are grateful that the military is on hand with the heavy equipment.
"After the major work is done, we are hoping that there are opportunities for residents to work together with people from the base, so that there is a chance for them to directly express their gratitude," he said.
Monday's trip from Misawa is limited to active-duty troops, Burch said, but civilians will be welcome on the rest of the missions. Volunteers should bring a sleeping bag, food and water.
The trips won't be easy: volunteers leave Misawa at 6 a.m., ride three hours to the site, work until 5 p.m. and then sleep on the floor of the community center. They'll be up at 6 a.m. the next day for another full day of work before boarding the bus for the trip home.
After the work at Tanohata is finished, there might still be some chance to lend a hand in the local area, Burch said, but on a much smaller scale than in the past six weeks. For now, he said, the organization will maintain a desk and phone in the Mokuteki Community Center, but at some point, the effort will be halted.
Call Misawa Helps at 226-3757 between 6 a.m. and 4:30 p.m., Monday through Friday, for more information. Information is also available on the Misawa Helps page on Facebook.