Trump puts US servicemembers in spotlight during Memorial Day address aboard USS Wasp
by
Seth Robson
May 28, 2019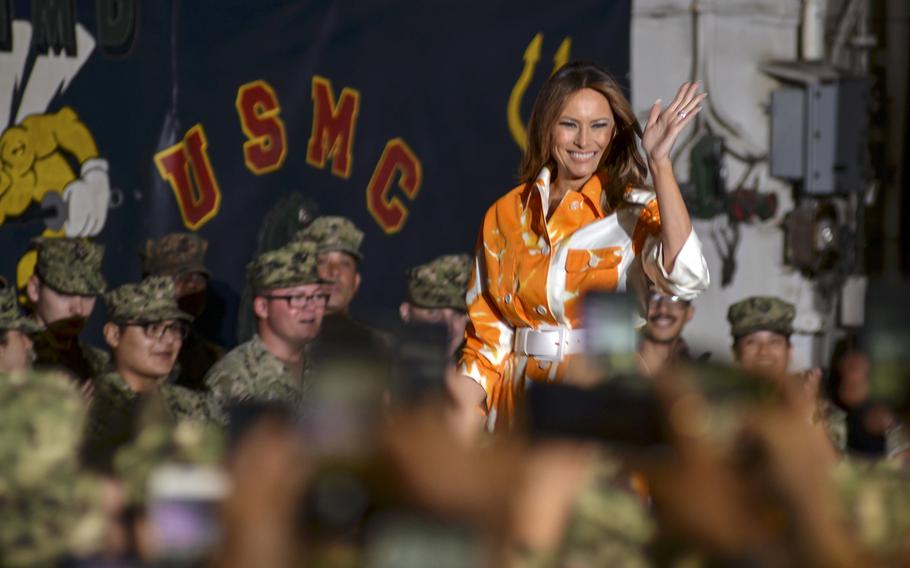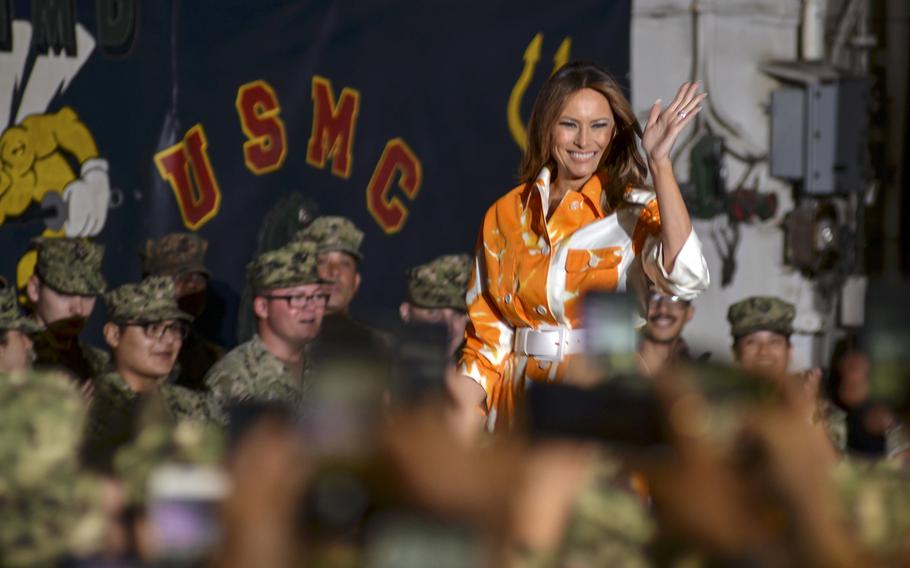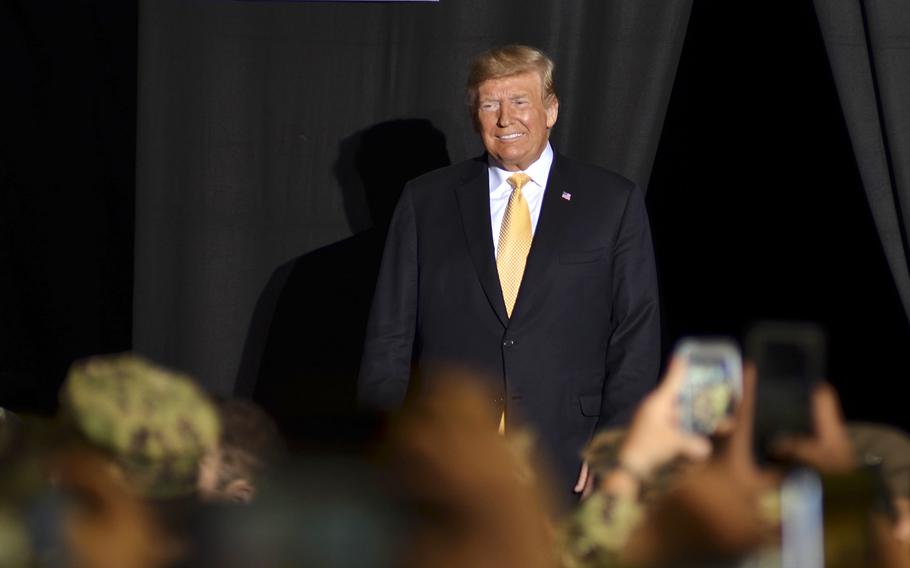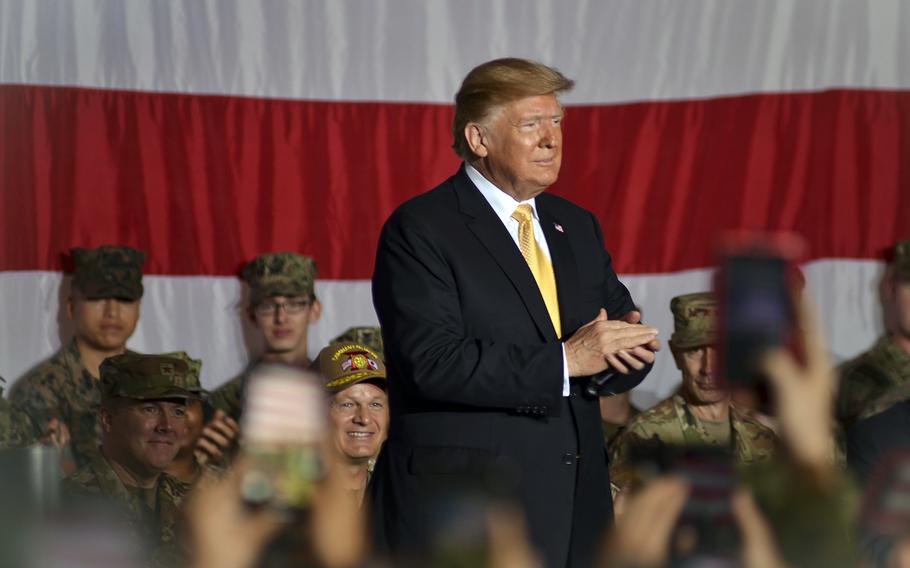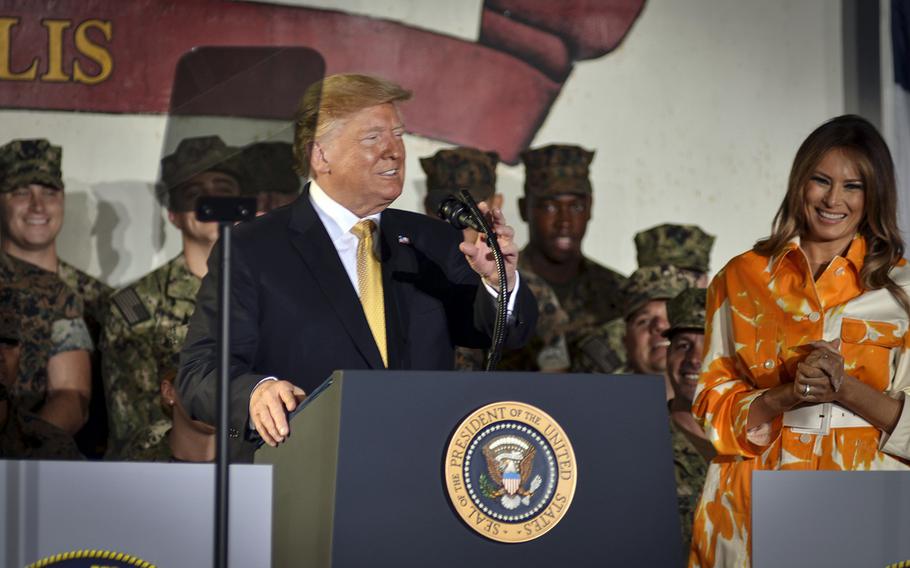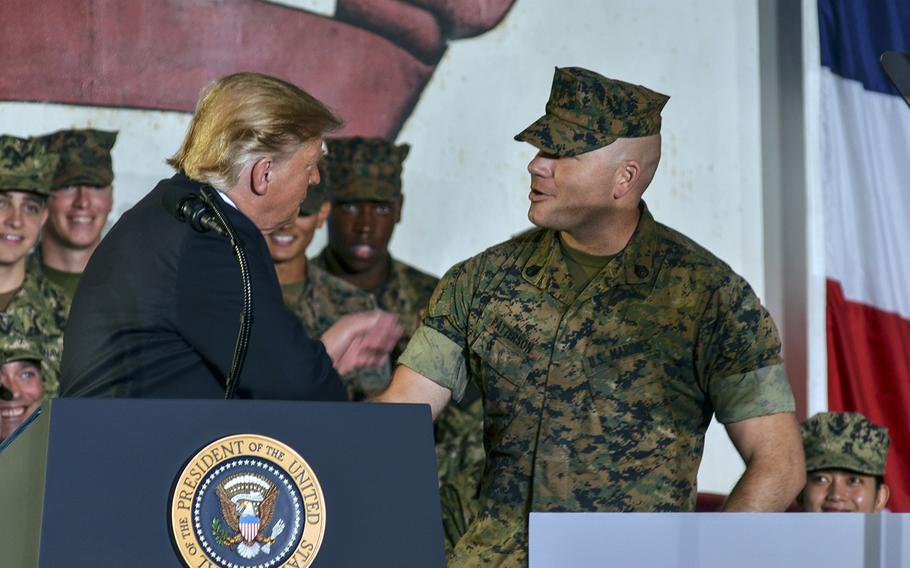 ABOARD THE USS WASP, Japan – A sailor and a Marine shared the stage with their commander in chief during a Memorial Day rally on the USS Wasp.
President Donald Trump spoke Tuesday to 1,000 sailors and Marines and a few servicemembers from other branches aboard the amphibious ship, which was moored at Yokosuka Naval Base, the home of the 7th Fleet.
Trump also toured the JS Kaga, a helicopter carrier of the Japan Maritime Self-Defense Force also moored at Yokosuka, with Japanese Prime Minister Shinzo Abe.
Trump had plenty to tell the troops about his state visit to Japan and meetings with Abe and Emperor Naruhito, who assumed the throne this month. But the president also surprised an enlisted sailor and Marine by calling them onto a stage and inviting them to say a few words of their own.
Marine Staff Sgt. Daniel Patterson got the first call.
"Every single generation of Staff Sgt. Patterson's family has served in the military all the way back to the Revolutionary War, but Staff Sgt. Patterson was the first to choose the Marines," Trump told his audience.
After two tours of duty in Afghanistan, Patterson – "a daring and mighty warrior" – asked to go to Japan, Trump said, before inviting the young Marine on stage to speak.
"It's an honor and privilege to be here with you, Mr. President, and I definitely didn't expect this," Patterson said. "It's an honor and privilege to serve with my fellow sailors and Marines. … If we sleep on it for even a second we won't be the ultimate power in the world."
Trump then told the story of Pfc. John Schaeffer of Tower City, Pa., who fought in an Army special operations unit in Burma during World War II under the command of Gen. Frank Merrill.
"Although Pvt. Schaeffer sadly perished in the battle of Burma, his deep love of country endures in someone very special with us today, his great nephew, Senior Chief Petty Officer Dan Schaeffer," Trump said, before inviting him to say a few words, too.
"I know a lot of others have families who served as well. Memorial Day is a day when we honor fellow Americans who made the ultimate sacrifice," Schaeffer said before thanking his shipmates, fellow Marines and the president.
Trump added a few words of his own in remembrance of those who gave the full measure in service to their country.
"This Memorial Day in the U.S. Americans are having a sacred day of remembrance, reflection and prayer," the president said. "Citizens all across the country came together to decorate the graves of our fallen heroes and honor their selfless acts of courage. The citizens of our country are incredible. They love our country and they love you."
Trump's visit to the Japanese carrier underscored the evolving defense relationship between the two countries.
The Kaga and its sister ship the JS Izumo are the largest vessels in the Japanese fleet at more than 800 feet long and displacing 27,000 tons fully laden.
Japan is planning to turn the vessels into its first aircraft carriers since World War II by modifying them to support F-35B Lightning II short takeoff and vertical landing stealth fighters.
The Marine Corps, which deployed a squadron of F-35Bs to Marine Corps Air Station Iwakuni, Japan, in January 2017, has already demonstrated the aircraft's ability to operate from an amphibious ship in Far East waters.
Trump said Japan plans to buy 105 F-35s and that the USS America, a larger amphibious assault ship, would soon be deployed to the Pacific carrying "brand new F-35Bs."
Trump also told the troops he plans to have traditional steam-powered catapults installed aboard future U.S. ships instead of modern electromagnetic ones.
"We're spending all that money on electric and nobody knows what it's going to be like in bad conditions," he said. "So, I think I'm going to put an order — when we build a new aircraft carrier, we're going to use steam."
Trump insisted the high-tech systems don't work as well as the steam catapults.
"Steam's only worked for about 65 years perfectly. And I won't tell you this because it's before my time by a little bit, but they have a $900 million cost overrun on this crazy electric catapult," he said. "They want to show — next, next, next. And we all want innovation, but it's too much."
robson.seth@stripes.com Twitter: @SethRobson1
---
---
---
---